China's #MeToo movement started on college campuses. It may end there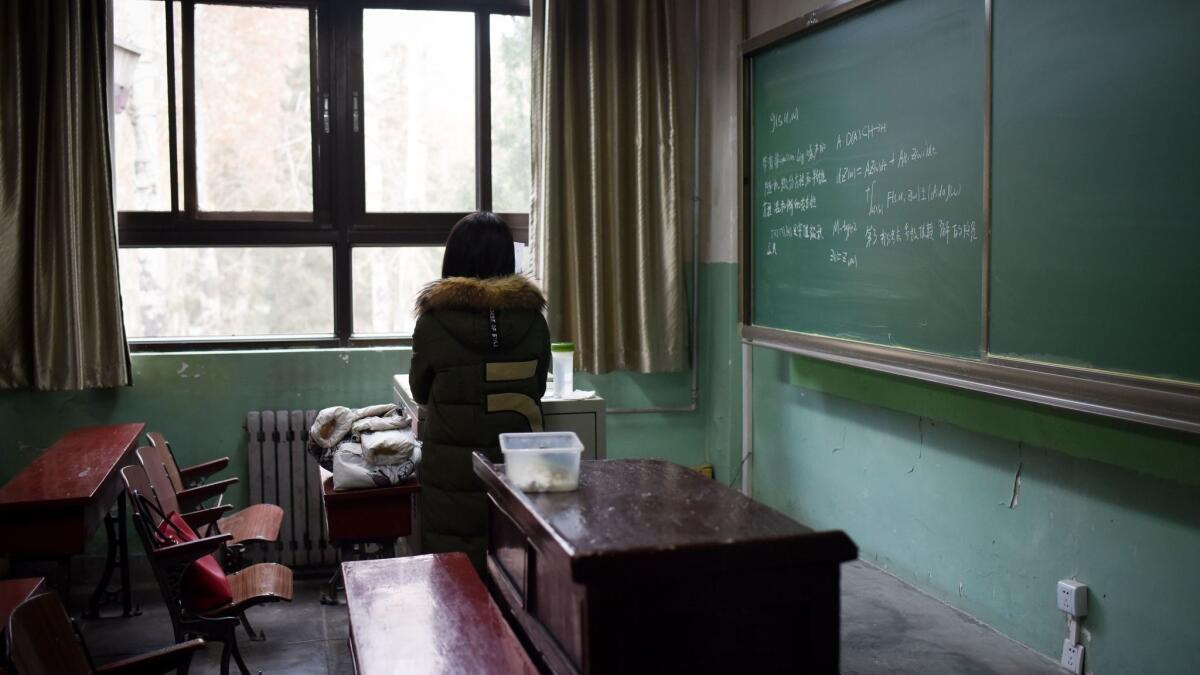 Reporting from Beijing —
It wasn't until her thesis advisor locked the door of his sister's Beijing apartment that Luo Xixi realized his intentions.
Chen Xiaowu had told Luo that he needed her help tending to plants. He didn't. The only thing that prevented her rape, she said, was a phone call from his wife and her own desperate cry, "I'm a virgin!"
After staying silent about the assault for more than a decade, Luo, now a Bay Area software engineer in her 30s, took inspiration from the #MeToo movement that sprang up last fall and decided to speak.
She filed a complaint with Beihang University, the aeronautics school she had attended in Beijing, and publicly accused Chen, the vice director of the graduate school, of sexual assault. Luo, in an online letter read by 3 million people, named herself as one of seven women he abused. The school stripped the administrator of his position, then fired him, and the Ministry of Education promised to set up "effective, long-term mechanisms" against sexual harassment.
Her actions ignited a national debate about appropriate behavior between professors and students. Activists branded it China's #MeToo movement; social media swelled with supportive hashtags. But the effort failed to encourage many others to voice their grievances or extend to the entertainment and business sectors, which struggle with similar issues. Instead, the young women who set out to battle sexual harassment are finding their efforts publicly heralded and privately stymied.
Many universities are ignoring online petitions. Government censors are deleting open letters. The #MeToo China hashtag has disappeared on social media, along with articles against sexual harassment.
"The deletion is a great hindrance to the movement," said Xiao Meili, a prominent women's rights activist, whose online letter calling for more attention to sexual harassment claims vanished.
"It used to be you go onto the streets and do something, and that counts as radical. But now writing a letter is probably radical, too."
Their cries threaten to stray beyond the bounds of acceptability for a government that runs the media and keeps a tight leash on public opinion. The Communist Party — which detained five feminists in 2015 for planning to distribute leaflets against sexual harassment — does not always see gender equality activism as compatible with its vision of a stable society.
By late January, alumni groups had written to more than 70 universities, according to Voice of Feminism, a Chinese women's rights group. Many of the letters were posted on WeChat, a social media app with more than 700 million users. They now show an empty page with a large exclamation mark and a notice that the material violated regulations.
Unlike the #MeToo movement in the U.S. — where carefully reported stories broke open a culture of abuse — the greatest recourse for women in China is online. Laws on sexual harassment are hazy and many accusers face a stigma for challenging authority in a society that values hierarchy.
"When I first read Luo's revelation, I didn't fully trust it," said a female graduate student at Beihang, a largely male engineering school where models of fighter jets are displayed in cafe windows. "I thought it couldn't be possible that a teacher's character can be this terrible." She declined to give her name, citing the sensitivity of the topic.
China is hardly alone in allegations of sexual misconduct within higher education. The U.S. has struggled with its own history of assault on college campuses. More than 20 students at Columbia University filed a complaint with the U.S. government in 2014 that accused the school of mishandling their claims. Other sexual assault cases in recent years have arisen at Vanderbilt University, Florida State University and Stanford.
But the issue has gone largely unaddressed in China. Almost 70% of college students encounter sexual harassment, according to a 2017 study by the Guangzhou Gender and Sexuality Education Center, a nonprofit organization in southern China, and the Beijing Impact law firm. Among the female respondents, the rate was 75%.
"Victims don't want to reveal their names because we often have the mentality that blames the victims," said Pei Yuxin, an associate professor of sociology and social work at Sun Yat-sen University in Guangzhou. "Other people and the institution see them as troublemakers who smear the institution's reputation."
School officials — eager to protect their university or uncertain where the government draws that line of acceptability — can also act as censors.
Gu Huaying, a graduate student at Cambridge University in England, wrote a petition requesting classes on improper conduct at Peking University, her alma mater and one of China's most storied schools. Administrators accused her of trying to "stir things up." The letter was deleted from China's dominant search engine.
"What are you nervous about, and panicking for?" Gu wrote in a defiant response on Weibo, China's version of Twitter.
Despite the pressure, victims are finding some allies.
"We as college teachers are deeply angered and seriously condemn" the inappropriate behavior of colleagues, Xu Kaibin, a journalism professor at Wuhan University in central China, wrote in an online manifesto calling for greater awareness of sexual harassment on college campuses.
But the continued impediments make some women wonder whether their struggle will break open an institutional silence, and whether China's #MeToo movement will become anything more than a name.
"It's scary when you find that even if you do expose it, the problem won't be solved," said a female graduate student at Beihang University, where the petitions first started. She declined to give her name for fear of retaliation.
A top official at Tsinghua University, one of Beijing's most elite institutions, recently sat down with a student newspaper to discuss the issue.
When asked whether the school could include information about sexual harassment on next year's freshmen manual, he hesitated.
"I don't think it would be appropriate," he said. "Emphasizing sexual harassment would make the reader uncomfortable and consider our campus unsafe. After all, when we enter the school, we would want to learn positive information."
Fan is a special correspondent.
ALSO
Bring on the fake snow: China aims to create a nation of skiers by the 2022 Olympics
China's new pitch to win over Taiwan: Our jobs are better
Koreas' unified women's hockey team has exposed a key difference between South and North — their language
---
UPDATES:
5:50 p.m.: This article was updated to include mention of the Beijing Impact law firm, which conducted a 2017 study with the Guangzhou Gender and Sexuality Education Center.
Sign up for Essential California for the L.A. Times biggest news, features and recommendations in your inbox six days a week.
You may occasionally receive promotional content from the Los Angeles Times.