U.S.-China trade talks end on an optimistic note, but differences remain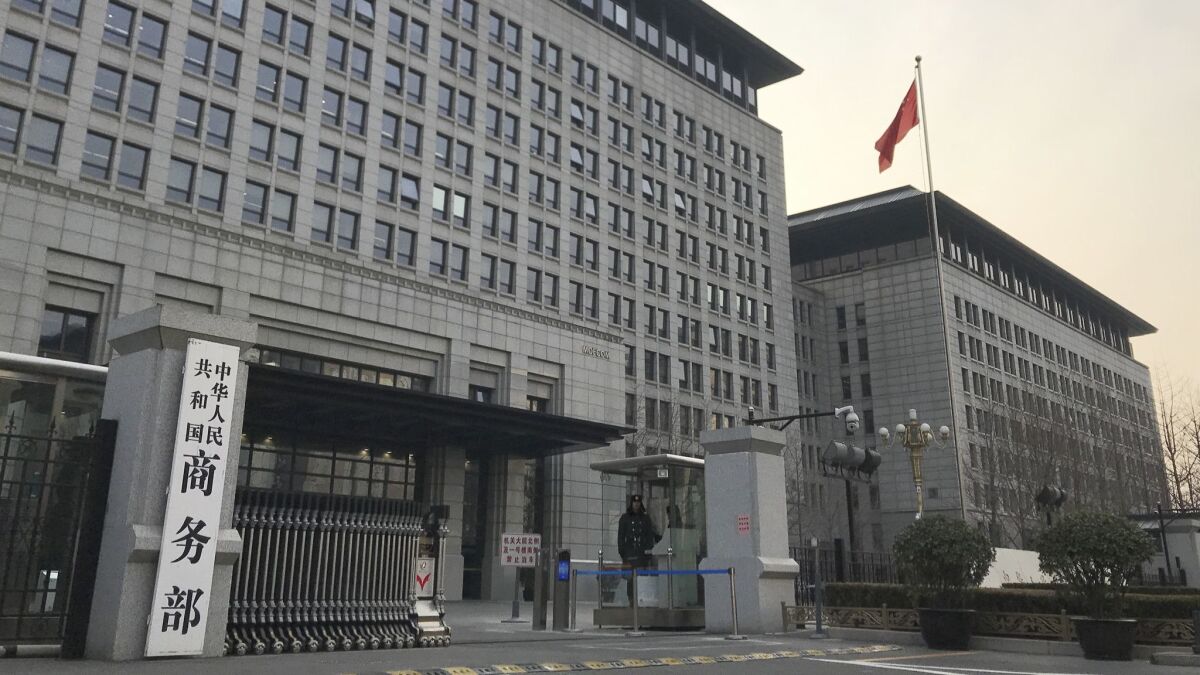 Reporting from Beijing —
As trade talks closed in Beijing on Wednesday afternoon — after continuing into an unscheduled third day — optimism boosted global stocks amid hopes that an all-out trade war might be avoided before a March 1 deadline to reach a deal.
But differences remain, likely to be handled in talks between more senior officials in coming weeks in a bid to bridge the gap before the deadline.
If the two sides fail to reach agreement in time, the U.S. has threatened to raise tariffs from 10% to 25% on $200 billion in Chinese goods, a move that would plunge the two sides into a protracted conflict at a time that global growth is already slowing and markets are jittery.
The talks marked the first face-to-face meeting between the two sides since President Trump and China's President Xi Jinping agreed to a 90-day truce in the trade conflict when they met on the sidelines of the G20 summit in Buenos Aires last month.
Doubts remain that a comprehensive deal that addresses the most intractable issues can be reached before the deadline. Among them are long-held U.S. concerns about the protection of American firms' intellectual property and China's economic model of boosting state-owned companies in strategic fields.
China has offered a number of concessions — temporarily cutting tariffs on American cars, agreeing to import American rice, resuming American soybean imports and allowing imports of several genetically modified crops from the U.S.
But those are seen largely as distractions to avoid addressing the Trump administration's main complaint about the structure of China's economy: that it has not been opened up enough to let foreign companies compete on an equal footing, grooming champion companies in strategic high-tech areas and piggy-backing on American know-how whenever it can.
China has made promises to offer foreign firms better access and pledged to protect intellectual property, drafting a law that would do so. But Chinese negotiators have to win the trust of U.S. officials wary of vague measures that may appease but avoid fundamental, enforceable change.
China is unlikely to abandon its core goal of restructuring its economy into a high-tech, high-income, global leader in strategic areas including artificial intelligence, robotics, green energy, superconductors and rockets. The approach involves government-led measures to nurture high-tech industries, rather than the capitalist model of allowing market competition to throw up global winners. But officials and state media have lately avoided referring to the policy by its name, Made in China 2025.
Scott Kennedy, an expert on China's economy at the Washington-based Center for Strategic and International Studies, said the breadth of the talks was encouraging, but it remained to be seen if China had offered enough concessions on structural issues to overcome U.S. skepticism.
"My sense is that the conversation has shifted to not only include Chinese purchases of American products, but also structural issues related to the protection of intellectual property rights and limits on Chinese industrial policy. But a new conversation opened up on enforcement and how to measure success and how to address failure if the Chinese don't meet their commitments."
"We don't know whether China offered a lot of substantial new concessions that would satisfy the American side," he said.
Chinese Foreign Ministry spokesman Lu Kang said Wednesday the extension of the two-day talks into a third day indicated both sides were serious about reaching an agreement.
Hu Xijin, the editor of the state-owned Global Times, tweeted that the results of the talks were "quite positive," with both sides coordinating statements that would be released Thursday morning in Beijing. He described the talks as "arduous," and "candid," but conducted in a pleasant atmosphere.
He said the extension of talks into a third day offered grounds for optimism. "This sends a signal: The two sides are in serious talks and working hard to solve the disagreements between them," he said.
Twitter: @RobynDixon_LAT
---
Must-read stories from the L.A. Times
Get the day's top news with our Today's Headlines newsletter, sent every weekday morning.
You may occasionally receive promotional content from the Los Angeles Times.