Flash floods kill at least 13 people in southwest France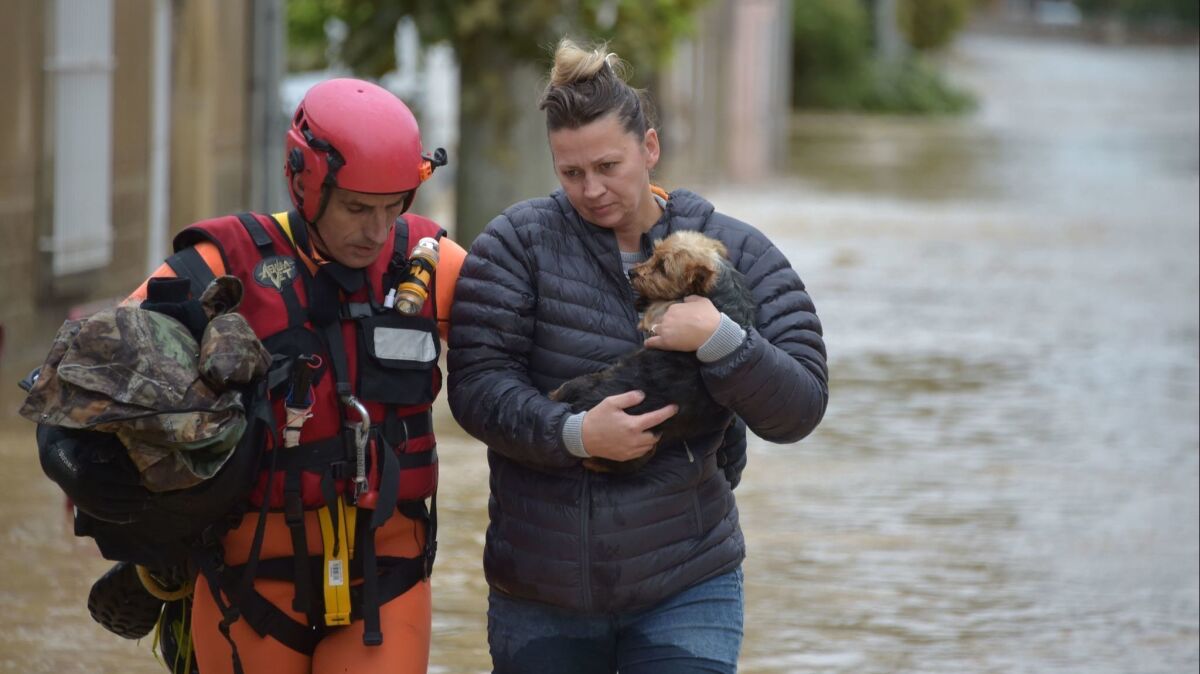 Reporting from PARIS —
Flash floods tore through towns in southwest France, turning waterways into raging torrents that killed at least 13 people, nine of them in just one town, authorities said Monday. People had to be helicoptered to safety from the roofs of their homes as overnight storms dumped the equivalent of several months of rain in just a few hours.
Worst hit was the town of Trebes, east of the medieval walled city of Carcassonne. The rains that swept in from the Mediterranean killed nine people there, Interior Ministry spokesman Frederic de Lanouvelle said.
He told BFMTV that the floods in the Aude region also killed four other people in other locations, left one person missing and seriously injured five others.
In the town of Villegailhenc, witness Ines Siguet said the waters rose so quickly that people were stranded on the roofs of their homes and had to be helicoptered to safety. She posted video of a ripped-up road where a bridge used to be, torn away by a flood torrent that cut the town in half.
"There's nothing left. There's just a hole," the 17-year-old resident told the Associated Press. "It was very violent."
Other roads also were flooded, leaving the town cut off, she said. Siguet's school was shut down amid the destruction. Two people were killed in the town, according to the Aude regional government.
Alain Thirion, the prefect of Aude, said some of the dead appeared to have been swept away by floodwaters. In the town of Conques-sur-Orbiel, the river rose by more than 20 feet, he said.
Floodwaters were in some cases too powerful for emergency services to get through, even on boats, he said.
Television images showed waters coursing through towns and villages, with cars stranded in the floods and piled up on top of each other like children's toys.
The French government rushed hundreds of rescue workers into the flood zone and helicopters buzzed overhead. Schools were closed and authorities were urging people to stay home.
---
Must-read stories from the L.A. Times
Get the day's top news with our Today's Headlines newsletter, sent every weekday morning.
You may occasionally receive promotional content from the Los Angeles Times.