Hamas militants agree to Gaza cease-fire with Israel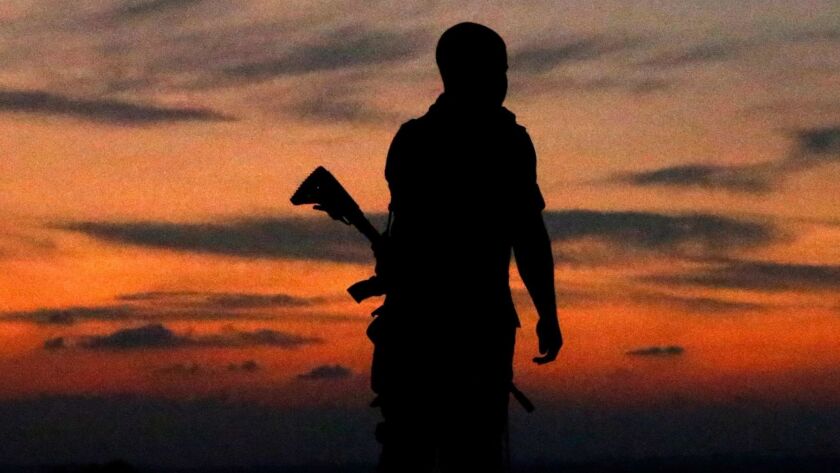 Reporting from Jerusalem —
After one of the the heaviest flare-ups of violence in years, Hamas, the Islamist militia ruling the Gaza Strip, said Tuesday that it had agreed to a cease-fire with Israel brokered by Egypt.
The delicate truce, after two days of back-and-forth rocket attacks, was not confirmed by the Israeli government. But it follows the lines of previous breaks in the long-simmering conflict between Israel and Hamas.
In a joint statement, Hamas and a local branch of Islamic Jihad declared that "Egypt's efforts have been able to achieve a cease-fire between the resistance and the Zionist enemy," a reference to Israel.
It added that the militias would respect the truce as long as Israel does.
The office of Israeli Prime Minister Benjamin Netanyahu, for its part, said after a 6½-hour security Cabinet meeting that the Israeli army had been instructed "to continue its operations as necessary."
Speaking on condition of anonymity, Israeli officials told reporters that "developments on the ground" would determine Israel's response.
One Israeli officer was killed in a confrontation that sparked the latest round of fighting, and one civilian died and 90 people were wounded in a barrage of more than 400 rockets launched from Gaza toward southern Israeli communities, according to Israeli authorities.
Authorities said the civilian killed was Mahmoud Abu Asba, 48, a Palestinian contractor residing legally in the Israeli city of Ashkelon. The building he lived in was one of four in Ashkelon that sustained a direct rocket hit.
Three people remained in critical condition.
Gaza's Health Ministry reported Tuesday that 14 Palestinians had died in the fighting, 13 of whom were identified as combatants. Also killed was a farmer, and 25 Palestinians were wounded.
The Israeli military said it attacked 160 Hamas and Islamic Jihad targets in the Gaza Strip. It said its Iron Dome missile defense system intercepted more than 100 rockets fired at Israel from Gaza.
Victory celebrations broke out in Gaza on Tuesday evening, encouraged by Hamas officials who declared that their powerful enemy had been brought to its knees.
In Israel, the army's Home Front Command announced the closing of bomb shelters and said schools would reopen Wednesday. But news of a cease-fire was greeted with anger by residents of border communities, whose lives have been disrupted, or worse, in a cycle that has continued to repeat itself since 2005, when Israel pulled out of the Gaza Strip.
Israeli ministers descended into public squabbling about the secret Cabinet vote regarding the agreement, with the politicians, who face elections in coming months, keeping an eye on their hawkish constituents.
Egyptian officials and representatives of the United Nations are scheduled to visit Gaza on Wednesday.
---
Must-read stories from the L.A. Times
Get the day's top news with our Today's Headlines newsletter, sent every weekday morning.
You may occasionally receive promotional content from the Los Angeles Times.