Search for victims of Greek wildfires continues as death toll climbs to 81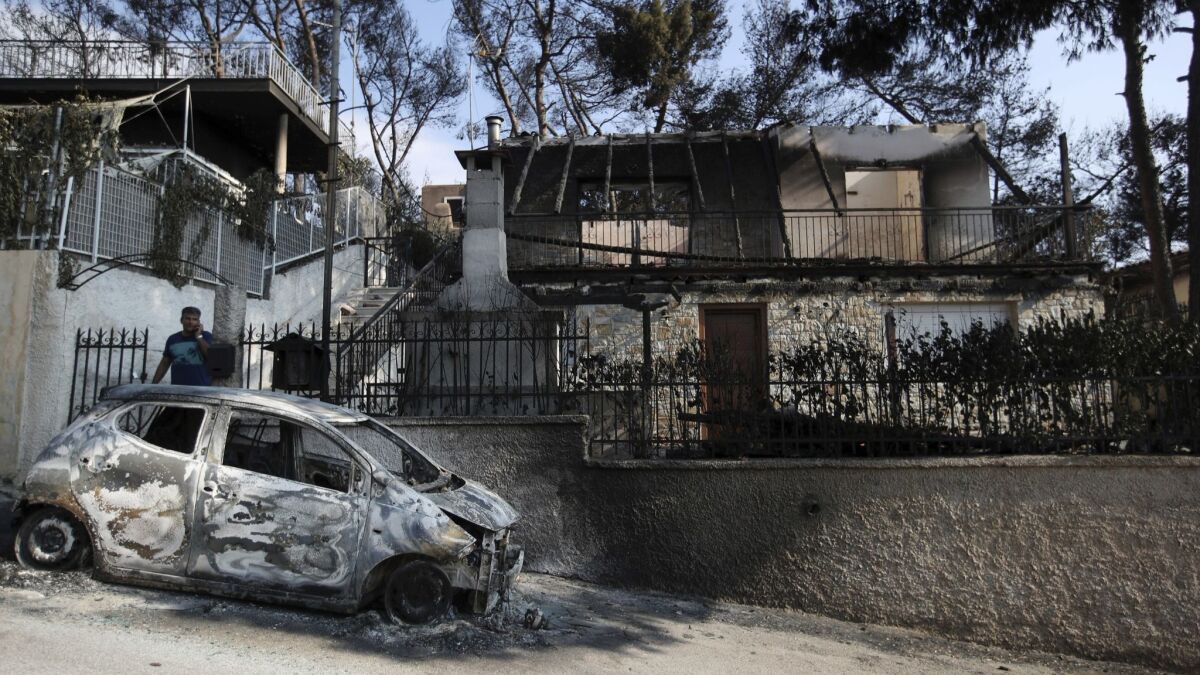 Reporting from Mati, Greece —
Rescuers intensified a grim house-to-house search Wednesday for more casualties from a deadly forest fire outside Athens, as the Greek military said it was using images from U.S. combat drones and surveillance aircraft to try to determine whether arsonists were behind the blaze and stop future attacks.
Joint patrols of the fire service, army personnel and volunteer rescuers discovered more bodies in the gutted homes near the port of Rafina east of Athens, raising the death toll to 81.
Nikos Giannopoulos stood with his wife and two children outside the destroyed home of his 88-year-old mother, waiting for news as rescuers searched each room.
They found her charred body in the bathroom.
Giannopoulos had searched the home earlier but failed to spot his mother's body in the blackened interior.
Her remains were put into a yellow body bag and placed in a wooden coffin, and Giannopoulos vented anger that his mother had not been rescued as Monday's ferocious wildfire raged down from the mountains and tore through vacation homes.
"She died helpless, an 88-year-old woman. I lost my nearby home in the fire, and my mother's was burned too," he said, his voice cracking with emotion. "So many people died that it took the rescuers three days to find her."
Una mujer busca rescatar algo de su hogar quemado, cerca de Atenas. Más de 2,000 viviendas fueron dañadas en un fatal incendio forestal
(ANGELOS TZORTZINIS / AFP/Getty Images)
Pese al aumento diario del saldo de muertos, funcionarios del gobierno griego se han negado a reconocer las críticas, incluyendo acusaciones de mala planificación para emergencias antes de la temporada anual de incendios forestales en el país.
(Thanassis Stavrakis / Associated Press)
El Servicio de Bomberos, las fuerzas militares y rescatistas voluntarios encontraron más cuerpos en viviendas calcinadas cerca del puerto de Rafina, en el este de Atenas.
(YANNIS KOLESIDIS / EPA / Shutterstock)
Los equipos de rescate continuaban rastreando la zona puerta por puerta...
(ANGELOS TZORTZINIS / AFP/Getty Images)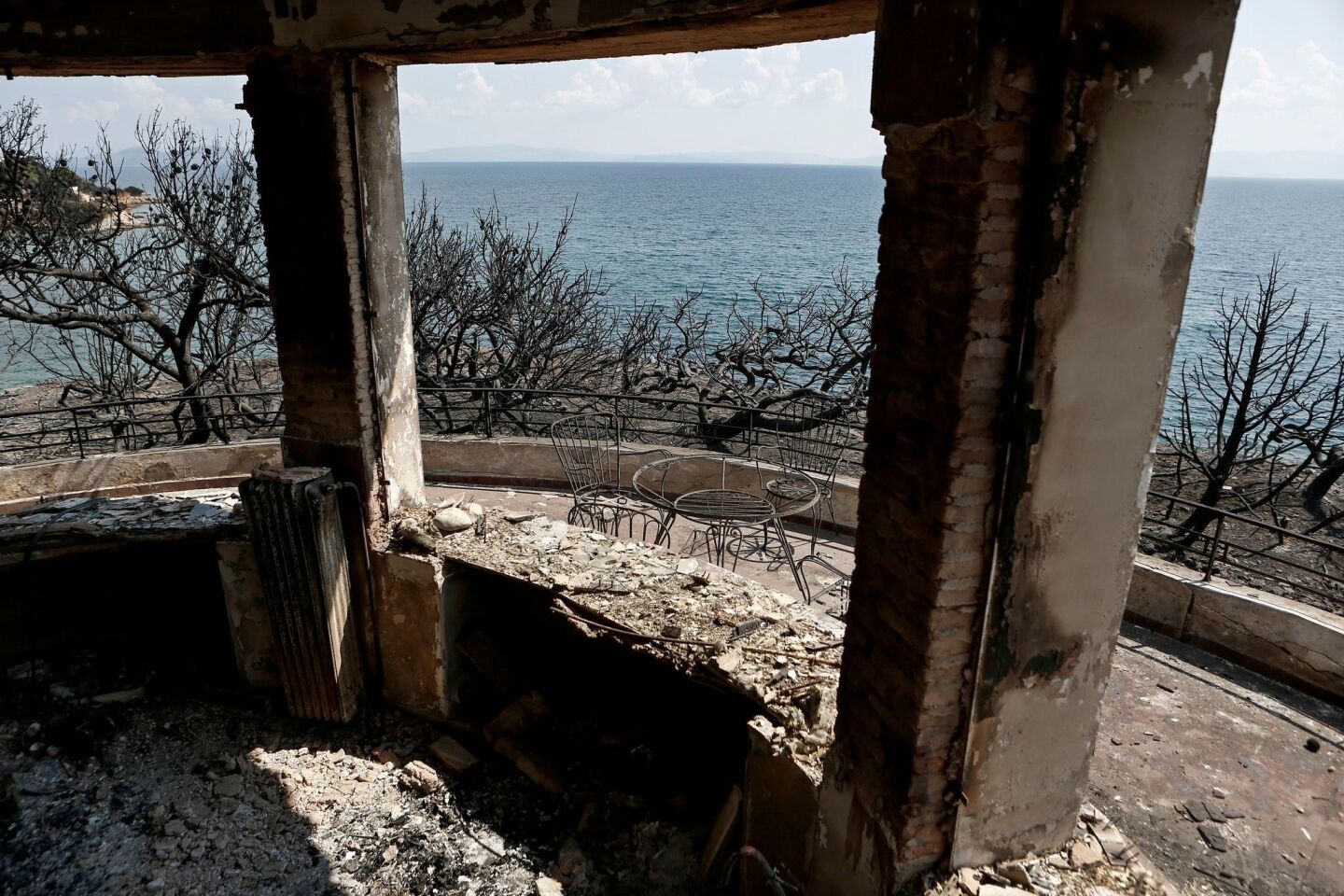 Las viviendas consideradas inseguras fueron marcadas durante inspecciones estructurales por expertos que eran conducidas paralelamente a revisiones de casas por equipos de rescate en busca de víctimas.
(YANNIS KOLESIDIS / EPA / Shutterstock)
El incendio del noreste de Atenas, en la zona de Rafina, una localidad costera de viviendas permanentes y vacacionales muy popular entre los atenienses y los turistas, se extendió rápidamente avivado por vientos huracanados.
(ANGELOS TZORTZINIS / AFP/Getty Images)
Los bomberos con ayuda de aviones hidrantes se ocupaban de los focos principales cerca de la capital: uno al noreste de Atenas, cerca de Rafina, donde aparentemente se produjo la mayor cantidad de muertes.
(VALERIE GACHE / AFP/Getty Images)
Los equipos de rescate intensificaron la búsqueda de víctimas del letal incendio forestal a las afueras de Atenas.
(VALERIE GACHE / AFP/Getty Images)
El Ejército de Grecia usa video tomado por drones de combate de Estados Unidos y de aviones de vigilancia para tratar de determinar si las conflagraciones fueron provocadas y evitar futuros incidentes.
(Angelos Tzortzinis / AFP/Getty Images)
Grecia soporta incendios todos los años, pero los que estallaron son los más mortíferos de las últimas décadas.
(Valerie Gache / AFP/Getty Images)
La mayoría de los cuerpos que han sido encontrados están muy calcinados por lo que la única forma de identificarlos es a través del ADN y de registros dentales.
(Pantelis Saitas / EPA / Shutterstock)
Grecia pidió asistencia internacional mediante la Unión Europea para combatir los incendios que han quemado numerosos vehículos, granjas y árboles en los costados de Atenas.
(Angelos Tzortzinis / AFP/Getty Images)
Dos hombres se lamentan luego que el furgo arrasó con su casa y vehículo, en Mati, un suburbio de Atenas.
(Yannis Kolesidis / EPA/Shutterstock)
La cuarta parte de las casas dañadas serán demolidas...
(Savvas Karmaniolas / AFP/Getty Images)
Los incendios no representaban un peligro inmediato para los famosos monumentos antiguos de Grecia, pero debido a su avance, los campamentos de verano infantiles y las casas vacacionales fueron desalojadas.
(Theodora Tongas / Associated Press)
Una mujer intebta rescatar algo de su automóvil quemado, en Mati, cerca de Atenas.
(Angelos Tzortzinis / AFP/Getty Images)
La guardia costera y buzos voluntarios trabajaban en el mar en busca de posibles nuevas víctimas. A medida que el incendio arreciaba, cientos de personas se refugiaron en las playas cercanas, pero la intensidad del calor y el denso humo obligaron a muchos a lanzarse al agua.
(Thanassis Stavrakis / Associated Press)
Familiares desesperados que buscaban a sus seres queridos desaparecidos en los incendios más letales de Grecia en décadas se dirigían a la morgue de Atenas...
(Pantelis Saitas / EPA/Shutterstock)
Centenares de vehículos fueron alcanzados por el fuego en su intento de escapar. Varias personas murieron ahí.
(Pantelis Saitas / EPA/Shutterstock)
Alimentados por vientos fuertes, los incendios atraparon a miles de personas en playas, caminos y viviendas...
(Angelos Tzortzinis / AFP/Getty Images)
The fire forced hundreds to sprint to sea for safety, swimming out into the rough waters to avoid the suffocating smoke until they were picked up by boats after nightfall. Divers and coast guard patrols were still searching Wednesday for bodies at sea.
The mayor of the fire-ravaged Marathon area, Ilias Psinakis, said many residents had only a few minutes to save themselves.
He described losing his home. "We could smell something burning. Then everything was gone in minutes. The wind came, then moved away, then came back again," he said after a meeting in Athens with Prime Minister Alexis Tsipras, regional government leaders and public safety officials to discuss the relief effort.
"My house was lost but nothing happened to five or six cars parked outside. One had a broken mirror. That's to give you an idea of what happened."
Fire-fighting planes from Italy and Romania and fire patrols from Cyprus joined the Greek effort on Wednesday, while Defense Minister Panos Kammenos announced that U.S. surveillance aircraft had also assisted in the firefighting effort and were gathering images to try to determine whether Monday's fire had been started deliberately.
Arsonists frequently target forests around the capital to try to clear more land for development.
A U.S. government official said MQ-9A Reaper drones currently based in central Greece had been used in the effort, along with U.S. Navy VP-10 and P-8A reconnaissance and patrol aircraft. The official asked not to be identified because details of the U.S. assistance had not yet been formally announced.
Kammenos said that the footage from the Greek and U.S. surveillance aircraft would be analyzed along with satellite images, and that preliminary findings suggested that the fire started at multiple points, which would now be examined on the ground.
Joint police and military patrols have been sent to the fire-stricken areas to deter looters and monitor nearby areas for potential arson attacks, he said.
"We will forward our findings to the fire service because they are ultimately responsible for the investigation," Kammenos said. "But this had such tremendous force, powered by winds up to [68 mph]…. It jumped over a road as wide as a highway. When you have conditions like this, nothing can stop it."
---
UPDATES:
3:25 p.m.: This article was updated to report the death toll had risen to 81.
This article was originally published at 9:55 a.m.
Must-read stories from the L.A. Times
Get the day's top news with our Today's Headlines newsletter, sent every weekday morning.
You may occasionally receive promotional content from the Los Angeles Times.