Violent protests erupt in Kashmir after Indian forces kill 8 suspected militants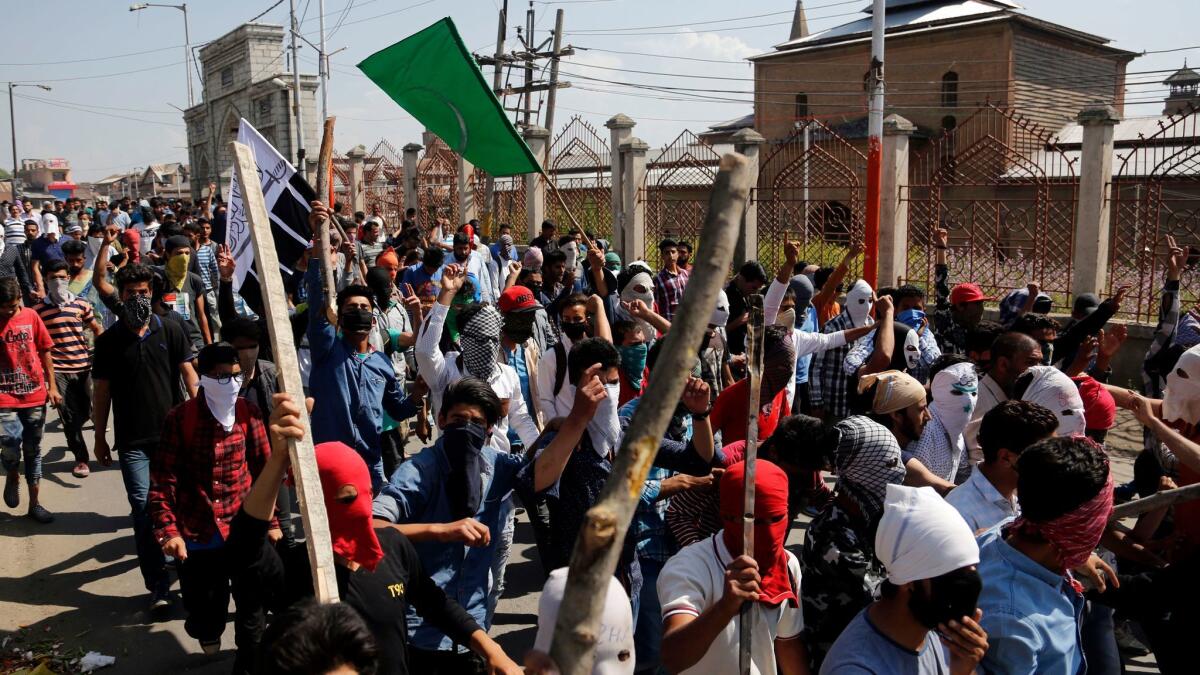 Reporting from MUMBAI, India —
Stone-throwing protesters clashed with security forces across the Indian-controlled portion of Kashmir on Saturday after Indian soldiers killed eight suspected militants as part of a months-long crackdown in the disputed Himalayan territory.
At least one civilian was killed as police forces tried to subdue the protesters, and dozens of others were injured, according to medical officials.

For the record:
1:02 a.m. Nov. 30, 2023An earlier version of this article said that Prime Minister Narendra Modi's Bharatiya Janata Party, formed a coalition government in Jammu and Kashmir with a political adversary, the People's Democratic Party, in 2014. The coalition was formed in 2015.
Anti-Indian protests in Kashmir have grown in size and intensity in the year since the Indian army killed a charismatic young militant, Burhan Wani, in a targeted operation in July.
Scores of civilians have been killed and thousands injured, many blinded by pellets fired by Indian police and paramilitary forces struggling to maintain order in a territory that India and Pakistan have fought over for 70 years.
Indian officials said that Wani's successor, Sabzar Ahmad Bhat, was among two suspected militants killed when Indian forces surrounded a house in Tral, in the Kashmir Valley, after gunmen opened fire on an army patrol late Friday.
Security officials described Bhat, 26, as a leader of Hizbul Mujahideen, a Kashmiri separatist group supported by Pakistan, and part of a generation of young militants like Wani who employed social media to recruit followers and rouse anti-Indian sentiment.
A 17-year-old aide to Bhat was also killed in the incident, officials said.
Six other militants were killed early Saturday attempting to cross the Line of Control, the boundary between India and Pakistan in Kashmir, army officials told Indian news media.
As news of the deaths spread, students and other separatist sympathizers poured into the streets in towns across Kashmir. Some residents tried to storm the site of Bhat's killing, where the army was still searching for another suspect, prompting security forces to fire pellets and tear gas to disperse them.
If the third militant was killed, "there will be another Sabzar tomorrow," said Abdul Rashid Akhoon, a protester in Rathsuna village, Bhat's former home. "They won't stop until and unless Kashmir is given freedom — and we won't stop until they get us that."
The government in India's Jammu and Kashmir state declared a curfew Sunday across most of Srinagar, the state's summer capital, and reimposed a ban on mobile Internet service in an attempt to keep protesters from organizing.
Shakeel Ahmad, a medical officer in Pulwama district, which includes Tral, said that one protester died of a bullet wound to the head while four others were seriously injured and being treated at a hospital in Srinagar.
The All Parties Hurriyat Conference, a separatist political organization in Kashmir, called for a statewide shutdown Sunday and Monday to protest what it termed "brute force" by Indian forces against civilians.
As unrest grows in the Indian-controlled part of Kashmir, many analysts accuse Prime Minister Narendra Modi's government of failing to pursue a political dialogue with Kashmiri groups that have long agitated for self-determination.
In 2015, Modi's Bharatiya Janata Party, a Hindu nationalist organization, formed a coalition government in Jammu and Kashmir with a political adversary, the People's Democratic Party, which advocates for Kashmiri self-rule. The controversial pairing left many Kashmiris in the majority-Muslim territory alienated, and the coalition has failed to fulfill any of its pledges to start political talks on Kashmir's status.
Modi's government then took steps to curtail the state's constitutional autonomy and enforced restrictions on beef and other measures seen as hostile to Muslims.
"There was huge trepidation when the coalition was agreed to" and the Modi government's subsequent actions "just made anger and cynicism grow exponentially," said Radha Kumar, a writer and policy analyst.
Anti-Indian sentiment rose even higher after an incident last month in which a young Indian army officer ordered a civilian to be tied to the hood of a military vehicle and paraded him through several Kashmiri villages to intimidate stone-throwers.
Many Indian politicians praised the move, saying the unruly mobs in Kashmir needed to be taught a lesson. But after the army this week gave an award to the officer, Maj. Nitin Leetul Gogoi, an outcry ensued among critics of India's heavy-handed security tactics in Kashmir.
"I don't blame the young officer, who had to make a decision at a very critical moment," Kumar said. "I think the people most to blame are the politicians who went to town justifying it. The real issue is you should not be putting your security forces in circumstances where they make and justify such decisions."
Follow @SBengali on Twitter for more news from South Asia
Sign up for Essential California for news, features and recommendations from the L.A. Times and beyond in your inbox six days a week.
You may occasionally receive promotional content from the Los Angeles Times.