Battleground Bollywood: India's film industry targets Pakistan as political tensions rise
Reporting from Mumbai, India —
As India and Pakistan trade attacks and accusations over the disputed border territory of Kashmir, a new flashpoint has emerged: Bollywood.
Indian filmmakers have banned Pakistani artists, and Pakistani cinemas have retaliated by pulling the popular Indian movies from their screens as relations between the testy neighbors have sunk to their lowest point in years.
The Indian Motion Picture Producers Assn., or IMPPA, said last week that Pakistani actors, singers and technicians no longer would be allowed to work on Indian films. The move came in response to the deaths of 19 Indian soldiers in a raid on an army base Sept. 18 that India blames on Pakistani militants.
The IMPPA includes all the major producers and production houses in the $2.3 billion Indian film industry known as Bollywood. Officials said the decision would be binding on all of them.
"Pakistani artists have no right to work here," said filmmaker Ashoke Pandit, the association's vice president. "They are emotionless and insensitive to the pain of our country."
Pandit accused Pakistani artists — whose domestic film industry is minuscule — of failing to condemn terrorism against India and treating the country like "an ATM." There are about 40 major Pakistani actors and artists working in India, he said.
On Friday, Pakistani cinema owners pulled all Indian films from their theaters and cancelled new Bollywood releases until tensions between the two countries ease.
"It is not in the ambit of an association to take policy decisions like banning artists," said Nadeem Mandviwalla, owner of movie theaters in the capital, Islamabad, and the largest city, Karachi.
"No Indian movie will play on any of my eight screens until normalcy returns."
Jingoistic feelings have swelled in both countries since Sept. 29, when India responded to the army base attack with a commando raid into the Pakistani-controlled section of Kashmir, the divided northern territory that both countries claim in its entirety.
Predominantly Hindu India and mainly Muslim Pakistan — cleaved upon independence from Britain in 1947 — have fought three wars and come close to launching several more.
Despite the animosity between the nuclear-armed neighbors, cultural and linguistic common ground means both nations share a love for Bollywood, known for its sexy stars, sumptuous locales and catchy musical numbers. Pakistan is the No. 3 foreign market for Indian movies, after the United States and the United Arab Emirates, and a handful of Pakistani actors have crossed the troubled border to become stars in India.
The best known is Fawad Khan, a dashing actor and singer who made his Indian debut in 2014 playing an emotionally repressed prince in the Disney-produced comedy-drama "Khoobsurat" ("Beautiful"). Khan did not address the India-Pakistan tensions until Friday, when he released a Facebook statement pleading for mutual understanding.
"As a father of two little children, I pray and wish like many others that together we can build and live in a more peaceful world," he wrote.
While many fans praised his words, several Indian comments found them too equivocal. Some Pakistanis wished he had sounded more patriotic.
The ban has divided Mumbai's film community — which includes many high-profile Indian Muslim stars — and thrown one high-profile upcoming release into uncertainty.
Khan has a cameo as a DJ in the romantic drama "Ae Dil Hai Mushkil" ("This Heart is Complicated"), due to open this month around the Hindu festival Diwali, typically one of the year's biggest box-office weekends. A Hindu nationalist party, the Maharashtra Navnirman Sena, has called on the film to be shelved. But the IMPPA has said the ban on Pakistani actors should not affect already completed movies.
"The distributors are all Indians, and stopping the release would affect our people who have invested a lot of money," said Pandit, the association vice president.
The film's producer, Karan Johar, who said banning Pakistani actors "is not a solution," faced protests outside his office and has been accused of putting his financial interests ahead of the nation's interests.
In a TV interview Saturday, actor Ajay Devgn — whose next film releases the same weekend as Johar's — said he would not work with Pakistani actors until "matters settle down." He criticized actors — such as megastar Salman Khan, an Indian Muslim — and filmmakers who had not taken a firmer stand against Pakistan.
"Any child would understand when it comes to a situation like this, you have to stand by your nation," Devgn said.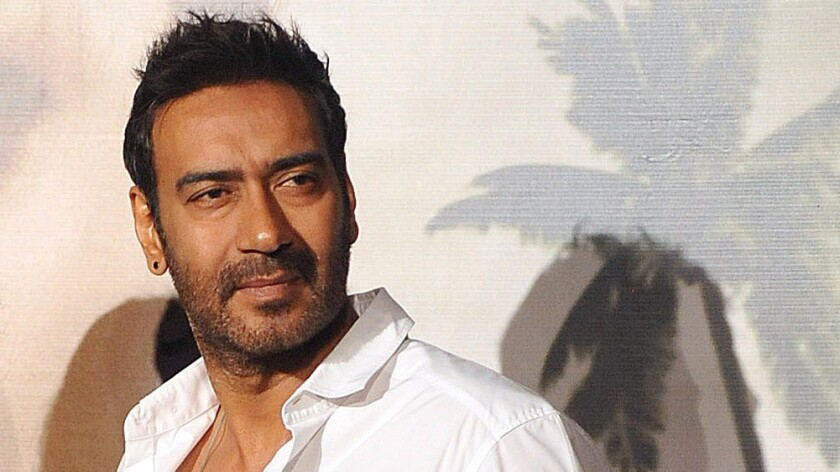 This is not the first time that India's entertainment industry has found itself in the crosshairs of political and religious ideologues who oppose closer relations with Pakistan.
Last year, a Pakistani film, "Bin Roye," was pulled from screens in Maharashtra state, which includes Mumbai, after the Maharashtra Navnirman Sena threatened to attack theaters that showed it.
In 1997, when legendary Indian actor Dilip Kumar accepted Pakistan's highest civilian honor, the Nishan-e-Imtiaz, a right-wing Hindu political group, the Shiv Sena, branded Kumar, then in his mid-70s, a Pakistani spy.
Many Indian moviegoers supported the ban on Pakistanis.
"If they can't respect us, why should we allow them in?" said Gajanan Deulkar, a mustachioed tea-seller working outside a multi-story cineplex in midtown Mumbai. "We have been magnanimous and liberal for all these years. But for how long? Enough is enough."
The tit-for-tat will hurt the movie business in both countries. Indian films make more than $10 million in annual receipts in Pakistan. For many Pakistani theaters, Bollywood movies account for more than half their revenues.
Pakistan banned Indian films for four decades after a 1965 war, but the state of domestic filmmaking was so poor that by 2006, there were fewer than 20 cinema screens in the entire country.
That year, Pakistan let Indian films back into its theaters. Their popularity has fueled a boom in the movie theater industry, with 115 screens now operating and 75 more under construction — though still a relatively small number for a country of 180 million.
"A total of 15 Pakistani films were released last year, and only six survived in the theaters for two or more weeks," said Adnan Tariq, a journalist who covers the Pakistani film industry. By comparison, about 80 Indian films were released in Pakistan.
"Indian movies are the most viable option, as only a small number watches Hollywood films," Tariq said.
Last week, a popular Indian Muslim actor was caught up in the tensions — blocked from performing in a theatrical production of a Hindu epic in his hometown in northern India.
Shiv Sena activists said they stormed the dressing room of the actor, Nawazuddin Siddiqui, to prevent him from playing a role in the Ramlila, a folk play about the life of the Hindu lord Ram.
"We won't allow anyone named Nawazuddin to participate in Ramlila," a Shiv Sena leader told the NDTV news network.
Siddiqui said performing in the Ramlila was "a childhood dream" but vowed to return next year.
Parth M.N. is a special correspondent. Special correspondent Aoun Sahi contributed to this report from Islamabad.
Follow @SBengali on Twitter for more news from South Asia
ALSO
Human rights abuses continue in Mexico but U.S. officials still want to restore aid
Pakistan sets mininum sentence of 25 years in prison for those convicted of 'honor' killings
Colombian President Juan Manuel Santos wins the Nobel Peace Prize for efforts to end the 52-year civil war
---
Must-read stories from the L.A. Times
Get all the day's most vital news with our Today's Headlines newsletter, sent every weekday morning.
You may occasionally receive promotional content from the Los Angeles Times.