The world's fastest animal is in a race for survival in Iran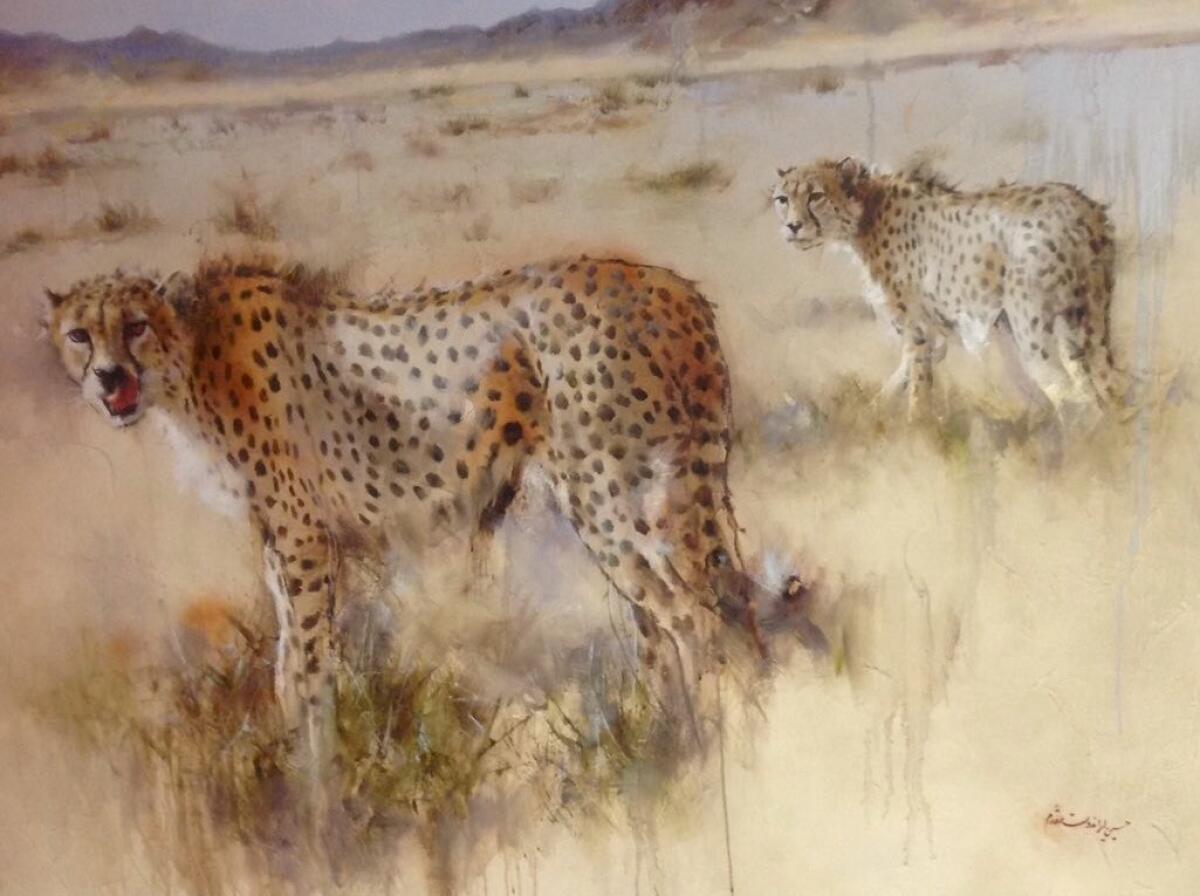 Reporting from Tehran —
The three-acre hilltop park overlooking Iran's smog-blanketed capital might seem like a nice spot for romance. But the couple has not been in the mood.
Delbar, a 4-year-old female Asiatic cheetah, was brought to the fenced enclosure at Tehran's Pardisan park by conservation officials who hoped she would mate with Koshki, a 10-year-old male.
After seven months, the coupling has yet to occur, the latest setback in Iran's effort to save the imperiled big cat whose footprint is carved in Persian literature and history.
Iranian environmental officials report dwindling numbers of the Asiatic cheetah, also known as the Iranian cheetah, a subspecies of the world's fastest mammal that exists only in the Islamic republic but has been threatened by human encroachment.
Read more: How villagers in India are helping to save the vanishing tiger »
Last month, Morteza Eslami, head of the nongovernmental Iranian Cheetah Society, caused alarm when he said that cameras set up in known cheetah habitats had captured images of just two female cats in recent months – a signal that the population "has significantly dropped."
Shy and more elusive than its African cousin, the Asiatic cheetah is difficult to track and Iranian authorities do not have a reliable estimate of its population. Bahman Jokar, head of the cheetah desk at Iran's environmental agency, said about 50 cheetahs are believed to remain in Iran's central deserts – a population so small that to save it requires emergency measures.
"They are in a very dangerous condition," Jokar said. "We try our best but it is a race against time."
That is why Iranian officials brought Delbar and Koshki – both of which have lived in captivity since wildlife rangers rescued them from illegal hunters when they were cubs – together at Pardisan park. German experts have been invited to Tehran to advise on how to get the pair to mate.
But experts say female cheetahs typically need to be exposed to multiple males before they are ready. Officials are considering artificial insemination, but environmental authorities also plan to ask parliament to approve a $2.6-million plan to fence off 300 square miles in central Iran for a protected habitat where the surviving cheetahs, male and female, could mate in the wild.
"Unfortunately our government and parliament have other top priorities and saving the Asiatic cheetah is not the top one," Jokar said.
The big, lithe cat, known for reaching speeds of up to 75 miles per hour, has featured in Iran's cultural history for at least a millennium. The 10th century poet Ferdowsi, in his epic poem "Shahnameh," or "Book of Kings," described how Persian rulers carried cheetahs along on hunting tours to chase prey. One couplet goes, "Three hundred riders moved, after them all cheetah-keepers followed."
The Asiatic cheetah's habitat once stretched from the Arabian Peninsula across Iran and east into the Indian subcontinent, but today it exists only Iran. The African cheetah, with a population of about 7,500 spread across nearly a dozen countries, is also described as vulnerable.
As Iran's population has swelled to 80 million, human settlements have crept closer to cheetah habitats and blocked pathways the cats use to find food and mating partners.
There have been several cases of wild cats being struck by cars along highways, and of conflicts between guard dogs and cheetahs.
In 1994, an Asiatic cheetah and her three cubs came looking for food and water in Bafgh, a town in southeast Iran. Confronted by startled residents, the mother fled and two cubs were killed. The third cub was taken into captivity and named Marita, but it never mated and died in Pardisan park in 2003.
Marita galvanized interest in the fate of the species. The date of his death, Aug. 30, was designated National Cheetah Day. Iran issued commemorative stamps and the national football team has worn patches featuring the animal in international matches.
A nine-year, United Nations-funded project was launched to determine the cheetah population and devise a plan to reverse its decline. But camera traps proved ineffective at tracking the big cat, and experts said the project, which suffered from a high rate of turnover, failed to meet its goals.
Now experts say it is too late to hope that research alone will save the cheetah in Iran.
"In principle, any mammal population is doomed if its population drops to about 50 or so," making it difficult to ensure that adults produce enough offspring to perpetuate the species, said Mozaffar Sharifi, an ecologist.
Jokar said Iran was in talks with officials at Banff National Park in Canada about designing "ecoducts" – wildlife crossing zones that allow animals to pass through areas of human settlements safely. Iranian environmental officials envision building at least 32 underpasses so that cheetahs can cross beneath highways and avoid road accidents, Jokar said.
Such wildlife crossings are common in Europe. California has plans for an overpass to help mountain lions and other wildife cross the 101 Freeway.
Gary Lewis, head of the United Nations office in Iran, said the Asiatic cheetah did not have to go the way of the Caspian tiger and the Persian lion – two other famed big cats that disappeared from Iran.
"They are gone forever. But it is not too late to save the Asiatic cheetah," Lewis was quoted as saying on the Iranian environment agency's website. He said he was inspired by the grassroots efforts of "a very few people in our society who strive – day in and day out – to keep the Asiatic cheetah from harm."
Among them is Bahman Najafi, a retired park ranger in the desert of Tabas, in central Iran. Along with his wife and son, Najafi has traveled across Iran in a green mobile home with the image of a cheetah painted on the side to raise awareness about the cat.
"For example, in Tabas, if the cheetah were supplied with vegetation and prey such as rabbit and gazelle, and we keep humans away from the area, we can save the Asiatic cheetah from extinction," said Najafi, a leathery 60-year-old with a gray mustache and wide smile.
"If the species does not survive, I will not survive either," he said. "I am done too."
Mostaghim is a special correspondent.
Follow @SBengali on Twitter for more news from South Asia
ALSO:
Tenacious, mysterious and maybe endangered — a wolverine roams the West
Iran upholds 16-year sentence for anti-death penalty campaigner Narges Mohammadi
Sign up for Essential California for news, features and recommendations from the L.A. Times and beyond in your inbox six days a week.
You may occasionally receive promotional content from the Los Angeles Times.