Iran's President Rouhani is the favorite in Friday's elections, but he's up against an influential conservative — and voter apathy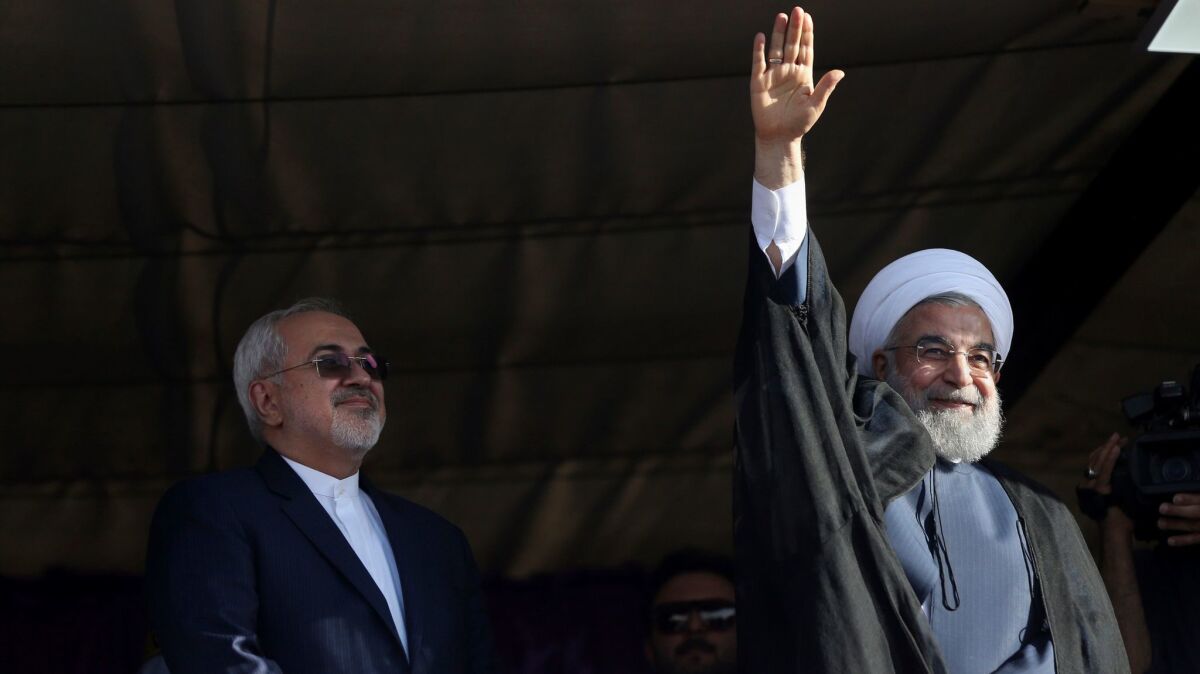 Reporting from Tehran —
Iranian President Hassan Rouhani and his archconservative challenger held dueling rallies in northeastern Iran on Wednesday, the final day of campaigning before a closely watched election.
With voters preparing to go to the polls Friday, Rouhani is a slight favorite over Ebrahim Raisi, a former attorney general who is custodian of Iran's most important Shiite Muslim shrine in the northeastern city of Mashhad, where both candidates held rallies.
As fears over a confrontation with the Trump administration have given way to more mundane economic concerns, Iranian voters will choose between Rouhani's promises to create jobs by continuing a tentative rapprochement with the West and Raisi's pledges to dole out cash subsidies to the poor.
Iran's quadrennial presidential elections are heavily choreographed by the theocracy. The slate of candidates is determined by an unelected, 12-member Guardian Council and the usual restrictions on dress code and free speech are somewhat relaxed to generate enthusiasm among voters.
High turnout at the polls – more than 60% of eligible voters have cast ballots in every Iranian presidential election since 1997 – confers legitimacy on the political process, and by extension the mullahs' leadership.
After two candidates from a field of six dropped out in recent days – part of the choreography – the election has turned into a two-man race between Rouhani, a relative moderate on social issues, and Raisi, a religious conservative who is close to Iran's ruling clerics.
Although there are few reliable opinion polls, Rouhani appears in good position to win reelection. Every Iranian president since 1981 has secured a second term.
But there are questions about the intensity of Rouhani's support as voters weigh his signature achievement – the 2015 deal he struck with six world powers to curb Iran's disputed nuclear program in exchange for an easing of international sanctions.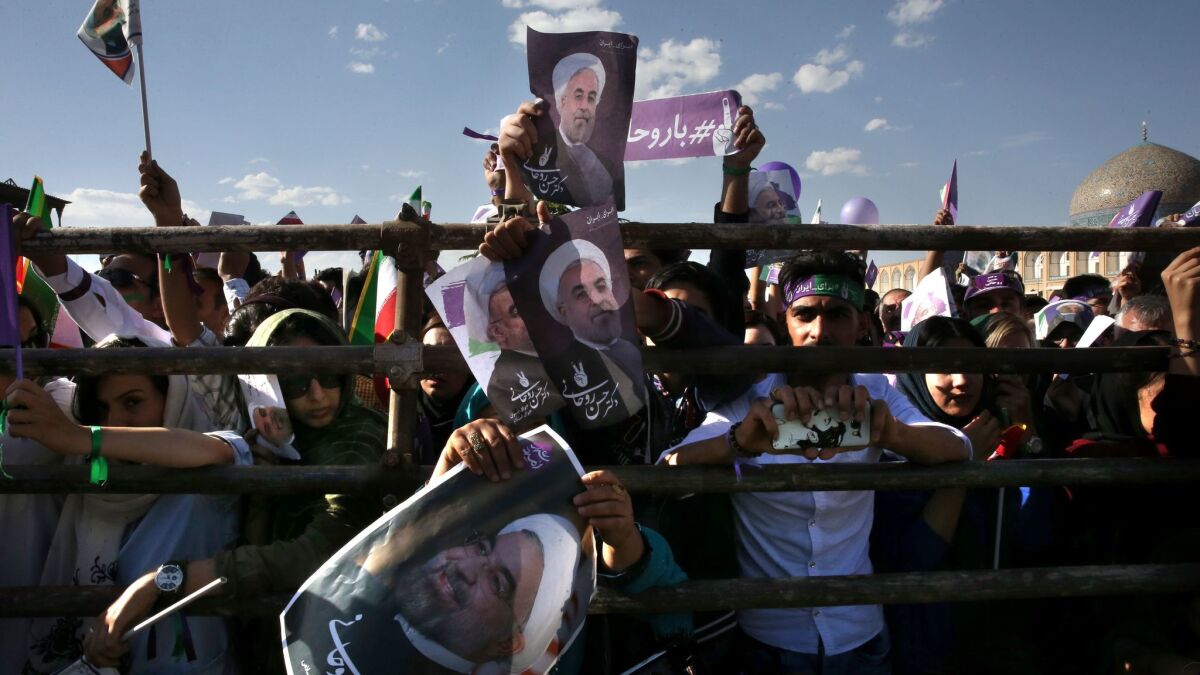 While many Iranians supported Rouhani's effort to end their country's isolation and avert military conflict with the United States, there is growing frustration that the results of the agreement – including an increase in oil exports – have not translated to real economic benefits for most people.
In one presidential debate, Raisi likened the agreement to "a check the government has been unable to cash." But just as President Trump has failed to tear up what he once called "the worst deal ever," Raisi has not indicated he would back out of the agreement if elected.
Analysts say Rouhani faces flagging enthusiasm among his urban, educated base because he has been unsuccessful in relaxing the rules surrounding Iranians' social lives, including dress codes and speech restrictions. And an angry protest that greeted Rouhani when he visited the site of a deadly coal mine explosion this month signaled discontent in the provinces.
"There may be a lot of voter apathy in Iran right now," said Alireza Nader, a senior policy analyst at the Rand Corp. "It's not clear if a great majority of people are going to come out and vote for Rouhani. He's the most attractive candidate when you put him up against Raisi. But he has vulnerabilities."
If turnout among Iran's 56 million eligible voters is low, analysts said Rouhani could struggle to win a majority Friday. That would open the door to a runoff election in which Iran's ultra-conservative deep state, including the powerful Revolutionary Guards, could mobilize support for Raisi.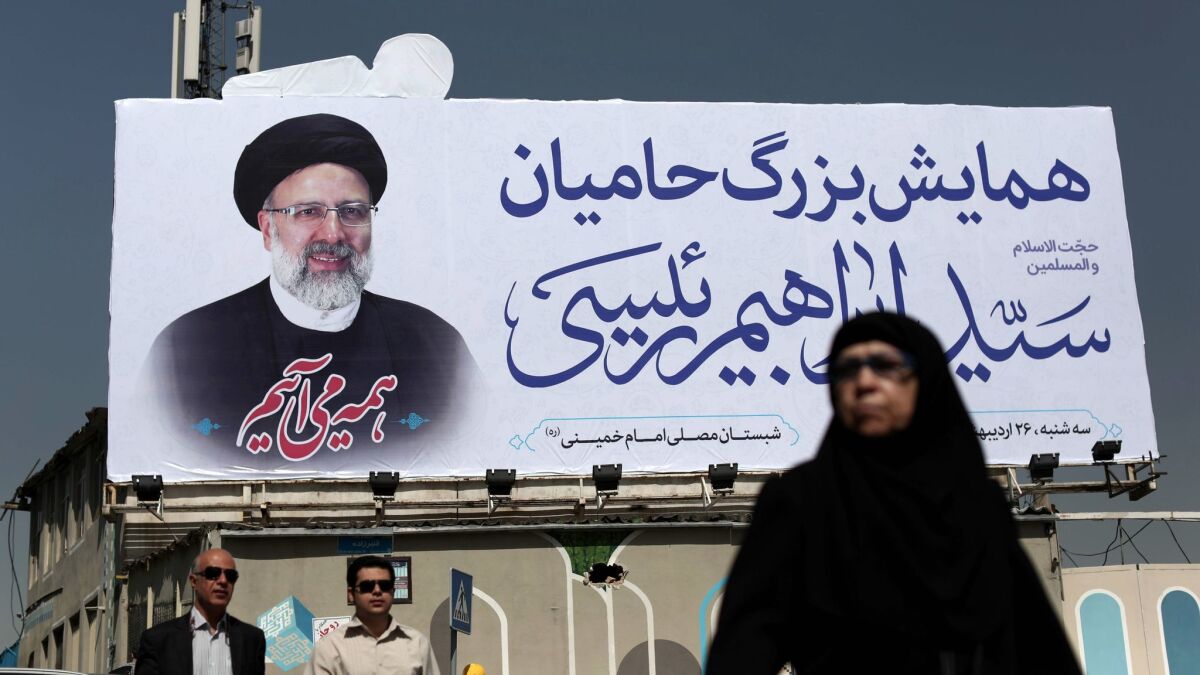 The little-known hard-liner who is best known for presiding over the 1988 executions of thousands of political prisoners, Raisi is widely seen as the preferred candidate of – and possible successor to – Supreme Leader Ayatollah Ali Khamenei.
An archetype of the theocracy, Raisi nevertheless has run as a populist, promising to revive cash handouts in a bid to appeal to the working-class supporters of former President Mahmoud Ahmadinejad.
Most experts agree the policy would return Iran to the economically disastrous days of the isolationist Ahmadinejad, but the promises have gained resonance in a country with stifling unemployment.
At a pro-Raisi rally in Tehran this week, low-income and conservative supporters said Rouhani had sold out Iran by signing the nuclear deal and has gotten little foreign investment or jobs in return.
Others said Rouhani's promises of social freedoms were leading to moral lassitude.
"My husband is sexually provoked by these ladies in their tight dresses," said Noreyye Mahdi, a 26-year-old draped in a full-length black abaya on a warm afternoon. "I hope Mr. Raisi will contain them. And he has promised to provide jobs for the unemployed."
The avuncular Rouhani has tried to rally his base by promising further social freedoms and criticizing Iran's security forces for attempting to sabotage the nuclear deal – in part by displaying a missile with the sign, "Death to Israel," during a recent military parade.
His campaign issued an economic policy statement that criticized cash giveaways as unfeasible, while casting himself as a pragmatist focused on "achievable goals," such as controlling inflation and increasing economic production.
"Overall Rouhani has been a candidate whose message has been, implicitly, that if you don't vote for me, things could get even worse," Nader said.
At a spirited campaign rally last week at a basketball arena in Tehran, thousands of Rouhani supporters demanded the release of opposition leaders who have been under house arrest since 2009 election protests were violently crushed by state security forces.
The arena is named "Hijab," for the Islamic veil, yet many of the attendees were women who eschewed the mandatory headscarf – a sign of the greater social freedoms of election time.
Rouhani promised to have the remaining sanctions against Iran lifted – a long shot because many stem from Iranian security forces' ballistic missile program and support for militant groups. To cheers from the crowd, he promised a further easing of social restrictions.
"I have honored all the promises I campaigned on four years ago," Rouhani said. "If I have failed to deliver on some of my promises, it is because they [the hard-liners] have prevented me from doing so."
For young, Western-oriented Tehran residents, Rouhani remains popular.
Reihane Taravati, a 26-year-old who was among several Iranians arrested in 2014 for participating in an online video set to Pharrell Williams' hit summer anthem "Happy," credited Rouhani with securing her release after he tweeted, "Happiness is our people's right."
"He has saved us from war, and if he is out of office, we don't know what will happen to us," Taravati said. "If the extremist candidate wins, then we will definitely face war. Trump in the White House and a hard-line president here in Tehran – then, bang!"
ALSO
Iran convicted two U.S. citizens of espionage. Their relatives are pressing Trump for help
Trump campaigned on 'America First.' Now he's getting ready for his first trip overseas
Jordan looks to repeal long-reviled rape-marriage law
Special correspondent Mostaghim reported from Tehran and Times staff writer Bengali from Mumbai, India.
Follow @SBengali on Twitter for more news from South Asia
---
Must-read stories from the L.A. Times
Get the day's top news with our Today's Headlines newsletter, sent every weekday morning.
You may occasionally receive promotional content from the Los Angeles Times.