U.S. wants to 'digest' Iran, supreme leader warns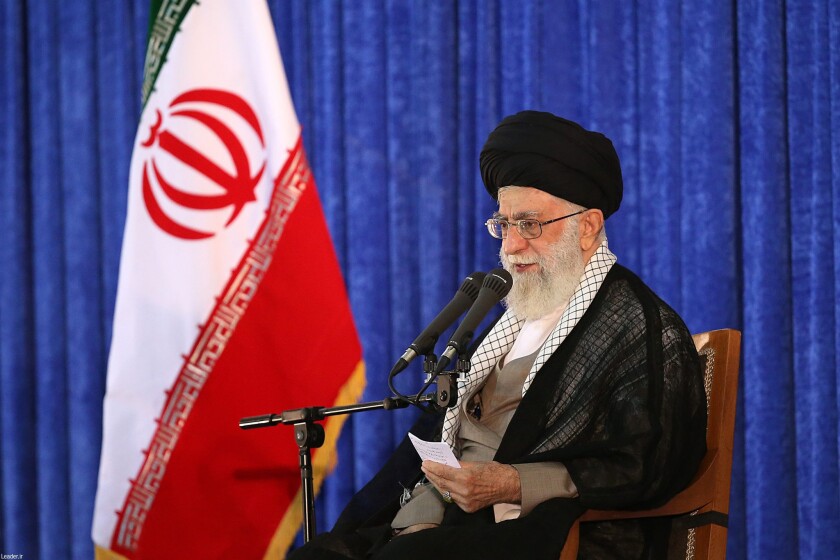 Reporting from Tehran —
Iran's supreme leader on Friday accused the United States of wanting "to digest the Iranian economy" in a harsh anti-Western speech that cautioned against integrating with the rest of the world.
The remarks by Ayatollah Ali Khamenei – if not altogether surprising from an inveterate hard-liner – signaled that Iran's most powerful figure could try to rein in moderate President Hassan Rouhani's outreach to the West.
Rouhani is widely popular following last year's landmark agreement with Western powers that has seen Iran mothball its disputed nuclear program in exchange for an easing of Western sanctions that had isolated the economy. Since then, Rouhani has sought billions of dollars in foreign investment to create jobs and revitalize stagnant domestic industries.
See more of our top stories on Facebook >>
The nuclear deal had tacit support from Khamenei, who has the final say on Iran's foreign policy. But as Rouhani prepares to seek re-election next year, his diplomacy with the West is facing hurdles.
A $27-billion deal to purchase new aircraft from the French company Airbus is in trouble due to reluctance from banks to do business with Iran. While sanctions on Iran's banking program have been eased, some banks fear running afoul of U.S. restrictions that remain in place, a top Airbus executive said this week.
The uncertainty could also imperil talks between Iran and the U.S. airline manufacturer Boeing over a possible deal for new aircraft to overhaul Iran's aging fleets.
Khamenei's speech – delivered at the golden-domed shrine of his predecessor, Ayatollah Ruhollah Khomeini, on the 27th anniversary of his death – used familiar anti-American rhetoric to urge Iranians not to rely on foreign countries.
"It is not an honor to be integrated into the international economy," Khamenei said. "We should not be digested by the West, led by the Americans."
While he said he did not reject all foreign investment, he said foreign companies should share technology with Iran. He accused the U.S. of reneging on the nuclear deal.
In February, candidates running under a pro-Rouhani banner called "List of Hope" scored significant gains in parliamentary elections, loosening the grip of hard-line conservatives over the legislative body. The election was seen as an endorsement of Rouhani's outreach and a major boost to moderates, particularly after thousands of their prospective allies were disqualified from running.
But last month, a senior hard-line cleric was named chairman of the Assembly of Experts, a panel of Islamic clerics and jurists who could choose Khamenei's replacement as supreme leader. It was a symbolic victory for an ultraconservative faction that opposes engagement with the West.
This week a leading conservative, Ali Larijani, was re-elected parliamentary speaker. Although he defeated the moderate candidate of the pro-Rouhani faction, Larijani supports economic reforms and could serve as a mediator with hard-liners in parliament, experts say.
Larijani and Rouhani "are both pragmatists, consensus builders, and on the same page when it gets to prioritizing economic recovery," said Ali Vaez, Iran analyst at the International Crisis Group.
Special correspondent Mostaghim reported from Tehran and staff writer Bengali from Mumbai, India.
ALSO
Thai police stop truck carrying 2 tiger skins from Buddhist temple
Authorities say black box signals detected from EgyptAir Flight 804
Phoenix police make 'horrific' discovery: 3 children stabbed to death, stuffed in closet
Follow @SBengali on Twitter for more news from South Asia
---
Must-read stories from the L.A. Times
Get all the day's most vital news with our Today's Headlines newsletter, sent every weekday morning.
You may occasionally receive promotional content from the Los Angeles Times.