Turks tell U.S. officials they have audio and video recordings that support conclusion Khashoggi was killed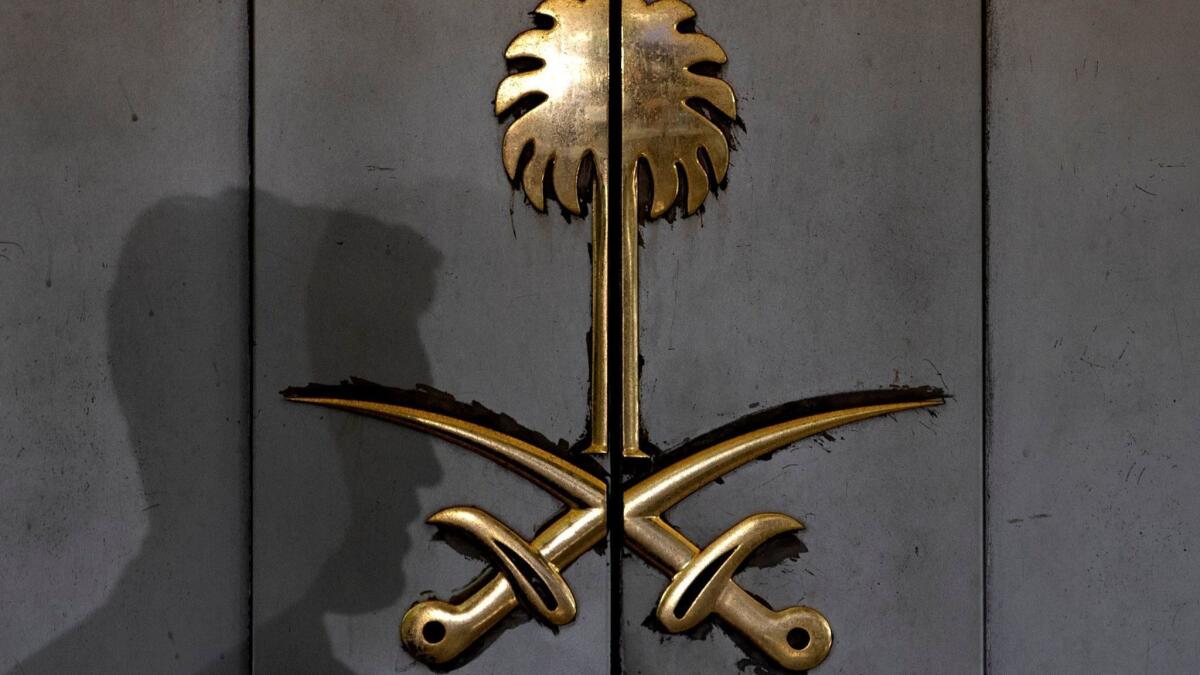 The Washington Post
Reporting from Istanbul, Turkey —
The Turkish government has told U.S. officials that it has audio and video recordings that prove Washington Post columnist Jamal Khashoggi was killed inside the Saudi Consulate in Istanbul this month, according to U.S. and Turkish officials.
The recordings show that a Saudi security team detained Khashoggi in the consulate after he walked in on Oct. 2 to obtain an official document before his upcoming wedding, then killed him and dismembered his body, the officials said.
The audio recording in particular provides some of the most persuasive and gruesome evidence that the Saudi team is responsible for Khashoggi's death, the officials said.
"The voice recording from inside the embassy lays out what happened to Jamal after he entered," said one person with knowledge of the recording who, like others, spoke on the condition of anonymity to discuss highly sensitive intelligence.
"You can hear his voice and the voices of men speaking Arabic," this person said. "You can hear how he was interrogated, tortured and then murdered."
A second person briefed on the recording said men could be heard beating Khashoggi.
The journalist has had long-standing ties to the Saudi royal family, but has written critically of the current government and Saudi Crown Prince Mohammed bin Salman.
The existence of such evidence would explain why Turkish officials were quick to blame Saudi Arabia for Khashoggi's killing. But Turkish officials are wary of releasing the recordings, fearing they could divulge how the Turks spy on foreign entities in their country, the officials said.
It's not clear that U.S. officials have seen the video or listened to the audio, but Turkish officials have described their contents to their American counterparts.
Saudi officials have denied any involvement in the disappearance of Khashoggi, saying he left the consulate shortly after entering.
Turkey said Thursday it has agreed to a request by Saudi Arabia to form a joint committee to probe what happened to Khashoggi.
Mohammed has billed himself as a reformer and moderating force in the country, and he has become a key strategic partner in particular to Jared Kushner, President Trump's son-in-law and senior advisor.
Kushner has tried to promote Mohammed to skeptical national security officials, who have long viewed him as an impetuous and ruthless leader who has an overly simplistic view of the complex challenges the United States faces in the Middle East.
During a bill signing Thursday in the Oval Office, Trump called Khashoggi's suspected murder "a terrible thing," but stopped short of assigning blame.
"We're looking at it very strongly," Trump said. "We'll be having a report out soon. We're working with Turkey, we're working with Saudi Arabia. What happened is a terrible thing, assuming that happened. I mean, maybe we'll be pleasantly surprised, but somehow I tend to doubt it."
Within the White House, on Capitol Hill and among U.S. intelligence officials there is a growing belief that Khashoggi is dead and that Saudi Arabia is to blame.
That conclusion is driven in part by U.S. intelligence reports before Khashoggi's disappearance that show Mohammed ordered an operation to lure Khashoggi back to Saudi Arabia, where he was to be detained. U.S. officials familiar with the reports described them to the Washington Post.
One U.S. official said there was no intelligence that showed the Saudis wanted to lure Khashoggi to the consulate in Istanbul. Intelligence officials and experts have speculated in recent days that the 15-man Saudi security team that Turkish officials say was sent to Istanbul may have intended to capture Khashoggi and bring him back to Saudi Arabia, and not to kill him.
The person who was briefed on the audio recording said it shows that after killing Khashoggi, the security team went to the home of the Saudi consul general, where staff were told to go home early. There is evidence of at least one phone call, as well, from inside the consulate, this person said.
Despite a growing demand for information about Khashoggi's whereabouts, U.S. officials had few public answers Thursday more than a week after he went missing. The State Department said it expects the Saudi ambassador to the United States to return from a trip home and provide information about Khashoggi's status without delay.
"We have said to him that we expect information upon his return to the United States," State Department spokeswoman Heather Nauert said in a briefing with reporters.
She added that the United States has offered to provide law enforcement resources to Turkey, but declined to say whether investigators were on the ground there.
On Capitol Hill, some lawmakers were frustrated that the White House hadn't disclosed more information about Khashoggi before and after he disappeared. Some lawmakers said the administration should consider curtailing sales of weapons to the kingdom.
"Arms sales are certainly going to be, I think, a huge concern if there is responsibility that is irrefutable," Sen. Cory Gardner (R-Colo.) said of any potential evidence supporting Saudi Arabia's role in Khashoggi's murder.
Gardner complained that the Trump administration had left senators in the dark about intelligence pointing to a Saudi role and demanded that officials give lawmakers a fuller account of what they knew of possible threats to his safety before he disappeared.
"There's a lot of information that we don't know that we need to get. There's an information gap that needs to be filled promptly by the administration, by the intelligence community," Gardner said. "The immediate question has to be, what exists. The answer to that needs to be, acting on the information that we had, what did we do with it."
Sen. Bob Corker (R-Tenn.) the chairman of the Senate Foreign Relations Committee, said he had seen no definitive proof of who killed Khashoggi, but "everything that I've seen points to the Saudis. … We have no evidence that points anywhere but to them."
On Wednesday, lawmakers from both sides of the aisle wrote to Trump and asked him to impose sanctions against anyone found responsible for Khashoggi's disappearance, including Saudi leaders. The lawmakers invoked the Global Magnistky Act, giving the president 120 days to make a decision.
On Tuesday, Kushner and national security advisor John Bolton called Mohammed and encouraged him to be transparent about what Riyadh knows about Khashoggi, said officials familiar with the call.
U.S. officials, however, pushed back on calls to halt arms sales to Riyadh, calling such demands premature.
"I think they're jumping to conclusions," said Nauert, the State Department spokeswoman. "This is entirely a hypothetical situation at this point. We don't know what happened. We don't have the facts of the case."
Trump also dismissed the possibility.
"They're spending $110 billion purchasing military equipment and other things," he said of the Saudis during a bill signing in the Oval Office. "If we don't sell it to them, they'll say, 'Well, thank you very much. We'll buy it from Russia.' Or 'Thank you very much. We'll buy it from China.' That doesn't help us not when it comes to jobs and not when it comes to our companies losing out on that work."
Sign up for Essential California for news, features and recommendations from the L.A. Times and beyond in your inbox six days a week.
You may occasionally receive promotional content from the Los Angeles Times.