Legislators object as Iraqi Kurds vote overwhelmingly to secede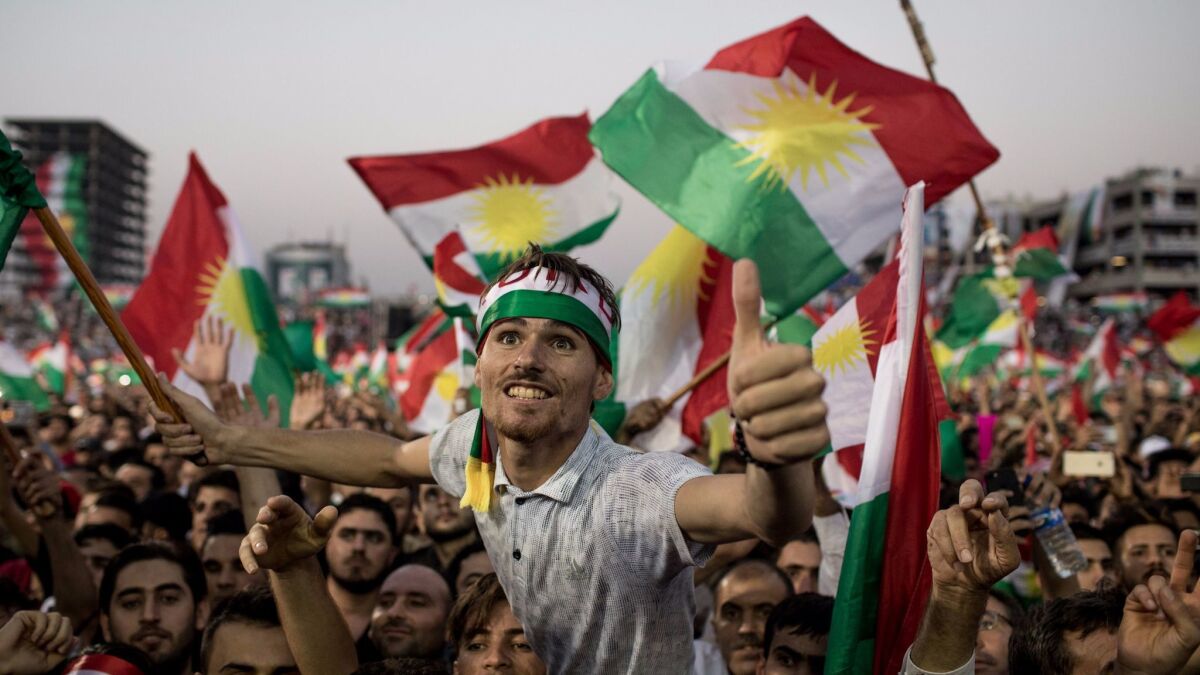 Reporting from BEIRUT —
Iraqi Kurds voted overwhelmingly in favor of independence from Baghdad in a referendum this week, according to results released Wednesday, as furious lawmakers exhorted the government to isolate the group's northern enclave and secure oil fields.
Iraq's parliament presented a 13-point resolution Wednesday rejecting the referendum as unconstitutional, while demanding that Iraqi Prime Minister Haider Abadi take all "constitutional and legal procedures to preserve the unity of Iraq."
Among the stipulations was the authorization to deploy troops in areas claimed by both Baghdad and the Kurdish regional government in Irbil, including oil fields in the province of Kirkuk, a particular point of contention between the two sides.
They called for full isolation of the semiautonomous Kurdish enclave: Border crossings "outside the control of the central government" are to be shut down, with all goods entering through them considered contraband; diplomats will be informed to come to Baghdad and close their consulates and embassies in the Kurdish region.
Meanwhile, Iraq's civil aviation authority requested that airlines suspend flights to Iraqi Kurdistan starting Friday, the deadline for Kurdish authorities to hand over control of airports in the cities of Irbil and Sulaymaniya.
Lebanese and Egyptian carriers announced that their last flights into Irbil would be on Friday. Others, including Turkey's and Qatar's national airlines, said they would continue service as long as the airspace was open.
Kurdish Transportation Minister Mawlood Bawa Murad, in a news conference carried by Iraqi Kurdish television news channel Rudaw, said the decision by the Iraqi government was inappropriate. He insisted the airports would remain open.
The punitive measures come after a referendum vote Monday that virtually none of the international community endorsed.
The vote, however, was an immensely popular move among Iraq's Kurds. They constitute about 15% to 20% of the population, making them the country's largest ethnic group.
The results released by the referendum's commission showed about 93% of participants voted to secede.
Many Kurds in Irbil, the region's capital, celebrated in public after the results were announced.
Kurdish officials said the vote gave them a mandate to renew negotiations with Baghdad in pursuit of secession.
But some leaders who oppose Kurdish independence have called for Massoud Barzani, head of the Kurdish region, to be prosecuted along with other politicians involved with the referendum. Negotiations have been ruled out until Kurdish leaders cancel the vote's outcome.
Iran and Turkey fear a breakaway Kurdish state on Iraqi soil would encourage their own Kurdish populations to do the same. For Iran, a Kurdistan supported by the U.S. would mean a threat on its western border. Both countries have threatened to shut down border crossings into the enclave and shut down oil pipelines.
Such a move would devastate the Kurds' economy and spur a de facto embargo on those living in the enclave. Turkish officials have floated the possibility of military intervention if violence were to break out.
Abadi, meanwhile, told parliament Wednesday that "the federal authority in the Kurdish region will be restored through the constitution and law."
"Kurdish citizens are Iraqis and they will remain so," he said. "We will not take any steps that harm their interests, dignity and welfare."
Bulos is a special correspondent.
ALSO
Independence vote puts Iraqi Kurds at odds with neighbors and allies, including the U.S.
A brave soldier and one horrible day: two lasting memories of Iraq
Iraqi military says it has 'fully liberated' Tall Afar's town center from Islamic State
---
UPDATES:
1:40 p.m.: This article was updated with additional information on Iran and Turkey.
10:05 a.m.: This article was updated throughout with Times reporting.
This article was originally published at 7:45 a.m.
---
Must-read stories from the L.A. Times
Get the day's top news with our Today's Headlines newsletter, sent every weekday morning.
You may occasionally receive promotional content from the Los Angeles Times.