Libya fighting displaces thousands as battle reaches airport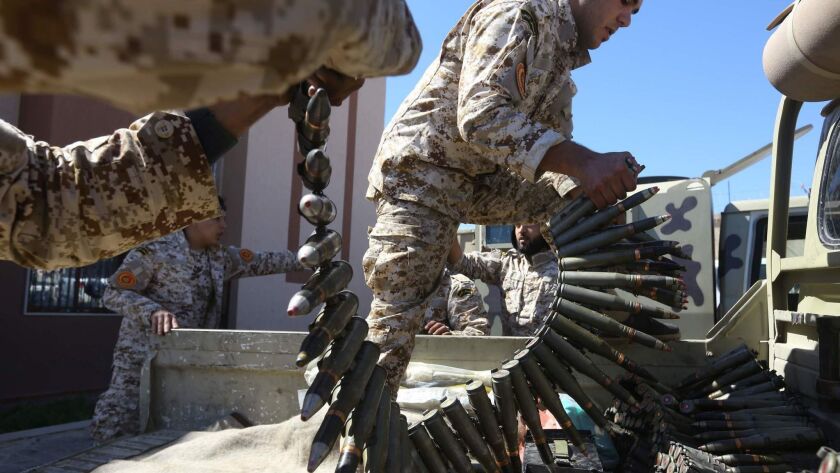 Reporting from Beirut —
Thousands of people scrambled to flee the violence in and around Tripoli, the United Nations said Monday, as a warplane attacked the Libyan capital's only functioning airport amid an escalation in fighting.
Maria do Valle Ribeiro, the United Nations' humanitarian coordinator for Libya, said in a statement that about 2,800 people had fled the clashes since late last week, when Gen. Khalifa Haftar began his onslaught to seize the capital.
The violence in some areas was so intense that civilians were unable to leave and emergency services were unable to reach them, according to another U.N. report. An additional 1,300 refugees and migrants in detention centers near the front lines were also in danger.
The U.N.-backed Government of National Accord earlier reported that at least 32 people, including civilians, had been killed in fighting around Tripoli since Thursday.
Haftar, a warlord who aspires to unite the country under the sword of his self-declared Libyan National Army, continued his offensive on Tripoli despite widespread condemnation, including by the U.S., as well as tenacious resistance by rival militias who rallied to defend the city, the official government's seat of power.
The fighting, which saw both sides wield their rudimentary air forces, shut down the airfield at Mitiga after a strike by what were thought to be planes loyal to Haftar on Monday afternoon.
Ghassan Salame, the U.N.'s special envoy to Libya, condemned the attack, saying in a statement that it constituted "a serious violation of international humanitarian law which prohibits attacks against civilian infrastructure."
Seven years after it was 'liberated,' the only thing certain in Libya is uncertainty »
Since the ouster of Libyan dictator Moammar Kadafi during the Arab Spring revolts of 2011, the oil-rich country has been controlled by a kaleidoscopic mix of militias that experts say are loyal to a bevy of international actors, including France, Italy, the United Arab Emirates, Saudi Arabia, Qatar and Egypt.
After years of chaos, the factions coalesced around rival authorities in the country's east, and in the west in Tripoli.
Last week, Haftar's forces launched a multi-pronged offensive that closed in on Tripoli from the west and the south. It was considered a bid to impose a fait accompli ahead of U.N.-brokered peace talks with the official government slated for this month.
Haftar had long vowed to march on the capital, which had enjoyed a measure of stability since 2016 under the U.N.-sanctioned government and militias.
Nevertheless, Haftar insisted residents there would welcome liberation at his hands, a view partly reinforced when his troops encountered relatively little resistance as they overran parts of southern Libya this year.
But what was meant to be a quick blitz sputtered before an all-out defense by Tripoli-based militias and their allies. By Sunday, the government had launched a counteroffensive it dubbed the "Volcano of Anger"; the clashes were a harbinger of civil war.
The escalation comes before a flurry of diplomatic maneuvers that — at least outwardly — aim to restore the tenuous peace that was to have culminated in talks between Haftar and the government. Salame met on Monday with Fayez Serraj, head of the Government of National Accord.
U.S. Secretary of State Michael R. Pompeo said in a statement, "We have made clear that we oppose the military offensive by Khalifa Haftar's forces and urge the immediate halt to these military operations against the Libyan capital.… This unilateral military campaign against Tripoli is endangering civilians and undermining prospects for a better future for all Libyans."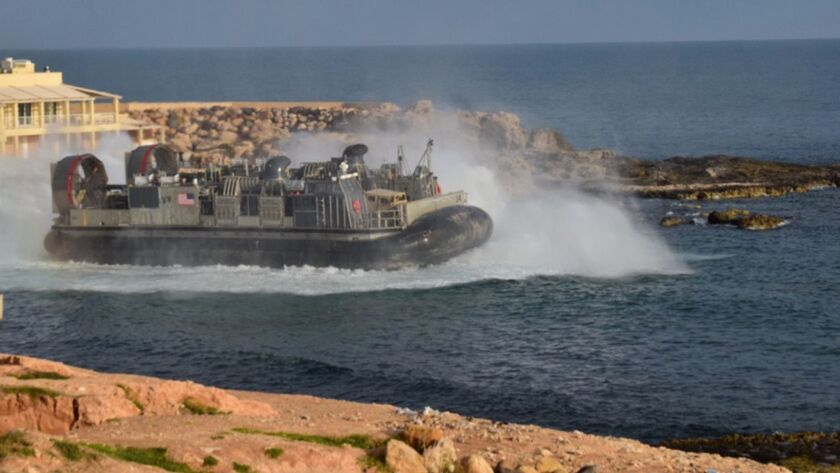 Citing security conditions, the U.S. has temporarily withdrawn some of its forces from the nation, a military official said Sunday.
Pompeo said in his statement that a political solution was the only way to unify the nation: "There is no military solution to the Libya conflict."
Yet observers say any chance of stopping the fighting lies not in Tripoli but in Paris and Abu Dhabi.
Haftar, a 75-year-old onetime ally of Kadafi who has portrayed himself as relentlessly anti-Islamist, enjoys strong support from France and the UAE. Both have lavished his forces with money and materiel, and stationed special forces units and intelligence operatives to back his successive campaigns.
Saudi Arabia and Egypt are also allies, and Libyan officials have worked with the EU to curb migration from the country's Mediterranean coast.
He has also been shielded by other countries, including Russia, which on Sunday watered down a U.N. Security Council statement to call on all Libyans to stop fighting rather than specifically name Haftar's forces.
Salame called for an "immediate halt to air operations" so as to limit the chance of a "full outbreak of conflict and the effective start of a civil war."
But he directed his appeal not to Libyans but abroad, asking "all member states to use their influence over the parties to stop further conflict and engage in immediate dialogue to reach a political solution."
---
Must-read stories from the L.A. Times
Get all the day's most vital news with our Today's Headlines newsletter, sent every weekday morning.
You may occasionally receive promotional content from the Los Angeles Times.