Libyan general's push to capture Tripoli raises fears of another civil war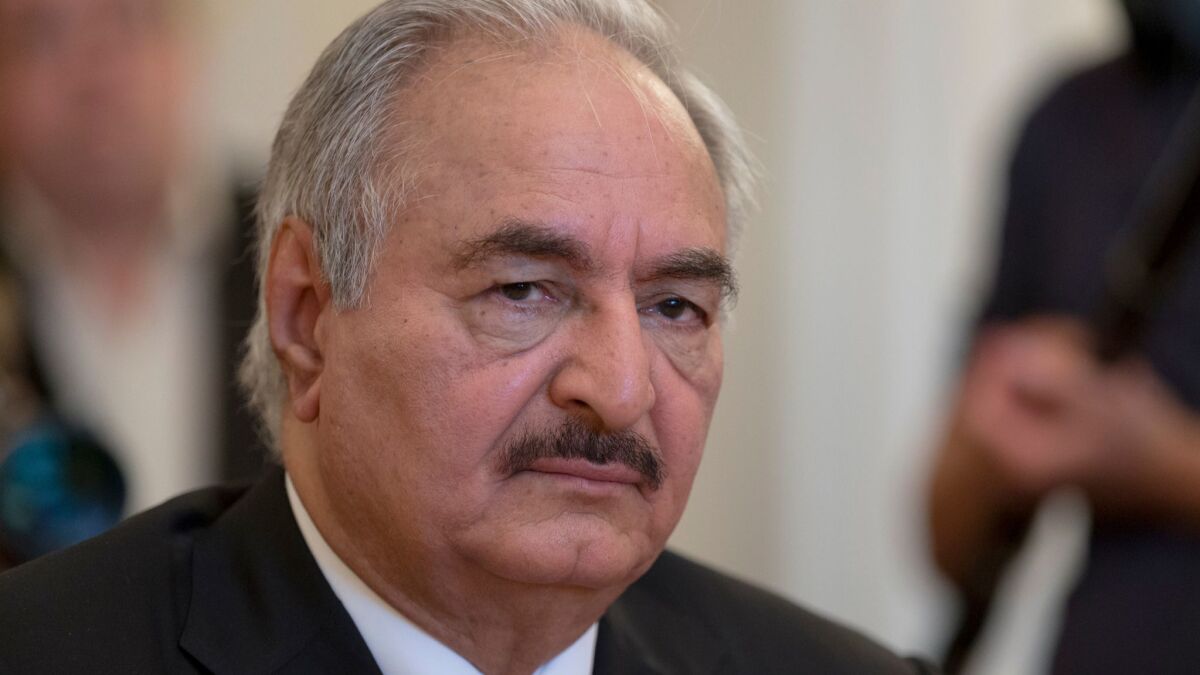 Reporting from BENGHAZI, Libya —
Militias in western Libya clashed with a rival military leader who has declared an offensive to seize Tripoli, the capital of the oil-rich nation, raising fears of another civil war.
The violence came as the United Nations chief, who had come to the country in an attempt to avoid an expanded conflict, ended his visit with a "heavy heart and deep concern."
Pro-government militias battling rival army commander Khalifa Haftar's forces captured 100 of his soldiers and waged an airstrike on one of his positions, according to the combatants.
Haftar, who runs the self-styled Libya National Army based in the country's east, brought his troops closer to Tripoli, which is controlled by the United Nations-backed Presidential Council and Government of National Accord and supporting militias.
A showdown between Haftar's army and the militias could plunge Libya into another spasm of violence, possibly the worst since the 2011 civil war that toppled longtime dictator Moammar Kadafi.
It would also put at risk U.N.-brokered peace talks later this month between rivals aimed at drawing a road map for new elections.
The U.N. Security Council scheduled an emergency closed-door meeting Friday afternoon at Britain's request to discuss the unfolding developments.
Haftar's troops on Thursday captured the town of Gharyan, 30 miles south of Tripoli, without a fight, putting them closer to the militias than ever before.
Haftar then ordered his forces to march on the capital, saying in an audio recording posted online: "We are coming, Tripoli. We are coming." He also urged his forces to enter the city peacefully and only raise their weapons "in the face of those who seek injustice and prefer confrontation and fighting."
7 years after it was 'liberated,' the only thing certain in Libya is the uncertainty »
But militias from the western cities of Zawiya and Misurata said they had mobilized to confront Haftar. A group of allied militias called the Joint Tripoli Protection Force based in the area around Tripoli announced they would also deploy to repel Haftar's offensive.
In the capital, council member Mohammed Ammari spoke from the city center saying that Libya will not become a "hostage in the hands of a military dictator once again."
There were conflicting reports during the day as where exactly and how much Haftar's fighters were advancing.
The renewed fighting came a day after U.N. Secretary-General Antonio Guterres arrived on a rare visit to Libya. On Friday, Guterres went to the eastern region, the seat of a rival administration and parliament aligned with Haftar.
"I am leaving Libya with a heavy heart and deep concern," Guterres told reporters at the airport shortly after meeting with Haftar.
"I still hope, if possible, to avoid armed confrontation around Tripoli," he said. "The United Nations remains available to facilitate any political solution."
Since Kadafi's ouster, Libya has been split between rival governments in the east and the west and an array of militias fighting over power and oil fields. Haftar has seized much of southern Libya without fighting.
---
Must-read stories from the L.A. Times
Get the day's top news with our Today's Headlines newsletter, sent every weekday morning.
You may occasionally receive promotional content from the Los Angeles Times.