Mexican president optimistic Trump will reverse tariff plan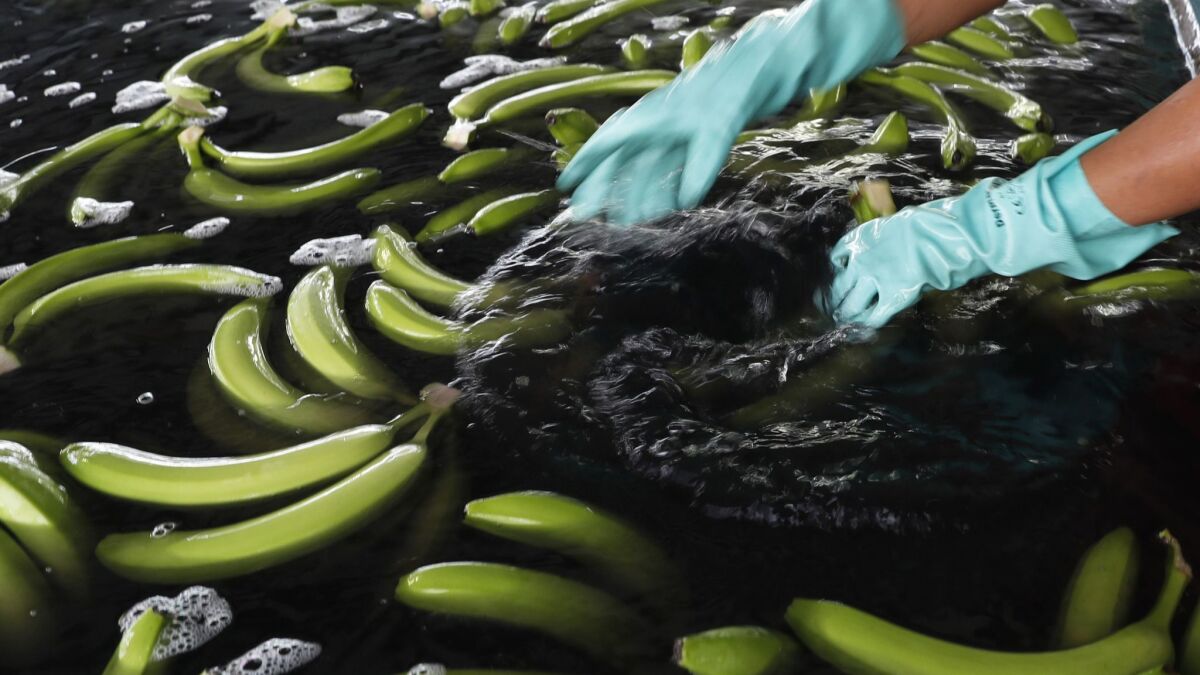 Reporting from Mexico City —
Mexican President Andres Manuel Lopez Obrador said Saturday that he expected "good results" from high-level talks scheduled in Washington next week aimed at dissuading President Trump from imposing punitive tariffs on all Mexican goods exported to the United States.
"There is an atmosphere favorable to dialogue in our country as well as in the United States," Lopez Obrador said at a news conference in the gulf state of Veracruz.
The Mexican president, who took office Dec. 1, is facing his first international crisis following Trump's announcement on Thursday that Washington would impose escalating tariffs starting at 5% on all Mexican imports until Mexico moved to shut down U.S.-bound migration — mostly of Central Americans traversing Mexican territory en route to the border.
Trump's actions caught Mexican officials off guard and stirred fears of a prospective financial crisis in Mexico, where a long-sluggish economy is heavily dependent on cross-border trade. A plunging peso and economic distress in Mexico could also revive illicit migration to the United States from Mexico, which has declined in recent years even as Central American arrivals have soared.
The Mexican president quickly dispatched a top negotiating team, including Marcelo Ebrard, the foreign minister, to Washington for talks scheduled for Wednesday with Secretary of State Michael R. Pompeo and others.
The 5% surcharge on all Mexican imports to the United States would go into effect June 10, Trump said, and escalate to 25% by Oct. 1, remaining in place "until Mexico substantially stops the illegal inflow of aliens coming through its territory."
Mexican officials have expressed confidence that they can change Trump's mind on the tariff issue, noting that he has previously backed down on other pronouncements — such as repeated threats to shut down border crossings between the United States and Mexico. Their apparent hope is that the tariff threat is a negotiating marker, not a fait accompli.
"President Trump sends out a lot of tweets and many are overruled by another tweet the following day," Jesus Seade, the foreign ministry's sub-secretary for North American affairs, told Mexico's Milenio newspaper.
"I prefer to be guided by actions," said Seade, who is scheduled to be part of the delegation slated to meet with U.S. officials.
The optimism voiced in official circles here is based in large part on the belief that U.S. manufacturers, farmers, auto makers and others heavily dependent on Mexican trade will object. There is also the unappetizing prospect, from a U.S. consumer perspective, that the tariffs would ultimately be passed on to U.S. purchasers, who are avid buyers of many Mexican products, including vegetables, fruits, autos and TV sets.
The tariffs, if implemented, would likely also trigger retaliatory surcharges by Mexico on U.S. exports here — though Lopez Obrador stressed Saturday that he doesn't want to enter into a "commercial war, a war of tariffs, of taxes" with the United States.
Mexico is the United States' third largest trade partner, after China and Canada, with $671 billion in binational commerce in goods and services in 2018, according to the office of the U.S. Trade Representative.
Still many observers are skeptical that Trump will change his mind, whatever Mexico offers in return. Trump's perceived serial Mexico-bashing to gain domestic votes for his reelection campaign leaves many here with doubts that Mexico can prevail.
"Trump operates thinking about himself and his popularity, nothing else," Esteban Ilades, a columnist with Milenio, wrote on Twitter. "The problem of engaging with an irrational actor, like the president of the United States, is that no situation is favorable. If you surrender to his demands, you lose. If you keep quiet, you lose. And if you respond, you run the risk that he will raise the level of threats."
Next week, Mexican officials are expected to present U.S. authorities with a detailed plan to help thwart the migrant flow. Since April, following Trump's most recent threats to shut border crossings, Mexican authorities have initiated a crackdown on migrants traversing southern Mexico, increasing detentions and deportations.
But Mexico's ill-staffed immigration agency — which has been hit by deep budget cuts — can hardly keep up with the escalating flow of migrants, mostly nationals of Honduras and Guatemala, through the country's porous southern border with Guatemala. More than 300,000 U.S.-bound migrants, including many women and children, entered Mexican territory between January and March, Mexican authorities say, roughly double the number from a year ago.
"We are doing all we can, but we have to realize that this is a migratory flow that we haven't seen in recent times," said Lopez Obrador.
Mexico's 600-mile border with Guatemala is largely unguarded and is a historical hub for smugglers ferrying migrants and contraband. Most experts agree that Mexico lacks the resources and manpower to shut down its southern frontier, which includes rivers, jungle and mountain terrain.
The leftist Lopez Obrador has repeatedly emphasized the human rights of migrants. He came to office offering residency permits and working papers to Central Americans, moves that may have helped encourage more to come.
Along with vows for heightened enforcement, Mexican authorities are expected to renew their push for what Ebrard, the foreign minister, has called a Marshall Plan for Central America, named after the post-World War II U.S. aid strategy for conflict-battered Europe. Lopez Obrador has repeatedly said that improving economies and reducing violence in Central America is the best way to stem the surge in migration.
Just last week, Ebrard was in Washington seeking to push the aid plan, which would focus on the so-called "northern triangle" countries — Guatemala, Honduras and El Salvador — that are the homelands of most U.S.-bound migrants.
The Mexican-backed plan calls for Mexico and Central American nations to invest some $30 billion in infrastructure and other development projects during the next five years, with Washington kicking in another $10 billion. Thus far, however, the Trump administration has been cool to the plan and has moved to cut aid to Central America.
McDonnell reported from Mexico City and Wilkinson from Washington. Cecilia Sanchez in The Times Mexico City bureau contributed to this report.
---
Must-read stories from the L.A. Times
Get the day's top news with our Today's Headlines newsletter, sent every weekday morning.
You may occasionally receive promotional content from the Los Angeles Times.