Bill Richardson, former U.S. ambassador to U.N., quits Rohingya refugee panel, calling it a 'whitewash'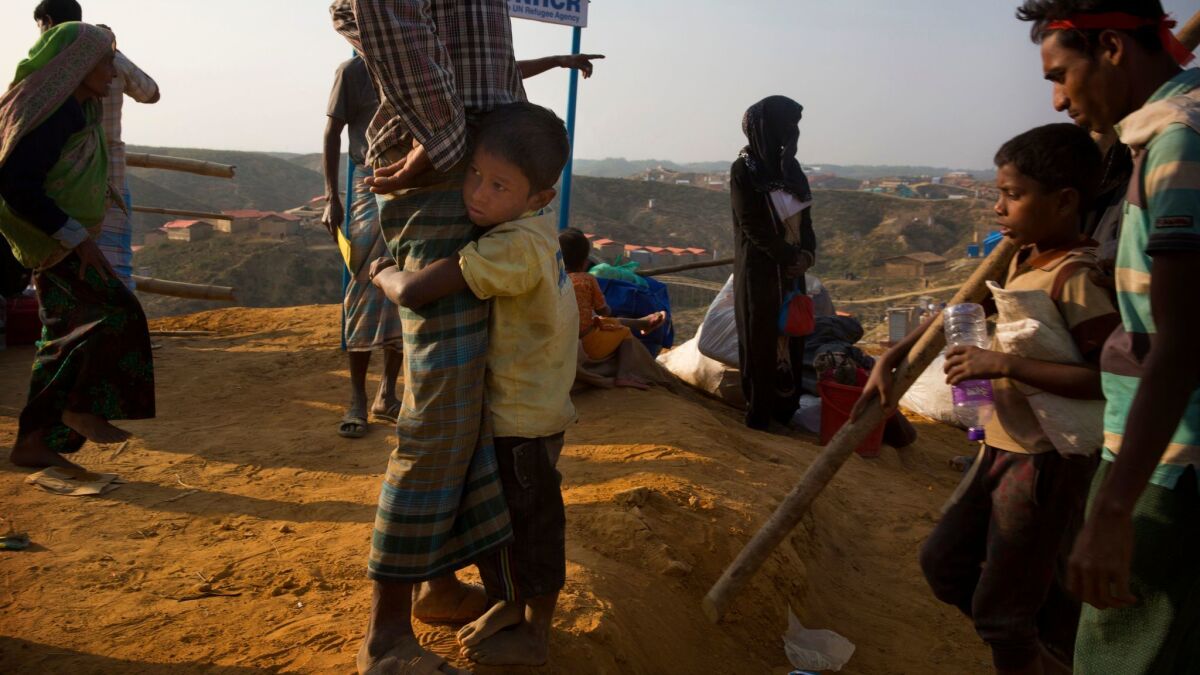 Reporting from YANGON, Myanmar —
Former New Mexico Gov. Bill Richardson has resigned from an international advisory panel on the massive Rohingya refugee crisis, calling it a "whitewash and a cheerleading operation" for Myanmar leader Aung San Suu Kyi.
The sudden resignation Wednesday of probably the panel's most prominent member, a former senior U.S. politician and diplomat who considered Suu Kyi a close friend, raises serious questions about international efforts to deal with the calamitous fallout of Myanmar military operations since August against the Rohingya Muslims that the United Nations has called "textbook ethnic cleansing."
It also offers possible insight into the thinking of Suu Kyi, a Nobel Peace Prize laureate once revered as a symbol of human rights whose leadership during the Rohingya crisis has shocked many outsiders.
Richardson, a former U.S. ambassador to the United Nations and President Clinton's Energy secretary, castigated Suu Kyi for blaming outsiders for the crisis instead of looking honestly at military actions that have forced nearly 700,000 Rohingya to flee to squalid refugee camps in Bangladesh, where they have spoken of mass killings, rapes and the obliteration of whole villages in Myanmar, also known as Burma.
"She believes there's a concerted international effort against Myanmar, and I believe she is wrong," Richardson said Wednesday evening in an interview at his hotel in downtown Yangon, the country's biggest city. "She blames all the problems that Myanmar is having on the international media, on the U.N., on human rights groups, on other governments, and I think this is caused by the bubble that is around her, by individuals that are not giving her frank advice."
Suu Kyi appears to want the 10-member advisory board, which is meant to implement earlier Rohingya recommendations made by a group led by former U.N. Secretary-General Kofi Annan, to validate her Rohingya policies, Richardson said.
"The advisory board is mainly a whitewash and a cheerleading operation for the Myanmar government, and I'm not going to be part of it because I think there are serious issues of human rights violations, safety, citizenship, peace and stability that need to be addressed," Richardson said. "I just felt that my advice and counsel would not be heeded."
Zaw Htay, Myanmar government spokesman in Naypyidaw, the capital, reacted to Richardson's resignation.
"The reason why we formed the advisory commission was because we hoped that the team will give us constructive support and advice," he said. "We are sorry that Bill Richardson is releasing a statement and resigned from the commission, but that, of course, is out of our control."
In Washington, State Department spokeswoman Heather Nauert said Richardson's decision to resign and his reasons for doing so "are cause for concern." She said the U.S. has urged Myanmar's government to fulfill its pledge to implement the Annan commission recommendations "as a matter of urgency."
Richardson's biting criticism of Suu Kyi and his resignation from the panel come as refugees inundate camps in Bangladesh rife with crushing poverty, disease and a pervasive air of hopelessness.
More than 680,000 Rohingya Muslims have fled the military campaign in majority Buddhist Myanmar, which began operations against them after attacks by an Islamic militant group on Aug. 25. The U.N. human rights chief has suggested that what's happening to the Rohingya may be genocide.
Rohingya are severely discriminated against in Rakhine state although many families have lived there for generations. They have been denied citizenship, freedom of movement and other basic rights.
Some Myanmar officials are working hard to help people in Rakhine, Richardson said, and he held out hope that the advisory panel might press the government to push through his suggestion of an investigation of widespread reports that the military in Myanmar buried Rohingya victims in many mass graves.
---
Must-read stories from the L.A. Times
Get the day's top news with our Today's Headlines newsletter, sent every weekday morning.
You may occasionally receive promotional content from the Los Angeles Times.