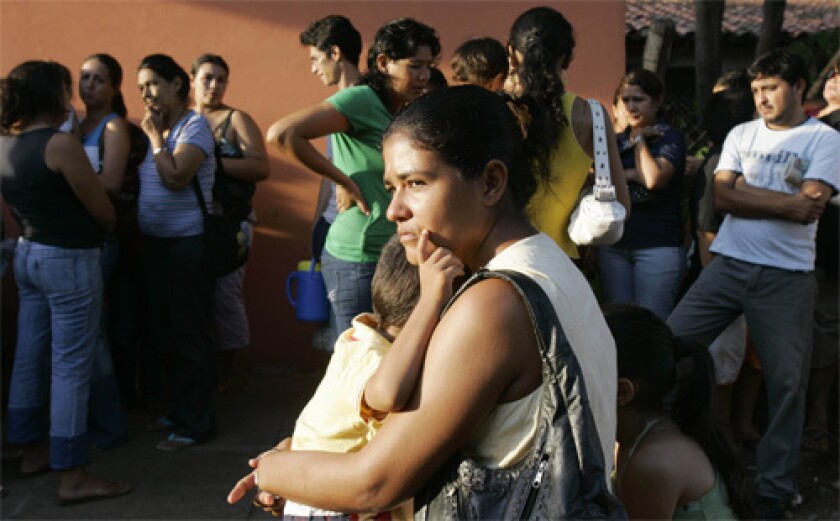 Special to The Times
ASUNCION, PARAGUAY —
Health authorities here have launched a massive vaccination campaign as a yellow fever outbreak has panicked residents and sparked fierce criticism of the government's handling of the crisis.
Almost 1 million people have been vaccinated in this landlocked nation of 6.5 million, officials said. An aircraft carrying 2 million additional doses of vaccine from France touched down Sunday, local media reported.
The outbreak has sent worried residents dashing to clinics for inoculations that were often not available. The government acknowledged a shortage of vaccine and sought supplies from abroad.
Frustrated Paraguayans have blocked roads, burned tires and lined up in front of health centers chanting, "Vaccinations! Vaccinations!"
"People are desperate: The government should have had the vaccines ready," said Teresa Ocampos, 37, a domestic worker who was recently inoculated against the disease. "That would have avoided all the chaos that we see now."
The pace of vaccinations accelerated dramatically in recent days as hundreds of thousands of doses arrived from Brazil, Peru, Venezuela and the United Nations.
The batch from France was so eagerly awaited that President Nicanor Duarte Frutos went to the airport Sunday to receive the shipment, local media reported.
Paraguayan authorities have confirmed 13 cases of yellow fever, including three deaths, though other suspected cases remain under investigation, Dr. Antonio Barros, vice minister of Public Health, told reporters Saturday. Health officials say the numbers do not constitute an epidemic, though that is the word often used in the media here.
In coming days, Barros said, vaccinations were to be accelerated among workers in factories, offices and other businesses.
It is the first yellow fever outbreak in this tropical South American nation since 1974. Neighboring Brazil also has been fighting an outbreak of the mosquito-borne disease, which can cause fever, vomiting, bleeding and death.
Both Paraguay and Brazil also have been trying to counter a surge in cases of dengue fever, another potentially fatal disease transmitted by mosquitoes. Unlike yellow fever, dengue has no vaccine.
Health officials in the two countries are urging the public to avoid stagnant pools of water that accumulate in old tires, pots and other places that provide mosquito breeding grounds.
Critics here have assailed the Duarte administration for not being prepared, especially after the Brazilian outbreak was widely reported last month.
"How is it possible that the need for sufficient doses wasn't foreseen to launch a massive [vaccination] campaign?" Edgar Villalba, Paraguay's public defender -- a kind of people's ombudsman -- asked Sunday in an interview with ABC Color newspaper. "Now we've had to go begging from neighboring countries."
The controversy has taken on political implications during the run-up to hotly contested elections scheduled for April 20.
Duarte, standard-bearer of the long-dominant Colorado Party, is barred from seeking reelection. But the party's designated candidate, former Education Minister Blanca Ovelar, faces two populist challengers in her bid to become Paraguay's first female president. One candidate is a leftist ex-bishop, the other a former coup leader.
Health Minister Oscar Martinez Doldan, facing calls to resign, has said he could not in good faith step down.
"I can't leave in the middle of this crisis," Martinez told reporters last week, adding that he would "have a clear conscience" once the emergency passes.
patrick.mcdonnell@ latimes.com
Special correspondent Amarilla reported from Asuncion and Times staff writer McDonnell from Lima, Peru.
---