Son of 'El Chapo' was among those kidnapped in Puerto Vallarta, Mexico, prosecutor says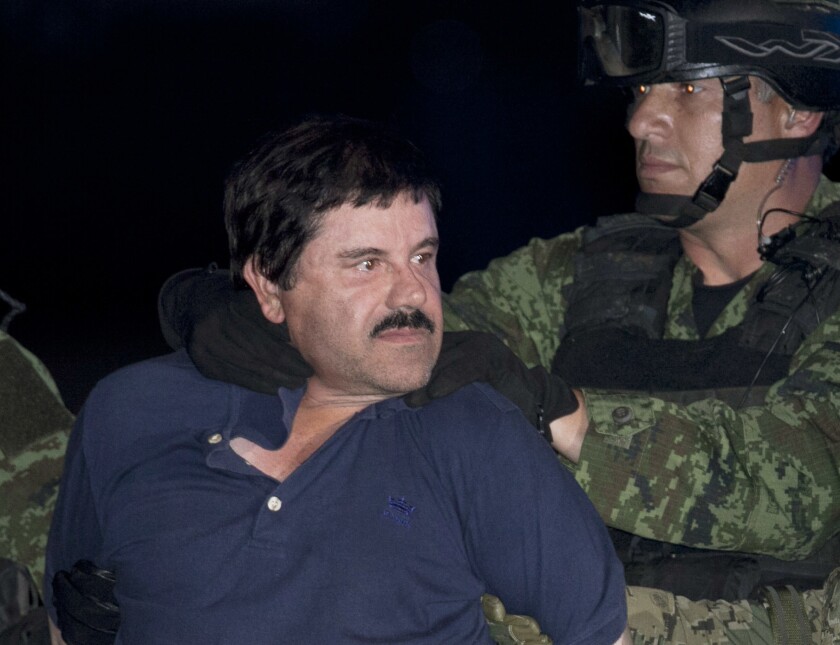 Reporting from Mexico City —
A son of Joaquin "El Chapo" Guzman, the imprisoned Mexican drug cartel leader, was among those kidnapped on Monday when gunmen burst into a restaurant in the coastal resort of Puerto Vallarta, a Mexican prosecutor confirmed Tuesday.
Mexican authorities have indicated that the kidnapping was likely the result of a raging turf war between Guzman's Sinaloa cartel and a chief rival.
The rival group, known as the Jalisco New Generation cartel, has been battling with the Sinaloa network for control of the state's lucrative drug-trafficking business.
Authorities say they have bolstered security in Puerto Vallarta amid fears that the abduction could result in additional violence in the coastal region, a popular destination for tourists from the United States and elsewhere.
Jesus Alfredo Guzman Salazar, 29, a son of the Sinaloa cartel leader, has been identified as one of the six men kidnapped early Monday at the upscale Puerto Vallarta eatery, said Eduardo Almaguer, attorney general for Jalisco state, which includes Puerto Vallarta.
The elder Guzman is currently imprisoned in Mexico as he fights a U.S. request that he be extradited to the United States to face drug-trafficking and other charges.
Guzman, who has been married three times, has fathered at least nine children, including a pair of twins born in California in 2011 to his third wife.
The identity of the kidnapped son was determined through various means, including evidence found in the vehicles of those abducted, Almaguer said at a news conference in Puerto Vallarta. Among the items recovered were phony identifications, he said.
Guzman Salazar was indicted in U.S. District Court in Chicago in 2009 for his alleged role in his father's trafficking activities.
According to a news release at the time from the U.S. Drug Enforcement Administration, the indictment charged that the elder Guzman, along with his son and confederates, "coordinated their narcotics trafficking activities to import multi-ton quantities of cocaine from Central and South American countries, through Mexico and into the United States."
The release said the cartel used various means of transportation, including "Boeing 747 cargo aircraft; submarines and other submersible and semi-submersible vessels; container ships; go-fast boats; fishing vessels; buses; rail cars; tractor trailers; and automobiles."
Two other Guzman sons — Ivan Archivaldo Guzman Salazar, known as "El Chapito"; and Ovidio Guzman Lopez — have also been linked by authorities to their father's trafficking business.
Another son, Edgar Guzman Salazar, 22, was gunned down in a parking lot in Culiacan, the capital of Sinaloa state, in 2008 in what authorities believe was a hit by a rival cartel.
Also on Tuesday, the Jalisco attorney general clarified that six men had been abducted Monday, not the 10 to 12 that police initially said had been taken.
Nine women accompanying the men at the celebratory get-together were not abducted, the prosecutor said. Seven armed men burst into the restaurant shortly before 1 a.m. and took away the six men in a pair of white SUVs, authorities said.
ALSO:
Russian warplanes take off from Iran to target Islamic State in Syria
Wary of losing tourists, Mexico says mass abduction in Puerto Vallarta was likely a gang-on-gang crime
Brazil's current and former presidents face trials. And the interim president is in hot water too
---
UPDATES:
5:55 p.m.: This article was updated with additional information about the abduction and background on the Sinaloa cartel.
This article was originally published at 3:50 p.m.
---
Must-read stories from the L.A. Times
Get the day's top news with our Today's Headlines newsletter, sent every weekday morning.
You may occasionally receive promotional content from the Los Angeles Times.