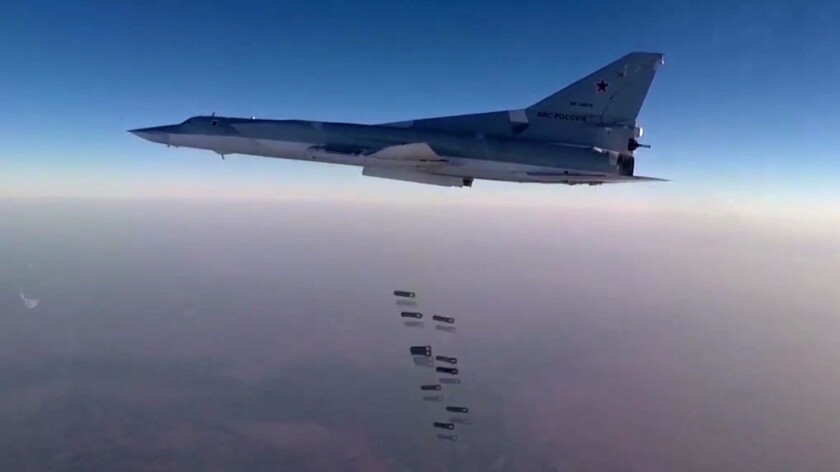 Reporting from Moscow —
Russia has deployed warplanes to an Iranian air base to strike targets in Syria, the Russian Defense Ministry said Tuesday — a political development that is likely to vex the West and Sunni Arab nations, and boost Moscow's military clout in the region.
This is the first time Moscow has used a military outpost in another Middle Eastern nation to bomb forces opposed to Syria's embattled President Bashar Assad, the ministry said. Ali Shamkhani, the head of Iran's Supreme National Security Council, confirmed the agreement with Russia, saying it marked a new phase of the "strategic cooperation" in Syria that he has touted in the past, according to Iran's state-run Islamic Republic News Agency.
Mark Toner, a State Department spokesman, told reporters in Washington that the U.S. had concerns about the bombing mission and warned that Moscow could be in violation of a United Nations Security Council resolution that bans the use of Iranian air bases.
The Russian military flew four Tu-22 Backfire bombers to Hamadan air base in northwestern Iran to load up with munitions Tuesday, before going on to strike targets in Syria, according to a U.S. official who was not authorized to speak publicly about the matter.
The bombing run does not appear to signal a new phase of Moscow's air campaign, however, because the warplanes returned to Russia after the mission, the official said. "The Russians wanted to send a signal that they have an expeditionary capability," the official said, adding there are no residual Russian forces at the Hamadan air base.
Col. Christopher Garver, spokesman for the U.S.-led coalition in Baghdad, told reporters Tuesday via teleconference that Moscow did notify the coalition before the bombing mission through an emergency communications channel set up to avoid air accidents.
Russia first started carrying out airstrikes on Syrian targets in September from bases in northwestern Syria and southern Russia, and also launched missiles from its warships in the Caspian and Mediterranean seas. Moscow claims it entered Syria to bomb Islamic State militants and others it claimed were terrorists, though anti-Assad forces and rights and monitoring groups have repeatedly accused Russia of hitting civilian targets and hospitals and using banned weapons such as cluster bombs.
For Russia's air forces, the use of the Hamadan base, about 600 miles from the Syrian border, offers logistical advantages, such as shorter flights and larger payloads. Moscow had used its base in the southern city of Mozdok, in North Ossetia, to fly the supersonic Tu-22M3 bombers that are too heavy for Russia's Hemeimeem air base in Syria, Russian media said.
It also solidifies Russia's alliance with Iran, after years of reliance by Tehran on Russian weapons and a series of recent meetings between Russian President Vladimir Putin and his Iranian counterpart, Hassan Rouhani.
"It shows the entire world that we have a military cooperation with Iran, not just an arms trade," Moscow-based defense analyst Ruslan Pukhov said. "It's a small step to get Russia out of the [international isolation] of the past two years" that began after Moscow's annexation of Crimea.
Moscow and Tehran have been two major backers of Assad's regime since the Syrian civil war broke out in 2011. Last week, Russia also secured Baghdad's permission to use Iraqi airspace, an obligatory condition for sorties from Iranian or Russian bases. Iraqi Shiite militias have also traveled to Syria to fight on the government's side.
The deal to use the Hamadan base was probably prompted by Damascus' failure to capture the city of Aleppo, which has been held by Assad's opponents since 2012. Aleppo, Syria's largest city, has been the site of vicious clashes that have left 2 million people under siege. This month, a rebel offensive by the Army of Conquest, a coalition of hard-line Islamist groups, succeeded in breaching the siege imposed by pro-Assad forces with the support of Russian air power. On Tuesday, government forces continued to battle rebels for control of a strategic corridor in the city's southwest.
This week, Moscow engaged in a flurry of diplomatic meetings with Turkey and the U.S., both staunch allies of the rebels pitted against Assad, to resolve the crisis in Aleppo. Although Moscow and Washington have long sought to boost cooperation in their fight against Islamic State and other militant groups, they have not been able to agree on which of the dozens of anti-Assad groups should be targeted. So-called moderate groups fighting under the banner of the Free Syrian Army have also allied themselves with stronger Islamist factions against the government.
"Moscow is somewhat disappointed in the U.S.A.'s capabilities to distinguish between pro-U.S. opposition and radical jihadists," said Sergei Markov, a Moscow-based political analyst.
He said that Washington's insistence on Assad's removal from power and its close alliance with Saudi Arabia, Assad's main opponent in the region, have scuttled its efforts to broker a solution in Syria.
The U.S. "will react negatively, but won't be able to counter" Russia's use of the Hamadan base, Markov said. "The U.S. strategy in Syria is in a total dead end."
Mirovalev is a special correspondent. Times staff writer William Hennigan in Washington and special correspondent Nabih Bulos in Beirut contributed to this report.
ALSO
15 Guantanamo detainees, held without charge, are released to the United Arab Emirates
Wary of losing tourists, Mexico says mass abduction in Puerto Vallarta was likely a gang-on-gang crime
Third French city bans 'burkini' after brawl at beach leaves 5 injured
---
UPDATES:
1:50 p.m.: This article was updated with remarks from U.S. officials.
10:50 a.m.: This article was updated throughout with staff reporting.
6:35 a.m. This article was updated with opposition activists reporting 15 killed in Aleppo and more background information.
This article was originally published at 3 a.m.
---