President Putin withdraws Russia from the International Criminal Court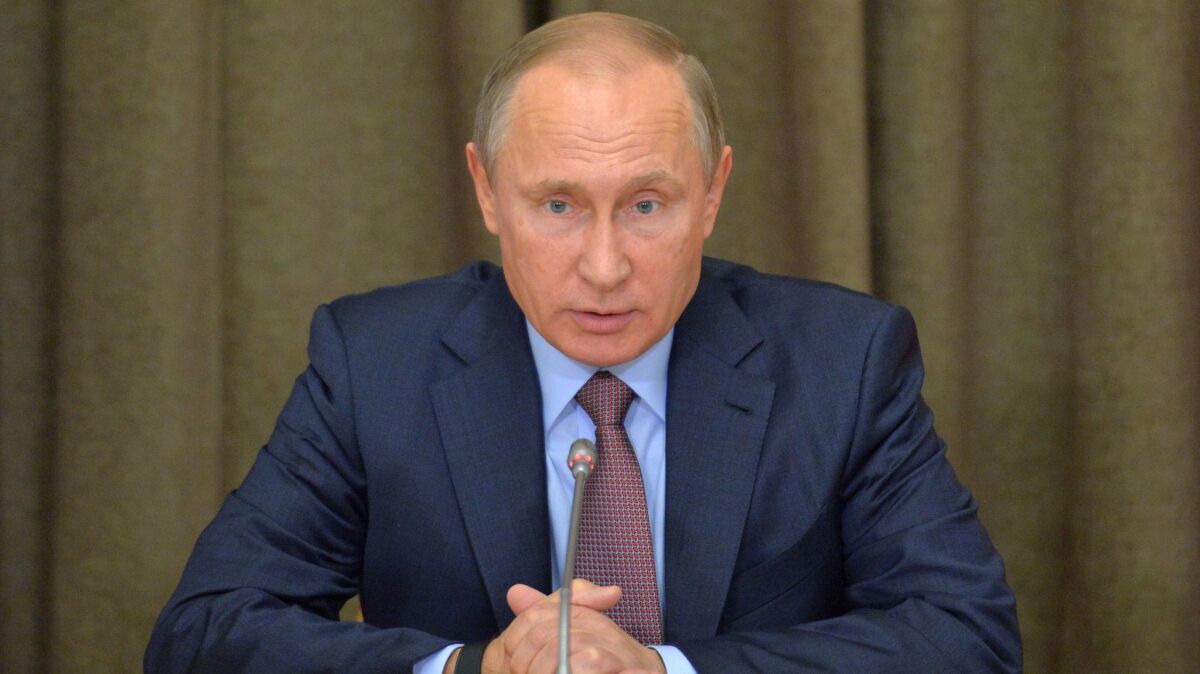 Russia on Wednesday withdrew support for the International Criminal Court, a largely symbolic but defiant gesture rendered more highly charged by uncertainty over President-elect Donald Trump's stance toward Moscow.
Russia's move, in the form of a decree signed by President Vladimir Putin and published on the official Kremlin website, came a day after the court had released a preliminary report classifying Russia's 2014 takeover of the Crimean peninsula as a consequence of armed conflict with Ukraine.
Moscow says Crimea voluntarily joined Russia following a referendum whose validity was doubted by international observers.
During his campaign, Trump made statements suggesting he was not aware that Russia had annexed Crimea, a move that triggered sanctions and a wave of international condemnation against Moscow.
A week after Trump's victory in the U.S. presidential election, some Kremlin-watchers have pointed to early signs of an emboldened attitude by Putin in the international arena.
Analysts predict the Russian leader will act swiftly to test Trump, who often referred admiringly to Putin during his campaign, on many longstanding points of dispute with successive American administrations.
On Monday, Trump had what was described by the Kremlin as a cordial phone conversation with Putin, drawing expressions of concern from some in the defense and foreign policy establishment.
Veteran Republican Sen. John McCain, chairman of the Senate Armed Services Committee, issued a sharply worded statement Tuesday urging Trump not to place excessive trust in Putin.
The Russian repudiation of the International Criminal Court will have little practical effect, at least in the short term. Moscow signed the 1998 Statute of Rome creating the Hague-based tribunal, which was set up to prosecute grave international offenses such as war crimes and genocide, and has cooperated with it on some issues. But it remained outside of ICC jurisdiction because it did not ratify the treaty.
The United States is not a signatory to the statute, citing concerns about potential prosecution of U.S. military personnel and civilian political officials.
Events in Syria's multi-sided war might also have influenced Russia, which can wield a United Nations Security Council veto to prevent cases from being referred to the International Criminal Court.
Putin's government has brushed aside U.N. calls for a war-crimes investigation of months of ferocious bombardment of the opposition-held sector of the northern city of Aleppo by Russia and Syrian government forces. Hundreds of civilians have died in that onslaught.
Fresh denunciations came this week as the U.N. General Assembly's human rights committee condemned attacks on civilians in Aleppo and called for a cease-fire.
Trump has indicated he will cut off U.S. financial and logistical support to some rebels seeking to oust Syrian President Bashar Assad, even as Russia deepens its involvement in the conflict.
On Tuesday, Russia for the first time deployed aircraft carrier-borne fighter jets against Syrian rebel positions, and Assad told Portuguese TV that the incoming U.S. leader might prove a "natural ally" in the fight against Islamic State militants. The Obama administration has excluded Syria from the coalition confronting the extremist Sunni Muslim group.
Although Russia might see a kindred ideology at work in Trump's criticism of alliances and institutions including NATO, the International Criminal Court was already struggling with widespread criticisms of ineffectiveness and unfair selectivity.
Because of issues including a lack of jurisdictional reach, the court has dealt almost exclusively with cases from Africa, and three African nations — South Africa, Gambia and Burundi — recently announced plans to withdraw. Several other African states have indicated they will likely follow suit.
Human rights organizations said Russia had never intended to ratify the treaty, but they said the withdrawal announcement was likely meant to emphasize rejection of the court's potential authority in conflicts like Ukraine and Syria.
Sergei Nikitin, head of Amnesty International's Russia office, called Putin's action an expression of "contempt for the aims of the ICC … and an affront to all victims of these appalling crimes."
ALSO
Aleppo was Syria's factory floor. Now it's in ruins and business leaders wonder if it's safe to rebuild
Paying for a rickshaw ride with a sack of rice, and other tales from India's chaotic ban on large currency notes
South Koreans don't know what to be more worried about: their scandal-scarred president or Donald Trump
---
UPDATES:
1:00 p.m.: This article was updated throughout with Times reporting.
This article was originally published at 6:35 a.m.
Must-read stories from the L.A. Times
Get the day's top news with our Today's Headlines newsletter, sent every weekday morning.
You may occasionally receive promotional content from the Los Angeles Times.