'I've got pins and needles!' The commoners take in the royal wedding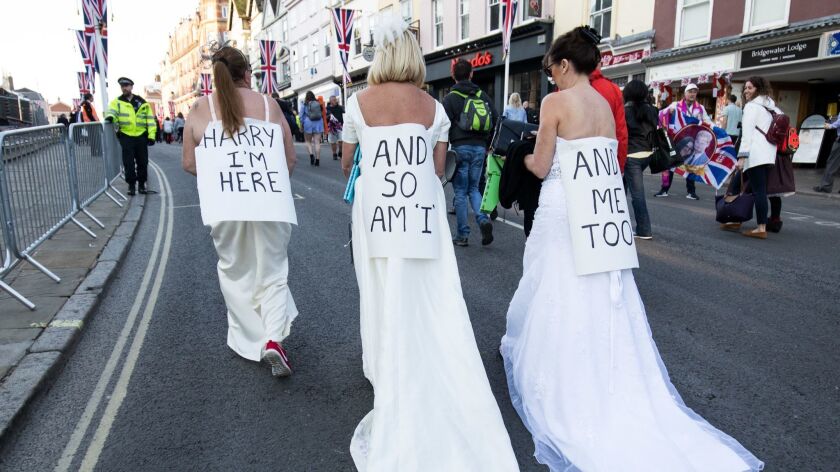 Reporting from Windsor, England —
"It's all a fairy tale!" came the excited cry from a woman inside the Prince Harry pub in Windsor as images of Meghan Markle being driven to meet her royal groom flashed on the television.
The crowd around her cheered loudly with delight, their eyes glued to the screen as they got the first glimpse of the dress, then watched the young page boys and bridesmaids adorably carrying the bride's train through St. George's Chapel, and finally saw Prince Harry's face as he laid eyes on his future wife.
"I've got pins and needles! They are changing history," one woman, decked out in red, white and blue, said to her friend.
The streets around Windsor Castle started to fill up in the early morning, and by the time the noon ceremony started and the sun was high overhead, there were thousands of people packed all along the procession route.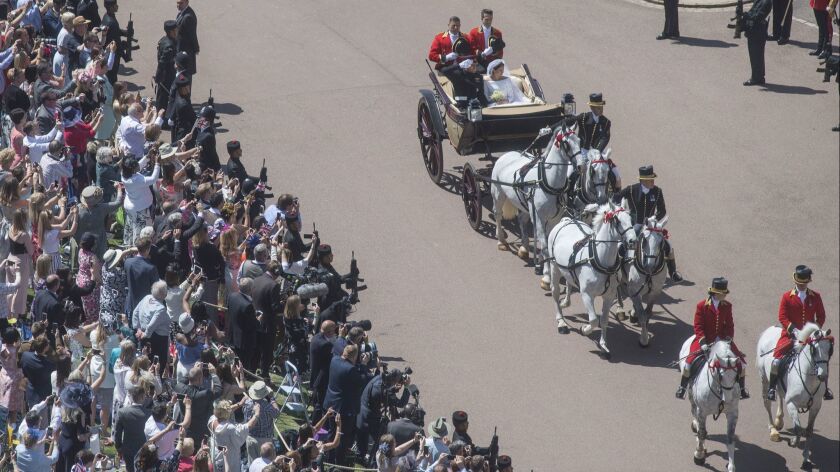 It was a sight to behold in a town that usually has a population around 32,000 and is used to tourists visiting Windsor Castle, but nothing of this magnitude.
They wore fascinators and fancy wide-brimmed hats over sparkly outfits in the colors of the Union Jack or their finest gowns and suits.
Some wore T-shirts emblazoned with images of the newlyweds. One bore the slogan: "When Harry Met Meghan."
A few women walked around the crowd in wedding dresses and tiaras, hopeful that Prince Harry might have a last-minute change of heart and choose them instead.
Full Coverage: Prince Harry and Meghan Markle are wed amid pomp and pageantry at Windsor chapel »
"I just love him," said Victoria McRae, 24, who held a sign saying: "It's not too late."
She was dressed in a white bridal gown and admitted her boyfriend wasn't entirely supportive of her decision to fly over from Sydney, Australia, at a cost of roughly $2,000 just for this occasion.
"I think he will be happy when it's all behind me," she said. "After this, I probably have to let [Harry] be."
The crowds came from around the world, reflective not only of how much global interest there is in the royal family, but also the uniqueness of this particular union: a British prince who served in the military and a biracial American actress.
The American accents in the crowd were impossible to miss and far more plentiful than on the last major royal wedding of Prince William and Kate Middleton.
They were all eager to see the making of an "American princess" — even though Markle will technically not be a princess. She was bestowed with the title Duchess of Sussex by the queen on Saturday morning.
While the service was underway, loudspeakers carried audio from the chapel into the streets, and in some places large video screens broadcast the ceremony live. When the gospel choir sang a rendition of "Stand By Me," the crowd outside joined in and swayed.
And when it finally came time for Harry and Meghan to say "I do," the sense of excitement and celebration was palpable. A hush fell over the crowd, then cheers and bells rang out when they were pronounced husband and wife.
"This feels more like a party," said Janet Gordon, 64, who also was on hand for Prince William's wedding but described that as more of a state occasion. "The atmosphere here is brilliant."
Once the ceremony was over, the newlyweds rode in an open carriage through the streets to raucous cheers and applause.
Then the grassy areas around Windsor Castle transformed into a huge outdoor picnic. Ballgames and card games sprung up, amorous couples cuddled on blankets in the sunshine, a grandmother playfully chased her grandson around the lawn.
Some revellers slept off the excitement — and perhaps also the effects of too much free-flowing champagne so early in the day.
It felt like a truly British affair, full of all the pomp and pageantry that only the royal family can deliver. But heavily armed police served as a chilling reminder that the event was not as carefree as it appeared.
As the crowds slowly made their way home, a young man walking to the train station with his two friends took stock of the day's events.
"There isn't going to be another wedding that people care about until Prince George gets married," he remarked, referring to William and Kate's toddler. "How depressing is that? I'll be 60 by the time that happens."
Boyle is a special correspondent.
---
Must-read stories from the L.A. Times
Get the day's top news with our Today's Headlines newsletter, sent every weekday morning.
You may occasionally receive promotional content from the Los Angeles Times.