Saudi women take the wheel as decades-long driving ban ends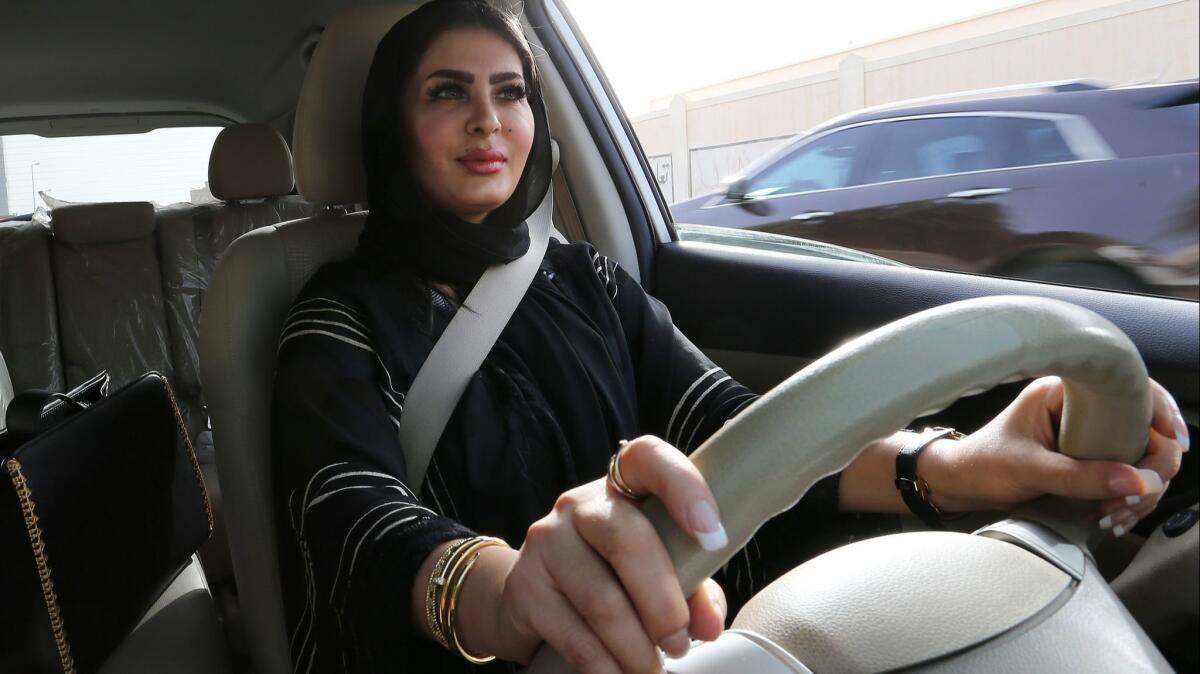 Reporting from Beirut —
It was late Saturday when Maha Aqeel joined 14 other women at a friend's place in their hometown of Jidda, Saudi Arabia. A bit before midnight, they piled into five cars, waiting for the night to slide into Sunday. Once it did, Aqeel said, the women "were ready."
Switching drivers every five minutes or so, their convoy made its way through the city's crowded thoroughfares before heading to Jeddah's seaside boulevard. There they joined the crowds that had come to mark the lifting of the ban on women driving, a burdensome practice and long-standing public relations black eye for Saudi Arabia.

For the record:
7:25 p.m. June 24, 2018An earlier version of this article misspelled the name of a women's activist. She is Loujain Hathloul, not Louthain Hajloul,
"I couldn't believe it finally happened, that we could drive in our land," said Aqeel, a journalist and writer. "We just got the feel of it, but even being on the road for five minutes was great."
It was another in the series of once-unthinkable changes characterizing the year since Prince Mohammed bin Salman, the pugnacious 32-year-old son of Saudi Arabia's ruler, elbowed his way into the position of crown prince.
In that time, his stature has grown as the de facto leader of the country, one armed with an ambitious plan, dubbed Vision 2030, to kick Saudi Arabia's oil habit.
Yet even as he drives change, his year in power has been characterized by criticism that he tunes out other voices for reform.
"Beside this openness," said Jamal Khashoggi, a Saudi journalist now in self-imposed exile in Washington, "there has been a closing off of any independent opinions.
"What is being said to all of us is, 'You just have to take what I give you,' and, 'Leave me to lead alone.'"
Yet Sunday seemed a moment of liberation to many. Aqeel and others took to social media, posting selfies and videos of their first forays on the road under hashtags such as #SaudiWomenDriving, while traffic police in the Saudi capital, Riyadh, distributed pink rose bouquets with cards that read "May safety accompany you."
Saudi Instagram user Mashail Gammas uploaded a clip of herself driving as animations of flowers fall on the screen, with Nina Simone's "Feeling Good" playing in the background.
"Congratulations to us all, congratulations for this historic day," she wrote.
Others, like Deema Farsi, a Twitter user in Jeddah, took her children for a ride through the city Sunday morning.
"On the first day behind the wheel in #Saudi, I took my kids for a ride in #Jeddah and winked at my 13-year old son: 'I got to do that before you'," she tweeted.
Also joining the fray was Prince Alwaleed bin Talal, who posted a video early Sunday with his daughter Reem at the wheel.
"The woman now has … taken her freedom," he said. "… Saudi has entered the 21st century."
The lifting of the ban marks the end of a decades-long policy and unwritten law that had made Saudi Arabia a pariah state for its treatment of women and an easy target for ridicule for its clerics' often comical justifications for the ban. (One religious figure insisted that women possess no more than half a brain, and half of that "is occupied by shopping," leaving her with only a quarter of a brain to drive. Another said driving would have adverse clinical effects on women's ovaries.)
But the ban was also an economic burden on the many Saudi families that couldn't afford chauffeurs, even as it made conditions more difficult for women to join the workforce.
Although ride-hailing apps such as Uber and Careem, a local competitor, gave women greater flexibility, many had to forgo education, work or even basic errands such as grocery shopping.
The move is expected to save families more than $5,000 a year as women no longer have to rely on chauffeurs or other drivers, said Faisal Ghweinem, a Saudi investor, in an interview with the Okaz local daily newspaper.
Meanwhile, a study by consulting firm PwC estimates 3 million new female drivers will enter the market by 2020, with anywhere from 4 million to 6 million more to follow.
Lifting the ban is expected to help create desperately needed new job opportunities for women, such as driving instructors or police officers. (Vision 2030 calls for female labor to grow from its 2017 share of 20.9% of the workforce to 33.3%, according to Saudi Arabia's General Authority for Statistics.)
And the auto industry has been eager to cash in since the royal court announced it was lifting the ban 10 months ago.
In recent weeks, brands such as Nissan and Ford have seeded their social media accounts with videos aimed at drawing Saudi women to the showroom. One features a trio of women, looking solemn as the wind tugs at their abayas before they walk toward the camera under the hashtag #WithYouInFront.
All have fed into a festive atmosphere in major cities around the country, nurtured by a steady drip of government-arranged events, such as training with driving simulators and showroom visits.
For many of the women celebrating Sunday, the recent shifts seem just the starting point. The real target, they say, is the guardianship system that leaves them at the whims of male relatives.
Saudi law, which is based on Wahhabism, a strict interpretation of Islam, stipulates a male relative must grant a woman permission to travel, work, receive medical care or even leave jail.
"It's our first and utmost demand for change. This is more important to us than driving, because once you remove it, then the woman owns herself, to work, to travel," Aqeel said, adding that the guardianship system had no basis in Islam and was "just tradition."
"This is a bold first step, and it's important for its symbolism, but since this step happened we expect others will come too."
Yet even celebrating that first step was denied to a number of pioneering activists who had pushed for the changes enacted Sunday.
In a move that undercut the crown prince's monthlong charm offensive of Western countries, the government last month arrested eight activists, including famed women's rights trailblazers such as 70-year-old Aziza Yousef and Loujain Hathloul, who were denounced in state newspapers as traitors.
For Hala Dosari, a fellow at the Radcliffe Institute for Advanced Study at Harvard who said she fears arrest if she returns to Saudi Arabia, the aggressiveness of the move was designed to maintain "the power within the royal family" and ensure that no community figures or leaders could compete for credibility.
"People will only see the monarchy as the legitimate reform leader," she said. Mohammed "presents himself as the only person in this country who is able to push it forward."
Khashoggi, the D.C.-based Saudi exile, agreed.
"What is happening in Saudi is not by consensus. It is done from top down," he said.
Bulos is a special correspondent.
Sign up for Essential California for news, features and recommendations from the L.A. Times and beyond in your inbox six days a week.
You may occasionally receive promotional content from the Los Angeles Times.