Korean Air heiress throws tantrum and triggers police investigation, in latest antics of sisters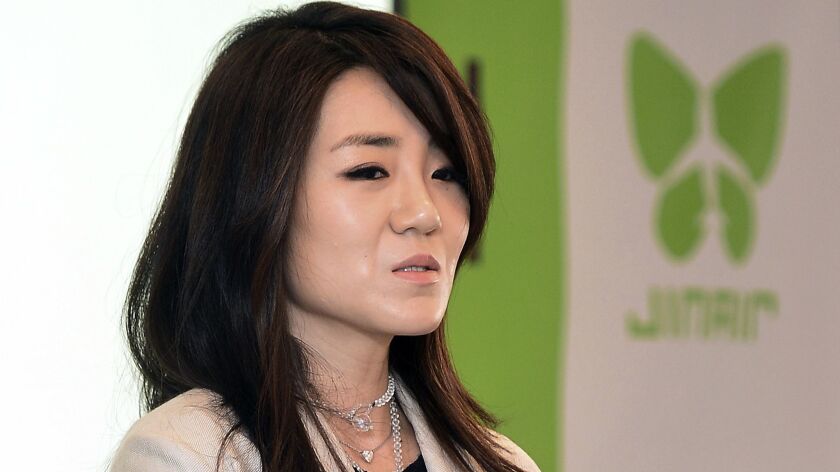 Reporting from Seoul —
In South Korea's hierarchical society, there's a phrase used to describe the myriad ways underlings suffer verbal and even physical abuse by their superiors, especially in the workplace.
The term — gapjil — is prominent in the national conversation here this week after revelations in recent days that Cho Hyun-min, an heiress to the family-run Korean Air empire, berated a business associate during a corporate meeting last month.
The matter, which might involve assault and is under preliminary review by the police, comes a few years after Cho's sister sparked international headlines by diverting a taxiing Korean Air jet back to a New York terminal because her macadamia nuts in first class were served in a bag, not on a dish.
This latest scandal involving the younger Cho, 35, a senior marketing official at the airline and the daughter of the parent company's chairman, comes as the nation is already grappling with trying to reform its society's dependence on large conglomerates, such as Samsung and Hyundai, which were linked to a major recent scandal involving disgraced former President Park Geun-hye.
The outrage is evidence of the public's growing distaste for such incidents involving the families who control the nation's largest corporate firms, which in three generations have helped propelled South Korea from a largely agrarian society ravaged by war to an exporting power — the world's 11th-largest economy.
"There's been a lot of pent-up frustration," said Hannah Jun, an assistant professor of international business at Ewha women's university in Seoul. "It's starting to come out."
The airline this week suspended Cho, a USC graduate who sometimes uses the English name Emily. She has apologized, in Korean, on social media and in an email to the company's employees: "I will assume all legal responsibility and accept all social criticism," she wrote.
But a collection of the company's unions issued a joint statement this week saying the statement wasn't enough, calling for her ouster.
About 75,000 people, meanwhile, have signed a petition filed with the office of President Moon Jae-in calling on the company to drop "Korean" from the national airline's name.
The allegations at issue are murky, and perhaps even exaggerated, but they have sparked a flood of media reports about Cho's workplace behavior.
The media narrative that's emerged involves Cho growing unusually angry during a March 16 meeting about advertising that included an outside executive at Korean Air headquarters in Seoul. Cho reportedly yelled at the man, possibly even threw water in his direction and then forced him out of the room.
Her lawyer, Im Sang-hyuk, said Cho pushed a cup of water to the ground, not at people in the meeting. "There are allegations that a beverage was thrown at people, but rather than rebutting all of these, we think it right to talk first to investigators," he told reporters.
In addition to the questions about the meeting, an audiotape has surfaced purportedly of Cho screaming — at times in a frantic, almost animalistic tone — at someone. It's unclear whether the recording is related to the advertising meeting or another incident.
The controversy has prompted anonymous chatter on the company's message boards and prompted its unions to issue a statement demanding Cho's resignation amid a scandal affecting the company's large workforce.
"The lives of their 60,000 family members are being shaken by the roots due to this scandal," it reads.
The ordeal has also brought back memories of the infamous 2014 "nut rage" incident involving Cho's elder sister, Cho Hyun-ah. In addition to diverting the plane, initially considered a criminal act in South Korea, Cho also allegedly forced flight attendants to bow and apologize.
The elder Cho spent months in jail over the incident, though a higher court found that she hadn't violated a law against altering an airliner's course. She has since made it back to corporate life, rejoining the family-controlled conglomerate in a hotel-related subsidiary.
Sangin Park, an economics professor at Seoul National University who has studied the conglomerates, known here as chaebol, said the media reports indicate a lack of control by Cho — and could reflect a broader and "habitual" pattern of abuse, or gapjil, by the company's family executives.
Park also questions the sincerity of the apologies issued in both Cho scandals. "It was all an excuse to avoid any public blame or attention," he said.
"That is why people are so upset. They get all the benefit from using the Korean name, but they don't have any responsibility."
Both women are daughters of Cho Yang-ho, the airline's chief executive and chairman of one of South Korea's largest conglomerates, Hanjin Group. He is the son of Cho Choong Hoon, the late founder of the group, which has numerous transportation-related subsidiaries.
The younger Cho has also been an executive at Jin Air, a Korean Air subsidiary and a key player in the nation's competitive low-cost carrier business. She had done several public interviews, in unaccented English, about the smaller airline's focus on growth and safety.
The swirling controversy has also raised questions in local reports about whether Cho is an American citizen, a fact that some speculate might have complicated her status as an executive in a Korean company.
Cho spent her youth in South Korea and received a master's degree from Seoul National University after her time at USC, according to her LinkedIn account. Her citizenship status wasn't clear Tuesday, though local media have reported she was born in Hawaii in 1983.
The incident has sparked further conversation about the nation's complicated relationship with the chaebol, which have enormous influence over the South Korean economy.
Many young people seek their employment, undergoing rigorous applications, but others have grown frustrated by their influence and the wealth acquired by their elites.
"They still are a source of national pride," said Jun, the Ewha professor. "But, at the same time, there's also resentment that chaebol elites have benefited — and continue to benefit — at the expense of the broader society."
Stiles is a special correspondent.
---
Must-read stories from the L.A. Times
Get all the day's most vital news with our Today's Headlines newsletter, sent every weekday morning.
You may occasionally receive promotional content from the Los Angeles Times.