In Syria, another suicide blast targets U.S. forces and Israel attacks Iranian troops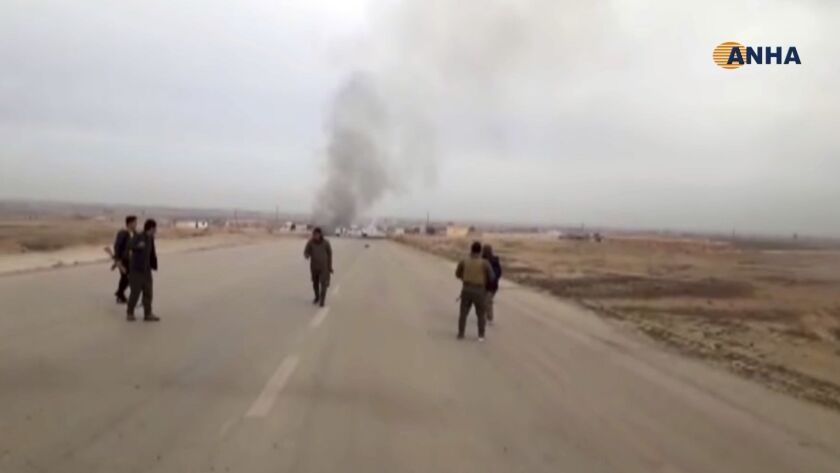 Reporting from Beirut —
For the second time in a week, a suicide bomber targeted U.S. forces in Syria. On Monday, a car drove toward a joint U.S.-Kurdish convoy and exploded 11 yards from a checkpoint in the country's northeast.
There were no American casualties, according to a statement from the U.S.-led coalition. One Kurdish policeman was lightly injured, according to a statement from the Kurdish-led militia group.
The attack near the town of Shadadi came as the United States began to draw down its presence in Syria and other countries stepped up their activity there. Israel launched a multipronged attack on military targets in Syria late Sunday, several hours after its air defense system intercepted a missile launched at a ski slope crowded with winter revelers.
Israeli authorities said the missile was launched by Iranian troops stationed in Syria. It appeared to be a response to an earlier bombing of an airport south of Damascus that was attributed to Israel.
Meanwhile, the Turkish army and the Syrian rebels associated with it, as well as Russian-backed Syrian government troops and Islamic State, all appear poised to take advantage of a U.S. drawdown. Monday's hit underscored Syria's continuing instability, with a multitude of forces vying for control.
Amaq, an agency affiliated with Islamic State, confirmed that a "martyrdom-seeker" had targeted the joint U.S.-Kurdish convoy. It did not elaborate.
The bombing followed one on Wednesday that was the deadliest attack on U.S. forces since their entry into Syria. An Islamic State suicide bomber walked into a restaurant in the Kurdish-controlled city of Manbij where U.S. coalition forces and Kurdish militiamen were eating lunch.
He detonated his vest, killing four Americans — two soldiers and two contractors — along with five Kurdish civilians and a number of militiamen.
The U.S. heads a coalition of countries against Islamic State and has worked with Syrian Kurdish fighters to claw back wide swaths of territory that make up what the group called its caliphate.
The Kurds, meanwhile, have leveraged that support and their military victories to administer areas abandoned by the state in Damascus. U.S. officials tout them as a viable alternative to the rule of Syrian President Bashar Assad.
But that arrangement appears to be coming to an end, following President Trump's repeated statements that he would withdraw from Syria and leave the objective of fighting Islamic State to Turkey. He has said that Islamic State is defeated, although others in his administration acknowledge that the organization remains lethal, if significantly degraded.
Trump has been unclear regarding the timing of such a withdrawal, but any pullout by U.S. forces would probably doom the Kurds' long-term project.
Turkey, a U.S. NATO ally, views the Kurdish militia in Syria, which calls itself the People's Protection Units, or YPG, as a proxy for an insurgent group at home that seeks an independent Kurdish homeland. Turkish President Recep Tayyep Erdogan has threatened to mobilize Syrian rebels on his side as well as Turkish troops to uproot the YPG.
U.S. administration envoys have tried to coax guarantees from Erdogan that the Kurds holding areas in northeastern Syria will not be crushed in a Turkish incursion.
The Israeli attack on targets in Syria marked an escalation from other recent strikes. It was unusual in that Israel announced it publicly and it followed in the wake of a daytime strike, both deviations from its usual policy.
About 2 a.m. Monday, the Israeli army said it had started striking Iranian Quds targets in Syrian territory. Iran's Quds brigades are a unit of its elite Revolutionary Guard Corps responsible for intelligence and foreign operations.
The Israeli army warned the Syrian military against any attempt "to harm Israeli forces or territory."
In a statement issued to Iran's Young Journalists Club news agency, Iran's air force commander Brig. Gen. Aziz Nasirzadeh said his country was "fully ready and impatient to confront the Zionist regime and eliminate it from the Earth."
Attending the inauguration of a new airport, Israeli Prime Minister Benjamin Netanyahu responded directly to Nasirzadeh, saying Israel "will not ignore such acts of aggression as Iran attempts to entrench itself militarily in Syria."
Iranian troops and affiliated militiamen have fought a long, withering battle against rebel factions seeking to unseat Assad. Along with Russia, Assad's top international backer, Iran has helped bring successive victories that have seen the government reimpose its grip over much of the country.
On Monday, the Russian armed forces issued a statement saying four Syrian soldiers were killed and six were wounded in the Israeli strikes, and added that Syrian air defense batteries destroyed more than 30 Israeli cruise missiles and guided bombs.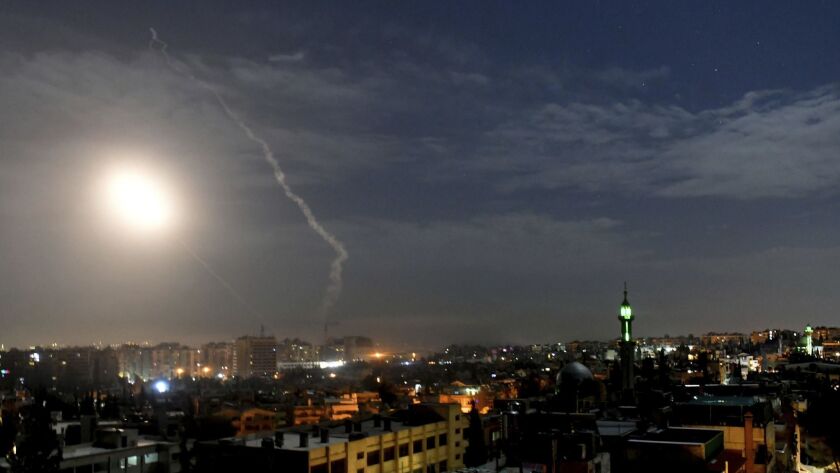 The Israeli military did not respond to the Russian claim.
Israeli army spokesman Jonathan Conricus said several Syrian air defense batteries were destroyed alongside Iranian weapons caches, and that the missile aimed at the Mt. Hermon ski resort was launched "by Iranian troops from an area which the relevant parties" — a reference to Russia — "had assured Israel were free of Iranian troops."
Monday's exchange of fire marked the third time Israeli and Iranian forces engaged in direct combat in less than a year.
In February, Israel downed an aircraft it identified as an armed Iranian drone that had penetrated its airspace. In May, the Israeli army retaliated extensively against Iranian forces throughout Syria after soldiers stationed on the Israeli side of the disputed Golan Heights were targeted by a barrage of 20 missiles.
Retired Israeli Maj. Gen. Yaakov Amidror said in an interview that Monday's exchange of fire could not be directly linked to the announcement of U.S. withdrawal of troops, whose role in Syria has been to fight Islamic State, not to deter Iran's advances.
Still, he allowed that the American retreat may have given the Iranians "a good feeling that they can do something dramatic."
Times staff writer Bulos reported from Beirut and special correspondent Tarnopolsky from Jerusalem.
---
Must-read stories from the L.A. Times
Get all the day's most vital news with our Today's Headlines newsletter, sent every weekday morning.
You may occasionally receive promotional content from the Los Angeles Times.