For many Syrians, 'smart' sanctions are anything but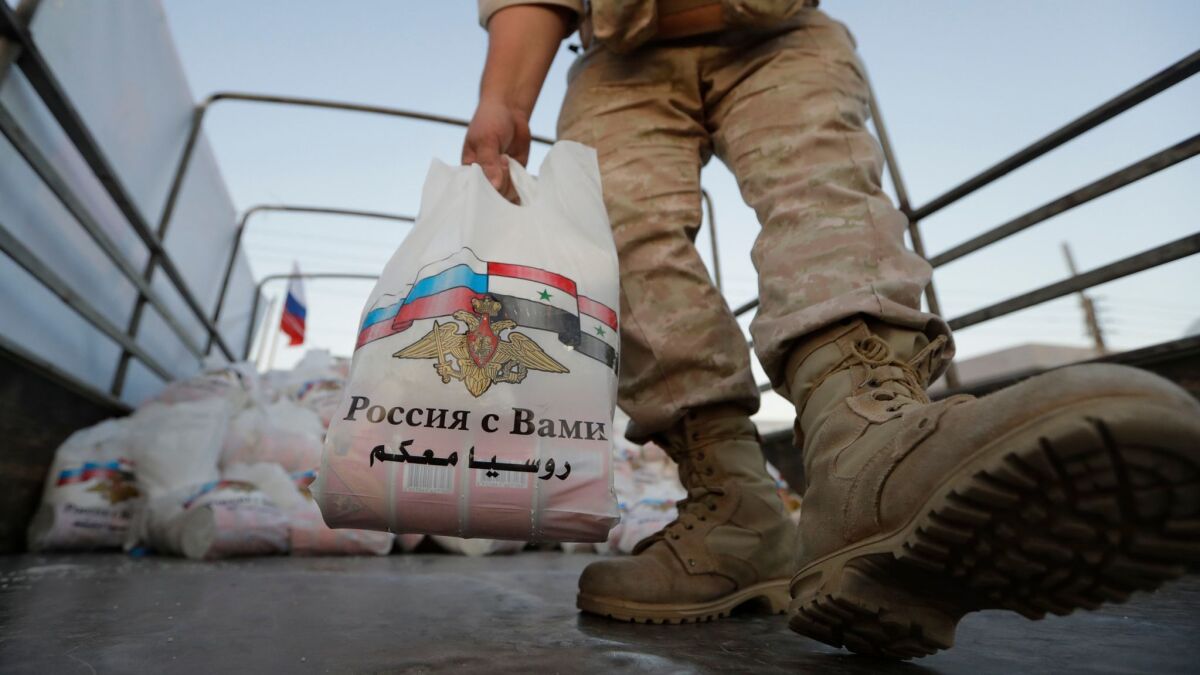 Reporting from Damascus, Syria —
At Mujtahed, one of the largest public hospitals in Damascus, supplies can take months to arrive and medical equipment costing hundreds of thousands of dollars sits unused for lack of replacement parts. Even the procurement of vital medicine can mean diving into a labyrinth of legal injunctions — with the health and, in some cases, the lives of patients at stake.
The administrative and logistical hurdles, far beyond those faced by an average public health facility, are examples of the collateral damage resulting from "smart" sanctions imposed on civil-war-torn Syria, according to a United Nations investigator and others. The ongoing sanctions have affected everyone from doctors at Mujtahed to merchants, importers, industrialists and bankers across wide sectors of the nation's battered economy.
The sanctions, meant to penalize Syrian President Bashar Assad and his entourage for their scorched-earth tactics against critics who eventually picked up arms to fight for his removal, were aimed to serve more like drone warfare than carpet bombing. Although unintended consequences could occur, proponents contended, nobody could claim their impact would be as destructive as Assad's relentless military assaults on fellow Syrians seeking governmental change.
Advocates say exemptions for importing pharmaceuticals and foodstuffs allow legitimate businesses and individuals to undertake critical transactions.
But critics say the rules have nonetheless turned even simple repairs at facilities such as Mujtahed into a logistical nightmare.
On a normal day, said radiology department head Wassim bin Khadraa, an MRI machine would be used for more than 60 examinations and a CT scanner for up to 120 procedures.
But since the equipment came from such U.S. or European companies as General Electric or Siemens, replacement parts that once took two or three weeks to arrive must now be routed through Dubai or Beirut, adding weeks or months to the delivery date.
As well, there are computer software issues resulting from sanctions, with programs in the machines failing to update.
"A car can stop, fine. But this isn't a car. You're dealing with patients, human beings. We should be exempted from sanctions, but in reality we're not," said Bin Khadraa. "It's a simple thing, a part costing a few thousand dollars stops a machine worth hundreds of thousands, but you can only get it from the company. You can't get any alternative."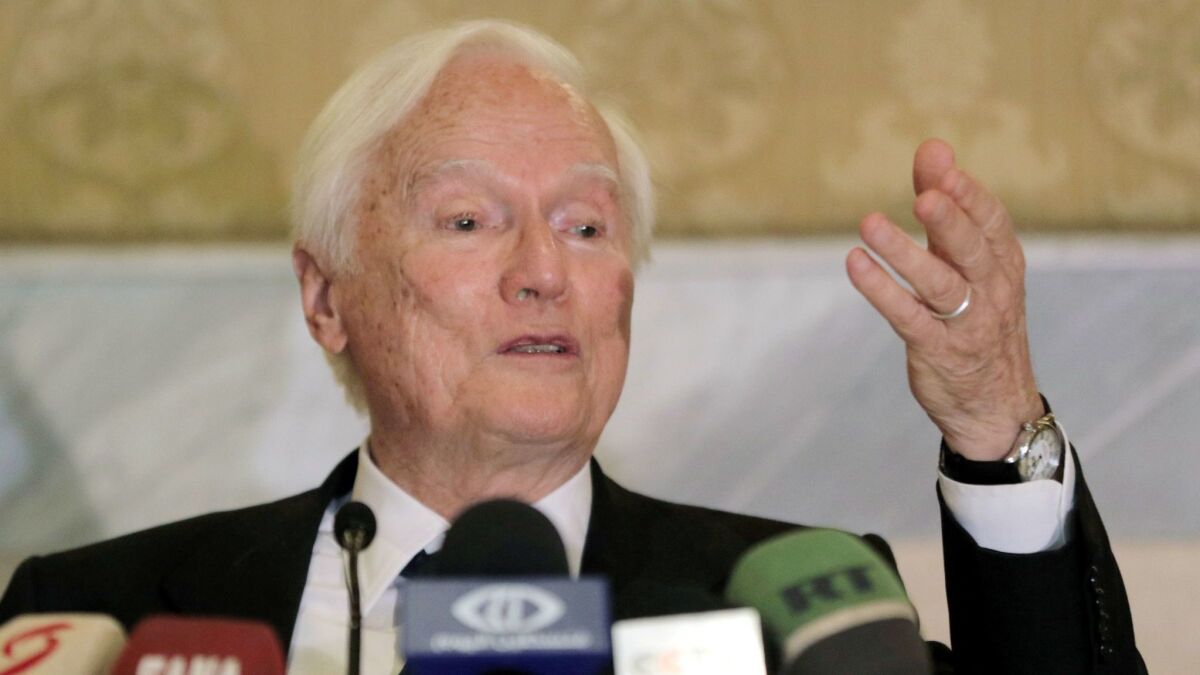 Various sanctions imposed by the U.S., the European Union and other Arab states comprise one of "the most complicated and far reaching sanction regimes ever imposed," said the U.N.'s Idriss Jazairy in a September report. The special rapporteur's accounting described the "negative impact of the unilateral coercive measures on the enjoyment of human rights in Syria."
But the problem, explained Salah Ismail, the doctor in charge of Mujtahed's emergency care section, is that foreign suppliers often don't dare send anything to Syria for fear of triggering unexpected violations — a real possibility.
Also, getting an import license is a confusing matter, requiring costly legal teams to delve into the minutiae of navigating overlapping authorities while performing due diligence on Syrian partners in industries often intertwined with the state, its security services and Assad's family and friends.
The result, said the U.N. agency report, is a "chilling effect" such that "despite the humanitarian exemptions, in practice international private companies are unwilling to jump the hurdles necessary to ensure they can transact with Syria without being accused of inadvertently violating the restrictive measures."
Before the war, Syria could turn to pharmaceutical factories in Aleppo and near Damascus to fill 90% of its medicine needs, according to the U.N. But for businessmen to rebuild their smashed factories, they need to import machines and replacement parts, not to mention raw materials from reputable sources to produce medicine.
All have been ensnared in the red tape of the sanctions.
Even if everything looks aboveboard, said Ziad Oubari, an Aleppo-based pharmaceutical manufacturer, suppliers often no longer allow merchants to order goods and pay for them 90 or 120 days later. Now they want all the money in advance, and even then banks often refuse to carry out the transfer.
"I have money, I can't transfer it, I can't buy anything with it, I can't even put it in the bank," he said in an interview recently, adding that banks in neighboring Lebanon have accepted Syrian account holders in the past but now impose high commissions or freeze accounts.
"And the lack of credit lines means people can't get relatively small sums of money to restart factories that cost millions of dollars to build."
In an underground wing of the hospital, Ismail spoke of aid from Europe that in 2010 equipped 23 hospitals each with 200 beds.
Now he couldn't even get replacement parts for European dialysis machines, he said. He estimated that 10% of those suffering from kidney failure had died because the machines weren't always operating.
Other chronically ill patients suffered from a shortage of medicines including methotrexate, a chemotherapy agent, as well as interferon and fluorouracil, medications used to treat cancers, that in the past were provided by the public health system but were now unavailable or had to be brought in privately from Lebanon.
"These people before could live with the disease," Ismail said, "be an effective member of society. Now they can't."
One solution, he said, has been a pivot toward procuring equipment and medications from Assad ally Russia or China, India or Malaysia.
"But companies there don't repair the machines we have — they replace them. That takes money and time, and many of our staff are trained in the U.S. and Europe so they don't know how to use them," he said, adding that alternative medications were often less effective.
The U.S. Treasury says it aims to "disrupt the Assad regime's ability to finance its campaign of violence against the Syrian people." Its Office of Foreign Asset Control has placed 467 individuals and entities in Syria on a Specially Designated Nationals and Blocked Persons List.
As the civil war enters its eighth year and the Trump administration focuses on Assad's ally Iran, OFAC along with four other government authorities prohibit any U.S. person from investing, selling or supplying services to Syria. Petroleum products of Syrian origin cannot be imported to the U.S., nor can Americans finance or facilitate any transaction that would be considered illegal if done by Americans.
U.S. sanctions also apply to any transaction that involves a U.S. connection (for example, non-Americans transacting in goods with more than 10% U.S. content, or use of U.S. dollars as the transaction currency).
Penalties include $250,000 per civil violation and $1 million per criminal violation, with the possibility of jail time.
Syria's 20 banks have all but given up on international contacts, said one Damascus-based bank manager who refused to give his name for reasons of privacy.
"From 2016 there hasn't been a single import transaction through the banks," he said, "it's all through the black market."
Even his institution's banking app, which is available in Apple's app store, had to be given a different name so customers could download it (Apple bans programs from Syria). Similarly, U.N. staff, noted the special rapporteur in his report, were "being refused bank accounts or mortgages from European banks when the word 'Syria' appeared in their job title."
The result, said Damascus-based businessman Naji Adeeb, is that legitimate business owners are being punished while close associates of the state, including those named in the sanctions, are still able to conduct deals worth hundreds of millions of dollars.
"You just need a lot more resources to do a lot less, and if you do a transaction today you don't know if you can do it again a month from now," said Adeeb. "It's an environment where only crooks and mafiosis can work."
Twitter: @nabihbulos
---
Must-read stories from the L.A. Times
Get the day's top news with our Today's Headlines newsletter, sent every weekday morning.
You may occasionally receive promotional content from the Los Angeles Times.