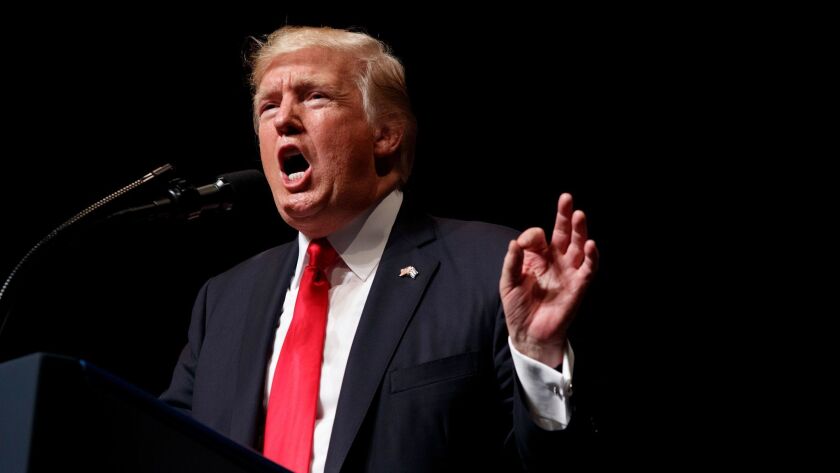 It's a policy change President Trump insists will correct what he called a "terrible and misguided deal" by his predecessor.
Trump's recent announcement on new travel and trade restrictions with Cuba aim to fulfill a campaign promise.
"Easing of restrictions on travel and trade does not help the Cuban people," he said at an event in Miami on Friday. "They only enrich the Cuban regime."
But while Trump's policy backtracks on some of President Obama's efforts to engage with the island, key directives will remain in place.
Here's a look at Trump's policy toward Cuba.
---
First, what did Obama's reforms with Cuba do?
In December 2014, Obama announced a historic deal to gradually rebuild the economic and diplomatic relationships between the two countries.
As a part of the deal forged with Cuban President Raul Castro, Obama eased economic and trade restrictions that dated back to the U.S. embargo on Cuba that began in the 1960s. As part of the agreement, the two countries reopened embassies in each other's capitals.
Restrictions on American agricultural and telecommunications equipment to Cuba were eased, and it became much easier for Americans to travel to Cuba as regular air travel between the countries was restored.
In turn, airlines and U.S. hotel chains began investing resources in Cuba, while chicken, grain and other agricultural producers from the U.S. exported tons of products to Cuba. Cubans, who had little access to the Internet, also found themselves able to browse online.
Moreover, Obama's efforts allowed Americans to use credit and debit cards in the country and to send money to relatives in Cuba from the United States. Last year, Obama traveled to Cuba, becoming the first U.S. president in nearly a century to visit the island.
What did Trump say about it?
As a private citizen, Trump criticized the effort.
This flowed over into last year's campaign, with Trump vowing to terminate the agreement. In the weeks after his election victory, Trump forcefully hinted at his plans for Cuba.
"If Cuba is unwilling to make a better deal for the Cuban people, the Cuban/American people and the U.S. as a whole, I will terminate deal," he tweeted.
Easing of restrictions on travel and trade does not help the Cuban people

—President Trump, speaking in Miami
What's new about Trump's recently announced Cuba policy? Can people still travel to the country?
Well, for starters, none of Trump's reforms take effect immediately. (They could take up to 90 days.)
Trump's primary objective is to keep money out of the hands of Cuba's military and intelligence services.
The new rules include prohibitions on Americans spending money on businesses controlled by the military, which has a wide reach in the Cuban economy. This is likely to affect pending hotel projects with Cuban companies that have ties to the military.
Trump also will reimpose the requirement that "people-to-people" travelers can only come to Cuba with heavily regulated tour groups. The ability of Americans to travel freely on vacation to the country will be scrapped.
"America is prepared to outstretch its hand and work with the people of Cuba, but we will not, we will not empower their oppressors," Sen. Marco Rubio (R-Fla.), who helped craft the new regulations, said at Friday's event with Trump. (Rubio and many Republican members of Congress had assailed Obama's directive with Cuba, saying Cuba's Communist government and military were benefiting.)
What remains in place from Obama's policy?
Trump will not close the U.S. Embassy in Havana, and commercial flights and cruise ships will still be allowed.
Moreover, it appears there's a willingness to keep in place Obama's efforts to communicate with Cuba.
In a memo from the Trump administration, it notes "any further improvements in the United States-Cuba relationship will depend entirely on the Cuban government's willingness to improve the lives of the Cuban people," and also mandates regular reporting of progress toward this objective.
What's been the response to Trump's efforts?
Republicans like Rubio, who is Cuban and a native of South Florida, lauded the effort.
Rep. Mario Diaz-Balart (R-Fla.) also lauded Trump for keeping a campaign promise.
"You have not betrayed us. You kept your promise; you stand in solidarity with the Cuban people and freedom-loving people everywhere; and you are putting American values and U.S. national security interests first," he said.
But groups both here in the United States and the Cuban government expressed some reservations.
In a statement, Myron Brilliant, executive vice president of the U.S. Chamber of Commerce, said the new rules limit the "possibility for positive change on the island and risk ceding growth opportunities to other countries that, frankly, may not share America's interest in a free and democratic Cuba that respects human rights."
Responding to Trump's announcement, the Cuban government said in a statement that American attempts to fundamentally change the island were unlikely to succeed.
The statement said a "strategy aimed at changing the political, economic and social system in Cuba, whether it seeks to achieve it through pressures and impositions, or by employing more subtle methods, will be doomed to failure."
Already a subscriber? Thank you for your support. If you are not, please consider subscribing today. Get full access to our signature journalism for just 99 cents for the first four weeks.
---