Ukrainian comedian wins presidential election by a landslide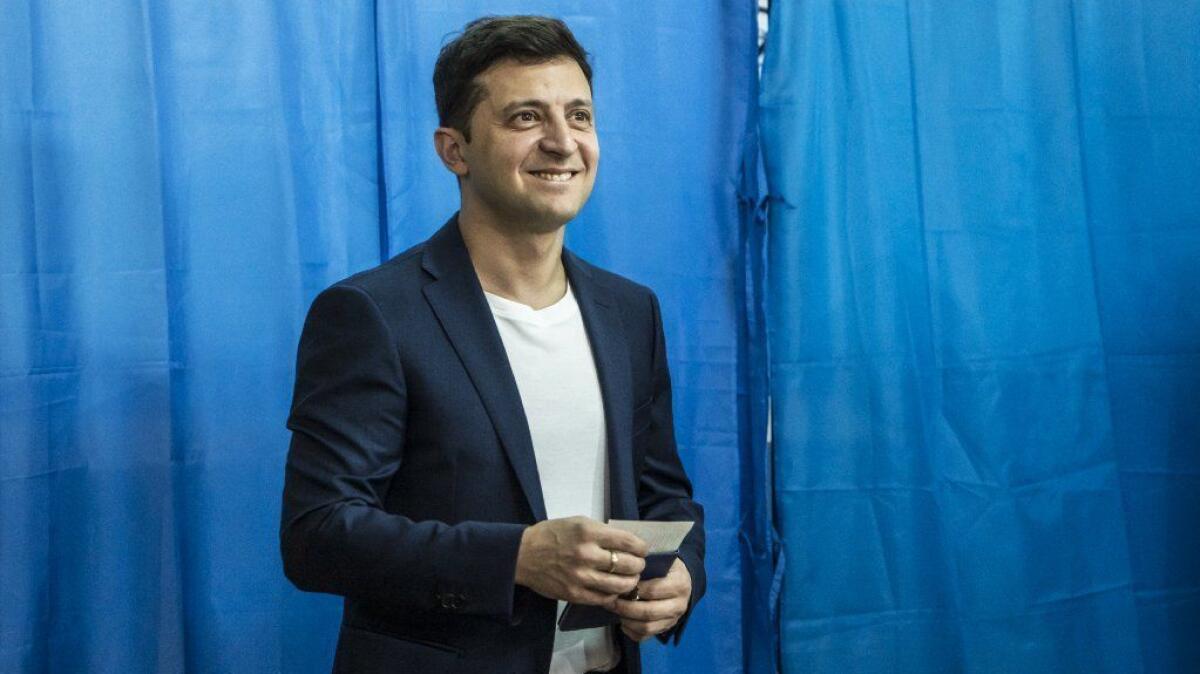 Reporting from Kiev, Ukraine —
Volodymyr Zelensky, a popular comedian initially brushed off by Ukraine's political elite as a novice, won the nation's presidential election in a landslide vote Sunday, according to exit polls.
Zelensky, 41, earned more than 70% of the votes, the polls showed, and his supporters expressed hope that the victory would usher in a new generation of leaders committed to weeding out oligarchs and political corruption.
Zelensky was running against incumbent President Petro Poroshenko, a billionaire chocolate tycoon whose term began in 2014 just months after massive street protests forced a Kremlin-favored president to flee the country and ensured the post-Soviet republic's pivot away from Moscow.
Many supporters said they were voting for Zelensky not because they backed whatever largely unstated plans he might have for running the nation of 44 million, but because they sought to reject Poroshenko's entanglement in Ukraine's corrupted political elite.
Zelensky, after kissing his wife and thanking his parents, told supporters at his election headquarters, "We did this together."
"To all the citizens of post-Soviet countries: Look at us. Everything is possible," he said in a veiled nudge at Russia, where President Vladimir Putin was reelected last year in a Kremlin-controlled process with no real political opponents.
Poroshenko, 53, campaigned as a wartime president who brought economic stability to the country despite the ongoing threat of Russian attacks. But he failed to convince voters he had done enough to combat the country's endemic corruption. The president received just 25% of the vote, according to exit polls, representing a humiliating defeat at the hands of a political newcomer.
Poroshenko conceded shortly after the exit numbers came out Sunday evening.
"We have lost this battle, but we will win the war. We have many more battles to fight," he said during a concession speech. The president, clearly emotional, ended with, "God save Ukraine."
Poroshenko offered one parting warning for the country.
In the Kremlin, he said, "they believe that with a new inexperienced Ukrainian president, Ukraine could be quickly returned to Russia's orbit of influence."
Ukraine's presidential election campaign lasted two rounds and was dominated by voter complaints about the economic situation and calls for a complete overhaul of the political system.
Zelensky's "a guy who is out of the system, and that's good," said Anton Mykalychyuk, 27, after casting his vote for the comedian in central Kiev. "He made his own money, so he doesn't owe anyone in the current system anything."
Zelensky has been a public figure in Ukraine for decades. He is best known as an actor in his comedy troupe Kvartal 95. The name of the group comes from the region where he grew up in Kryvyi Rih, an industrial city of about 800,000 in central Ukraine.
The region's metallurgy plants were notorious during the Soviet era for emitting smoke that turned winter snow orange.
Zelensky, whose father was a professor and mother an engineer, studied economics at the Kryvyi Rih Economic Institute and later received a law degree. He never practiced law, instead using his acting and participation in sketch comedy shows and competitions to launch his career in entertainment.
In 2015, Zelensky became the star of a hit television series called "Servant of the People." In the show, now in its third season, Zelensky played Vasyl Holoborodko, a history teacher who became president after a video of him ranting against corrupt politicians went viral.
The popular series seems to have been the catalyst for creating what is now the political phenomenon of Zelensky as the actual president of Ukraine, said Volodymyr Fesenko, a political analyst with the Kiev-based think tank Penta Center for Political Studies.
The show "formatted a now very popular political myth that an ordinary person could become president, that he could change the political system," Fesenko said. "It became a fairy tale for Ukrainians about how they could change the political system in the country."
Two years after the start of Zelensky's hit show, Poroshenko's administration began facing a new domestic crisis: growing public distrust in the government ahead of this year's presidential and parliamentary elections.
Since the nation's independence in 1991, Ukrainian politics has been dominated by a political elite that many voters believe use their power to enrich their pockets while the rest of the country struggles economically.
The mass street protests in Kiev in 2014, which became known as the Maidan revolution, were a fight against this entrenched, corrupt system and a demand that the government reform into a Western-style democracy, steering away from the kind of authoritative government of Russia's Putin.
Maidan raised the hopes of many Ukrainians that the country was headed in a new direction and out of Russia's orbit. But economic reforms proved difficult, and residents saw an increase in the cost of household utilities, such as gas, electricity and heat. As the country's economy recovered, most Ukrainians weren't reaping the benefits.
Many Ukrainians complained that politicians like Poroshenko were getting richer, while ordinary people watched their utility bills eat up more of their monthly salaries.
With opinion polls showing a difficult reelection challenge, the president's team in 2017 began conducting hypothetical polls on potential candidates. Zelensky's name was included. At one point when Poroshenko had one of his lowest approval ratings, the comedian polled higher than the president.
In May 2017, a political party bearing the same name as Zelensky's hit television show was officially registered.
Zelensky announced on New Year's Eve that he was running for president, shocking most Ukrainians.
When asked why he made the leap from entertainment to politics, Zelensky said he saw it as his duty to his country.
"A real vacuum has appeared in the political sphere in which people don't trust any of the current top politicians," he told a group of foreign journalists in March, one of the few interviews he'd given during his campaign. "I want to do something. I want to change it."
Zelensky ran as an anti-establishment candidate and accused Poroshenko of not doing enough to combat corruption. Instead of campaign stops, Zelensky continued to travel across the country performing with Kvartal 95, a variety show that frequently makes politics and politicians the butt of its jokes.
He used a savvy social media campaign that won over young voters. He rarely spoke to the press. At a debate with Poroshenko two days before the election, Zelensky posed questions that were crowd-sourced from voters over his social media channels.
In the first round of voting in March, Zelensky had a double-digit lead over Poroshenko, an upset in which he beat out 38 other candidates on Ukraine's longest ballot list in history.
As the newcomer with a vaguely defined political persona, Zelensky provided a blank canvas upon which Ukrainians could paint the candidate however they choose to view him, Fesenko said.
Zelensky's critics say he is a showman with no ability to realize his vague promises to reform the country's political system. His platform lacks details, critics say, on how he will stop the military conflict on Ukraine's eastern flank with Russian-backed separatist insurgents who have declared independence from Kiev. Zelensky has said he's not afraid to meet Putin. His opponents think that's naive.
Zelensky's advisors include several former members of Poroshenko's team, known as liberal reformers, who left the administration after meeting opposition from the president on what they deemed important reforms.
One of them, Oleksandr Danyliuk, a former finance minister, said that uncertainties about Zelensky were understandable, but that he believed the newly elected president to be a quick study and effective at conflict resolution.
The warnings from Poroshenko's team about Zelensky's inexperience and potential for reverting the country to pre-Maidan levels were just hysteria, Danyliuk said.
"It's not certain he will succeed at everything," he said. "But at least Ukraine has a chance to succeed now, which we don't have in the current government."
The big loser in Ukraine's presidential election? Vladimir Putin »
Twitter: @sabraayres
Ayres is a special correspondent.
Sign up for Essential California for news, features and recommendations from the L.A. Times and beyond in your inbox six days a week.
You may occasionally receive promotional content from the Los Angeles Times.