Trump is riding a 'dead horse' on climate issue, Gov. Brown says at New York conference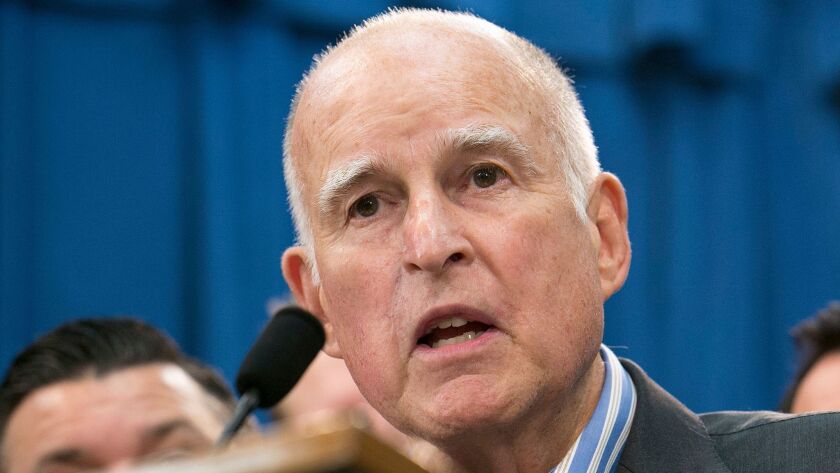 Reporting from NEW YORK —
California Gov. Jerry Brown on Monday touted steps the state has taken toward a healthier climate, but warned that powerful forces he called "climate deniers" are resisting technologies and policies designed to improve conditions.
"I like all the optimism around here, but I don't want to minimize the steep hill that we have to climb," Brown said at the start of a gathering of international leaders called Climate Week NYC. "Decarbonizing the economy when the economy depends so totally on carbon is not child's play. It's quite daunting."

For the record:
4:40 p.m. Sept. 18, 2017
An earlier version of this article said The Times reported in March that sales of electric vehicles rose 91% in the first quarter of 2017 from the same period last year. The report was in May.
Hosted by the Climate Group, an international nonprofit organization that works with business and government to promote clean technologies and policies, the event brought together high-profile governors, along with leaders of Fortune 500 companies and multinational businesses this week to share their strategies and leadership in tackling climate change.
The discussions come amid concerns about global warming and after Hurricanes Harvey and Irma caused devastating flooding in Texas, Florida and across parts of the Caribbean. Some scientists believe warmer ocean waters caused by climate change are creating stronger storms.
President Trump this year announced the U.S. withdrawal from the groundbreaking Paris climate agreement.
Trump has expressed doubt about climate change and indicated that he sees the landmark international accord to reduce greenhouse gas emissions as a threat to U.S. sovereignty. The president has argued that the deal is detrimental to U.S. businesses and unfair because Washington was being made to pay more than its fair share. Trump is pushing for more "pro-America terms," according to White House officials.
Brown said California has taken steps toward advancing climate action. In July, the governor signed legislation to extend California's cap-and-trade program, which requires companies to buy permits to release greenhouse gas emissions, essentially giving them a financial incentive to pollute less. It is the only such initiative of its kind in the U.S. and is widely considered an international model for using financial pressure to prod industry to reduce emissions. The revenue generated from the program is expected to go toward building the bullet train from Los Angeles to San Francisco.
Brown noted that the legislation was passed with bipartisan support, including eight Republican votes.
"It's the first time that I know of where Republican representatives have voted for a climate action explicitly by the name 'climate action,'" Brown said. "That's real crack in the armor of Republican climate denial, and I think that's going to spread to other parts of the party."
California uses around 30% renewable energy and will be at 50% in the next seven years, Brown said.
In 2015, California's Air Resources Board voted to re-adopt its low-carbon fuel standard, which requires the state to achieve at least a 10% cut in the carbon intensity of transportation fuels by 2020. The state has also called for zero-emission cars to represent 15% of sales by 2025. The standards have come under fire from the auto industry that has criticized the rules as too stringent. But sales of electric vehicles rose 91% in the first quarter of 2017 from the same period last year, The Times reported in May. Emissions fell by a third of a percent in 2015, which regulators said was equivalent to removing 300,000 vehicles from state roads for a year, according to a June report in The Times.
Other initiatives California is pushing include eco-friendly building standards.
Brown was joined onstage at Morgan Library and Museum in Manhattan by Govs. Jay Inslee of Washington and David Ige of Hawaii, Philippe Couillard, the premier of Quebec, and Stephen Badger, chairman of the board of Mars Inc.
The chocolate giant has pledged to invest $1 billion in its "Sustainable in a Generation" plan, which aims to fight climate change by reducing greenhouse-gas emissions in its production markets by 67% by 2050 and tackling poverty through promoting sustainable farming.
"We're committed," Brown said.
At a later event Monday, the governor joined mayors and business leaders from around the world at a conference organized by C40 Cities Climate Leadership Group to emphasize the role that states, cities and regions can play in addressing climate issues.
"Cities and states can make a profound difference," Brown said during a moderated conversation with Tom Steyer, president and founder of NextGen, an environmental advocacy nonprofit organization. The billionaire environmentalist and potential candidate for governor of California has gained a reputation as a champion for clean energy policies.
On Monday, Steyer announced that he had taken out a full-page ad in the New York Post describing Trump's failure to act on climate change as being even more dangerous than a Category 4 hurricane, according to information released by his company.
The ad, scheduled to publish Tuesday, the same day Trump is to address the United Nations General Assembly, warns that the president's lack of climate action would endanger even more American lives.
"The most dangerous part of a hurricane isn't the wind or the surge," reads the ad. "It's a President who fails to act on climate change."
"It would be better to have the president [on board], but the president is temporarily AWOL on this issue," Brown said.
Trump's ideology on the climate change issue — he has questioned the science suggesting a man-made role in raising overall global temperatures and has in the past pushed a narrative that climate change is a deliberate hoax created by China—has prompted some people to be more outspoken and committed in supporting action to tackle the climate issue, Brown said.
"He is not going to be successful in the direction he's going," Brown said. "He's riding a very dead horse [on] climate denial … He is accelerating the reversal through his own absurdity."
The governor's comments came as a new report published Monday found that the impact from the U.S. decision to withdraw from the Paris climate agreement could be significantly mitigated "thanks to the determined action demonstrated by U.S. states, cities and businesses."
Authored by NewClimate Institute and The Climate Group, the analysis in "States, cities and businesses leading the way: a first look at decentralized climate commitments in the US," shows that the U.S. could already meet half of its climate commitments under the Paris agreement by 2025, if 22 states, 54 cities and 250 businesses headquartered in the U.S. continue to implement more than 300 obligations to reduce greenhouse emissions.
"There's a lot of uncertainty at the federal level," Helen Clarkson, CEO of The Climate Group, told The Times. "But what the report says is that there is plenty of action happening already. There are commitments."
These commitments include a pledge by more than 100 businesses—including Google, Facebook and General Motors—to go to 100% renewable electricity, within various time frames, Clarkson said.
Other companies have promised to bring their fleets of vehicles to 100% electric. Los Angeles has committed to 1,000 charging stations, the highest of any city. Britain, India and France are among several countries that have announced a phase-out of internal combustion engines by 2030/2040, Clarkson said.
Under the current scenario and if all commitments are fulfilled, greenhouse gas emissions would be reduced 12% to 14% below the 2005 level by 2025, the analysis found.
Brown this week is expected to undertake a flurry of other activities, including announcing new details regarding the September 2018 Global Climate Action Summit that is scheduled to take place in San Francisco.
Times staff writers Tony Barboza in Los Angeles and Chris Megerian and Russ Mitchell in San Francisco contributed to this report.
For more on global development news, see our Global Development Watch page, and follow me @AMSimmons1 on Twitter
---
UPDATES:
4:45 p.m.: This article was updated to include mention of environmentalist Tom Steyer's ad.
2:40 p.m.: This article was updated with additional background on California's efforts regarding climate change.
This article was originally published at 11:35 a.m.
---
Must-read stories from the L.A. Times
Get the day's top news with our Today's Headlines newsletter, sent every weekday morning.
You may occasionally receive promotional content from the Los Angeles Times.