North Korea says it needs more trust in the U.S. before it will disarm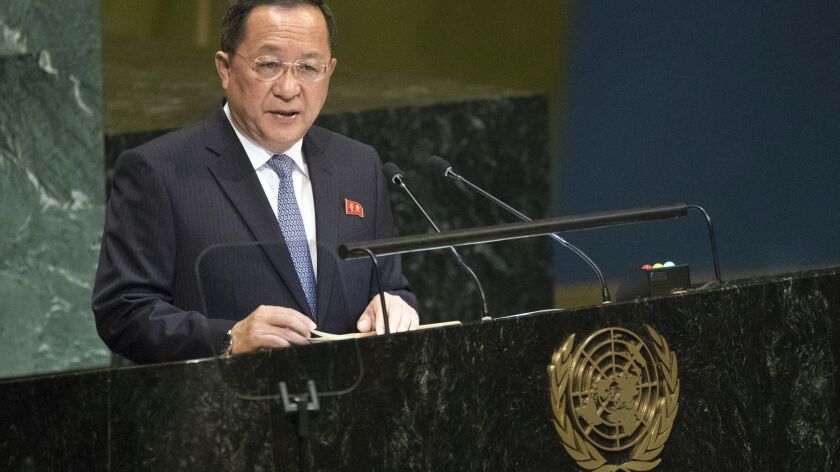 Reporting from New York —
North Korea needs more trust in the U.S. and their developing relationship before it will get rid of its nuclear weapons, Pyongyang's top diplomat said Saturday.
More than three months after a June summit in Singapore between the U.S. and North Korean leaders, Ri Yong Ho told world leaders at the U.N. General Assembly that the North doesn't see a "corresponding response" from the U.S. to North Korea's early disarmament moves. Instead, he noted, the U.S. is continuing sanctions aimed at keeping up pressure.
"The perception that sanctions can bring us on our knees is a pipe dream of the people who are ignorant of us," he said, adding that the continued sanctions are "deepening our mistrust" and deadlocking the current diplomacy.
"Without any trust in the U.S., there will be no confidence in our national security, and under such circumstances there is no way we will unilaterally disarm ourselves first," Ri said, adding that the North's commitment to disarming is "solid and firm," but that trust is crucial.
Washington is wary of easing sanctions or agreeing to another of the North's priorities — a declaration ending the Korean War — without Pyongyang first making significant disarmament moves.
Officials at the United States' U.N. mission didn't immediately respond to an inquiry about Ri's comments, which came as President Trump and his secretary of State, Michael R. Pompeo, are trying to regain momentum in their quest to get North Korea to renounce its nuclear ambitions.
Pompeo is planning to visit Pyongyang next month to prepare for a second Kim-Trump summit.
Both Kim and Trump want to meet again. But there is widespread skepticism that Pyongyang is serious about renouncing an arsenal that the country probably sees as the only way to guarantee its safety.
Pompeo and Ri met on the sidelines of the General Assembly on Wednesday for what Pompeo described as a "very positive" discussion. He did not give any details.
The North has traditionally said that the nuclear standoff is between it and the United States, but recent summits between Kim and South Korean President Moon Jae-in have also dealt with the nuclear issue.
Nuclear envoys from the U.S. and ally South Korea have met three times during this week's U.N. meetings to talk about ways to end North Korea's pursuit of an arsenal of nuclear-armed long-range missiles.
---
Must-read stories from the L.A. Times
Get all the day's most vital news with our Today's Headlines newsletter, sent every weekday morning.
You may occasionally receive promotional content from the Los Angeles Times.