Pope accepts resignation from top Chilean church official accused of sex abuse cover-up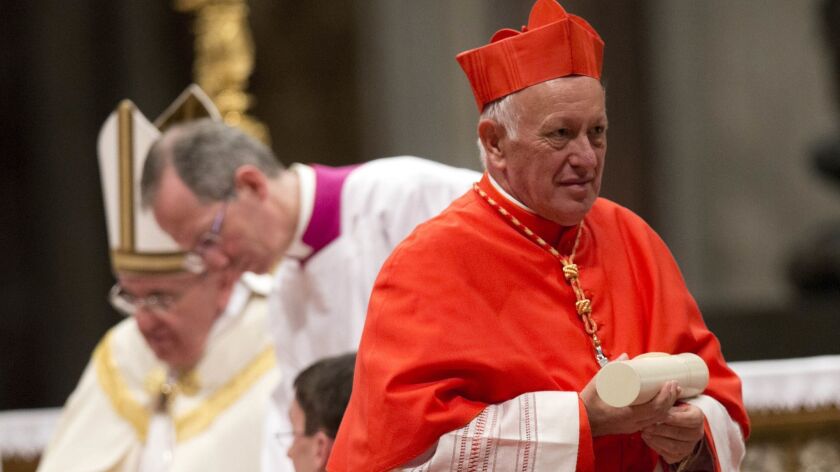 Reporting from Santiago, Chile —
Pope Francis on Saturday accepted the resignation of Cardinal Ricardo Ezzati, Chile's top Roman Catholic official, in the latest shock wave to hit the church that has been rocked by a flurry of sexual abuse allegations and the resulting loss of favor by Chileans.
Ezzati, 77, archbishop of Santiago, the capital of Chile, and head of the church hierarchy since 2011, was one of the 33 Chilean bishops who offered their resignation en masse to Pope Francis last May amid accusations of cover-ups of sexual abuse by priests.
While not accused himself of abusing minors, Ezzati was perceived as responsible for years of keeping quiet as many as 251 alleged crimes. The pope has now accepted the resignations of eight of the Chilean bishops
A statement from the Vatican press office did not detail the reasons why the Pope had acted 10 months after Ezzati and others offered to quit. It said he will be temporarily replaced by Bishop Celestino Aos of Copiapo.
But the answer could lie in the continuing deterioration of the church's image in Chile because of the scandals. Membership has declined to 45% of Chileans from 76% in 1987. Recent opinion polls give the church a 20% approval rate
A defiant Ezzati faced the press Saturday at a news conference at a church-run school in downtown Santiago and denied that he had led a cover-up
"I can say, with my head held high, that all the complaints that have reached the complaints office that I created in 2011 have been investigated, or are being investigated," he told reporters. "It's not enough to say that I have covered up (abuse), you have to prove it."
Ezzati had been linked in press reports and victims' allegations to at least three cases of cover-ups. One involved alleged abuse committed by former archdiocese chancellor Oscar Munoz —who was in charge of the church's sexual abuse investigation files, and is currently under criminal investigation and under house arrest.
The Chilean abuse cases stretch back to the 1940s with the most recent being that of a homeless man who claims to have been drugged and raped by a priest in a dormitory inside the Cathedral of Santiago in 2015.
The accuser told the police he returned once to the Cathedral, where Ezzati takes confession from time to time, to tell him his story. He said he received a hug from the archbishop in response and the equivalent of $45 in Chilean pesos, which was given to him by another priest.
Asked about the homeless man, Ezzati told a local television station early this month: "I don't know him."
Victims rights activists hailed the pope's acceptance of the resignation as a positive step.
"Cardinal Ezzati represents everything that we have fought against for years, especially the culture of abuse and cover-up," said Juan Carlos Cruz, James Hamilton and Jose Andres Murrillo in a statement. The three are abuse survivors who have helped lead a campaign pressuring the Vatican to take action.
Chile's President Sebastian Pinera has spoken out about child welfare since taking office in March 2018 and sent a bill to eliminate the statute of limitations on child sex crimes. "The Chilean Church begins a new stage," said Pinera spokeswoman Cecilia Perez on Saturday.
Ezzati, born in the Italian village of Campiglia in 1942, moved to Chile at age 17, then returned to Italy to be ordained as a priest in 1970. He subsequently spent his entire pastoral career in Chile. In 1996, he was appointed bishop of the southern city of Valdivia by John Paul II, and 10 years later, Chile's Congress granted him Chilean citizenship for his services to the country.
Francis named him a cardinal in 2014.
The national prosecutor's office searched Ezzati's office last June, one of seven diocesan offices police have raided in the course of their investigation. A request to an appellate court by the cardinal's lawyer that the case be dismissed was unanimously turned down Friday.
Currently, more than 190 people across Chile are under investigation — up from 83 in 2017 — for alleged sexual abuse and cover-ups linked to the Roman Catholic Church, including 113 priests and nine bishops, according to the Chilean National Prosecutor's Office. Of 251 alleged victims, at least 109 were minors as young as 5 years old in cases dating back decades.
The Chilean abuse issue drew international attention in January 2018 when Pope Francis, during a visit to Chile, described cover-up allegations against then-bishop of Osorno Juan Barros as "calumny," sparking widespread outrage.
The dismissive comments were too much for many church officials, including the influential Boston archbishop, Cardinal Sean P. O'Malley, who said Francis' words had been "a source of great pain for survivors of sexual abuse by clergy or any other perpetrator."
Within days, Francis changed his mind, sending the archbishop of Malta, Charles J. Scicluna, to investigate the Chilean cases. In March 2018, Scicluna delivered a scathing report blaming the church hierarchy in Chile for systematic cover-ups. The report led to the 33 Chilean bishops offering their resignation.
Special correspondent Poblete is based in Santiago. Special correspondent Chris Kraul contributed from Bogota, Colombia.
Chilean prosecutors probe rural Catholic diocese for evidence in abuse case »
---
Must-read stories from the L.A. Times
Get all the day's most vital news with our Today's Headlines newsletter, sent every weekday morning.
You may occasionally receive promotional content from the Los Angeles Times.