Reporting from Caracas, Venezuela —
Venezuelan police arrested a top assistant of self-proclaimed interim president Juan Guaido on Thursday, an act that the leader of the opposition to sitting President Nicolas Maduro described as a "kidnapping."
The arrest of Roberto Marrero, who serves as Guaido's office manager, took place at his home and was carried out by intelligence police, according to a statement released by Guaido's press office in Caracas, the nation's capital.
No reason for the arrest was given, and Venezuela's Communications and Information Ministry did not respond to a request for details.
"It was a vile and vulgar kidnapping," Guaido said Thursday during a visit to a school in the La Castellana barrio in eastern Caracas, where he spoke to reporters. "The kidnapping is an attempt to intimidate us. Here we are in the plain light of day."
Marrero is a close friend and associate of Guaido, having accompanied him on a tour of Latin American cities in February after attempts failed to facilitate the entry to Venezuela of humanitarian aid from Colombian and Brazilian border cities.
Guaido, leader of the National Assembly, said he would file a protest with the United Nations, whose chief human rights representative, Michelle Bachelet, has sent a commission to Venezuela to investigate alleged abuses.
Before being led away in the early hours of Thursday, Marrero telephoned Guaido and said that police were searching his home.
Guaido, who has the support of dozens of nations including the United States and Colombia, said that the home of opposition National Assembly deputy Sergio Vergara was also searched Thursday morning but that Vergara was not arrested.
MORE: U.S. withdrawing last of its embassy personnel from Venezuela »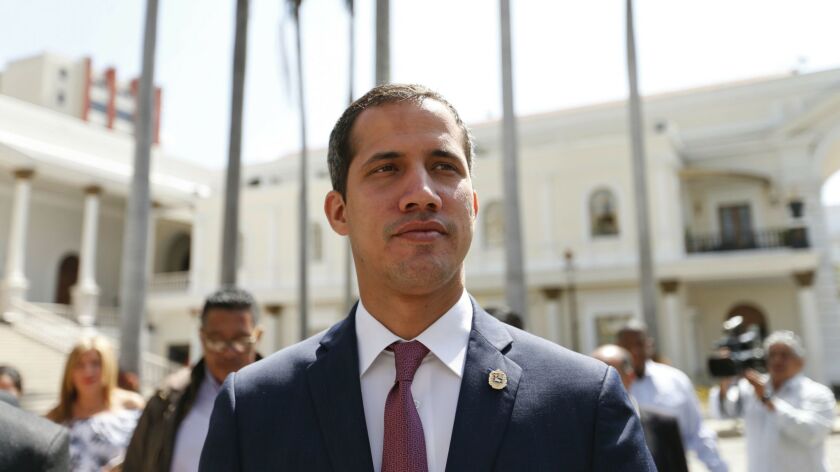 The Lima Group, an assemblage of Latin American countries formed to address the impacts of Venezuela's ongoing social and economic crisis, including the exodus of millions of citizens, issued a statement Thursday condemning Marrero's arrest .
"The Maduro regime is responsible for the security and physical integrity of Roberto Marrero and Sergio Vergara. We demand the end of harassment of Venezuelan democrats and of the systematic practice of arbitrary detention and torture in Venezuela," said the Lima Group's statement.
Guaido is under restrictions that include a travel ban, which he violated when he left Venezuela last month to travel to Bogota for a Lima Group meeting that included U.S. Vice President Mike Pence. Maduro's government so far has not detained him, saying his case is under investigation by the attorney general's office.
"There is a risk in making politics in Venezuela, but it is evident that today they don't dare do anything to me because while we remain mobilized in the streets we are strong," Guaido said Thursday.
Mogollon is a Times special correspondent. Special correspondent Chris Kraul in Bogota, Colombia, contributed to this report.
---