World leaders pay tribute to George H.W. Bush, who presided over a tumultuous period in international affairs
George H.W. Bush became the 41st president of the United States during a pivotal time in world politics. From the collapse of the Berlin Wall to the end of the Soviet Union and the Persian Gulf War, world affairs dominated much of Bush's one term in office.
On Saturday, international leaders chimed in to recall their memories of the former president, who died Friday at the age of 94.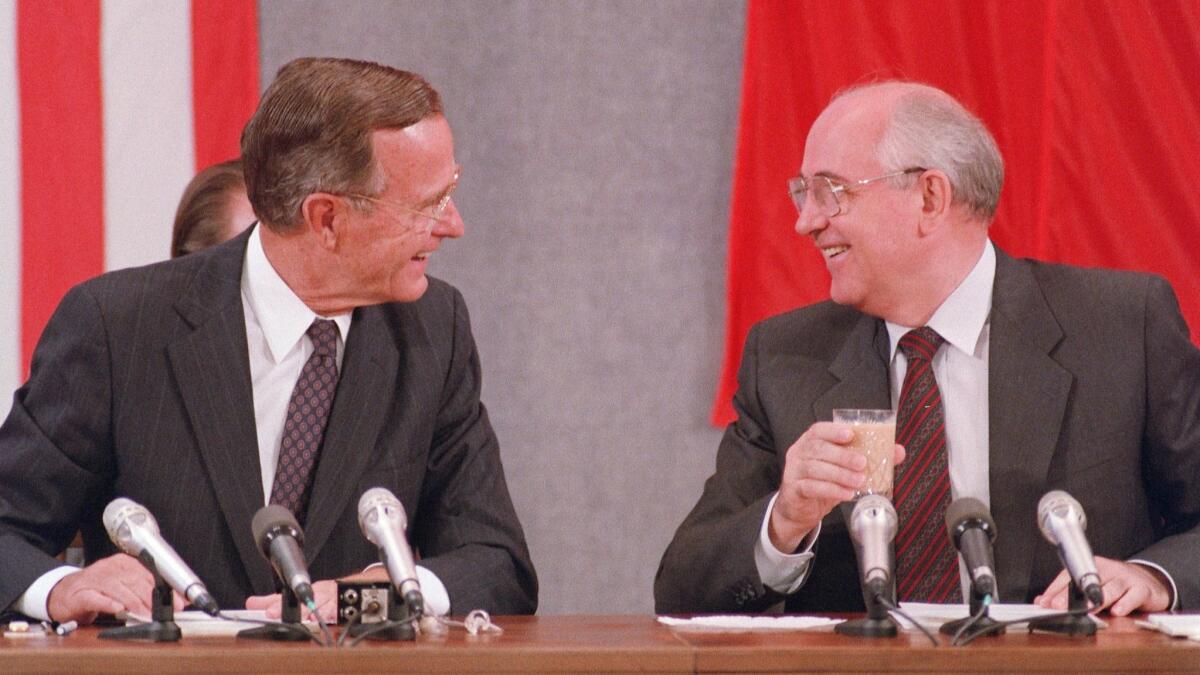 Russia
Leaders in Russia recalled Bush with nostalgia and fondness, illustrating the stark difference between today's tumultuous relationship with the Kremlin and warmer moments during Bush's years as president.
In a statement to the Bush family, President Vladimir Putin offered his condolences, adding: "An outstanding man, who has faithfully served his country all his life — with a weapon in his hands during the war and in senior government positions during peaceful times — is no longer with us."
By the time Bush became president in 1989, the Soviet Union was teetering and the new world order was around the corner. The union collapsed in 1991, and its constituent republics, including Russia, became independent states.
Konstantin Kosachev, head of the Russian Senate's foreign affairs committee, credited Bush with ushering in the greatest era of U.S.-Russia relations.
In an interview with the Interfax news agency, former Soviet leader Mikhail Gorbachev recalled the close relationship that formed between the two world leaders as they worked together to help end the Cold War.
"I have a lot of memories associated with this person. We had a chance to work together during the years of tremendous changes. It was a dramatic time that demanded great responsibility from everyone. The result was an end to the Cold War and the nuclear arms race," he said in a statement.
Bush is not universally loved in Russia, where some believe the United States did too little to help the country transition from communism, and blame U.S. advisors for decisions that put the state's assets in the hands of a few oligarchs in the 1990s. However, he is also remembered for the less desirable (to Americans) cuts of chicken, primarily legs, that were sent to post-Soviet Russia in 1991 as food aid, and became known as "Bush Legs."
Chickens — once viewed as an extension of friendship between the Kremlin and the U.S. — are now a point of contention; when relations between the Kremlin and U.S. sour, Moscow bans imports of U.S. chicken.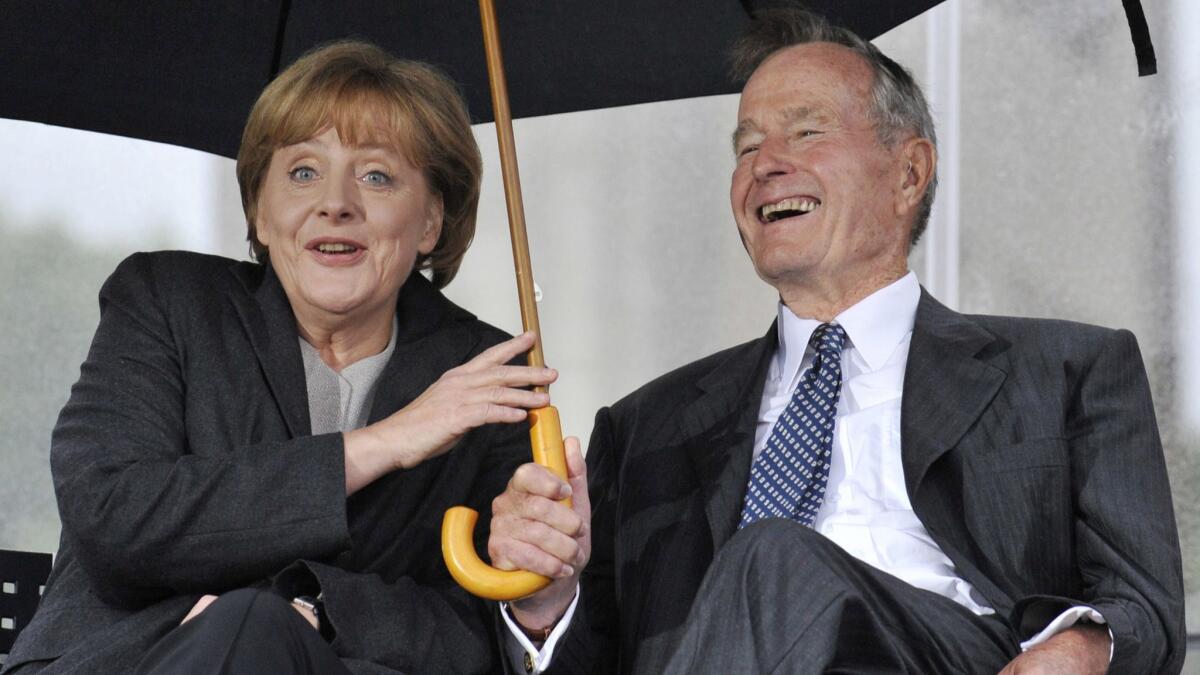 Germany
Bush is widely credited and almost universally applauded in Germany for his unflinching support for German reunification that ultimately came about on Oct. 3, 1990 — just 11 eventful months after the Berlin Wall came down.
Bush's unyielding faith in Germany as a democratic nation stood in stark contrast to its Western neighbors and came at a time 45 years after World War II when Germany did not have many friends in the world.
German Chancellor Angela Merkel, in a brief news conference with President Trump at the G-20 summit in Buenos Aires, praised Bush for his role in supporting German reunification soon after the Berlin Wall fell in 1989.
"He's the father, or one of the fathers, of the German unification, and we will never forget that," she said.
Saudi Arabia
Bush, a former oilman, nurtured a close relationship with leaders in Saudi Arabia.
In a statement issued after his death, the Saudi Embassy in Washington called Bush a "true friend."
"The Kingdom will never forget his resolve during the Gulf War of 1991 when American and Saudi troops fought side by side to reverse a flagrant act of aggression," the statement read.
When Iraq invaded Kuwait in August 1990, Bush formed a coalition with Arab countries to try to get Iraq to withdraw.
Saudi Arabia came into the picture when the oil-rich country became concerned about a possible invasion. Bush sent U.S. troops to Saudi Arabia and in January 1991 launched Operation Desert Shield, a war that drove Iraq out of Kuwait while leaving dictator Saddam Hussein in power.
Hussein would later be driven from power by Bush's son, President George W. Bush.
Special correspondent Erik Kirschbaum in Berlin and Times staff writer Tracy Wilkinson in Washington contributed to this report.
Follow me on Twitter @melissaetehad
---
UPDATES:
Times special correspondents Erik Kirschbaum and Matthew Bodner contributed to this report.
Sign up for Essential California for news, features and recommendations from the L.A. Times and beyond in your inbox six days a week.
You may occasionally receive promotional content from the Los Angeles Times.