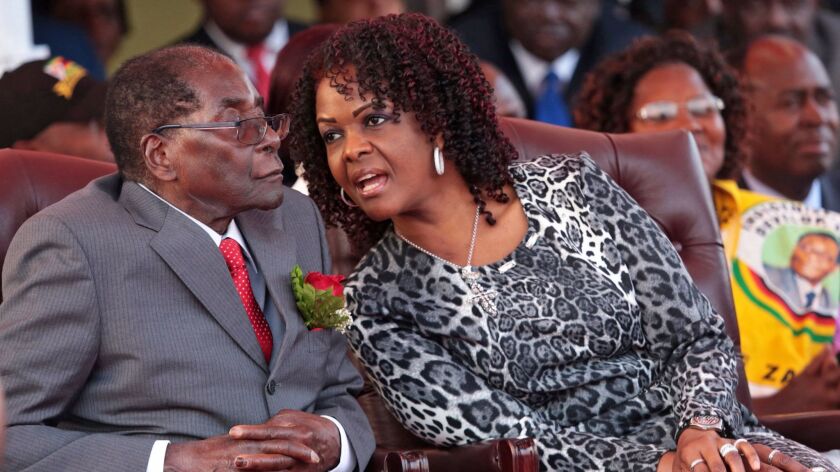 Reporting from JOHANNESBURG, South Africa —
Zimbabwe's first lady remained out of sight Friday, several days after a young model claimed Grace Mugabe whipped her with an extension cord in a luxury hotel in South Africa.
South African authorities are weighing a request by Zimbabwe's government for diplomatic immunity for the first lady, who has not commented since the alleged assault Sunday night.
South African police have issued a "red alert" at its borders to ensure Mugabe doesn't leave undetected, and they say they are confident the first lady remains in the country. Police also say their investigation is complete but needs a government decision on the immunity appeal.
On Friday morning, police had received no official word from the government on the status of the immunity request, police spokesman Brig. Vishnu Naidoo told the Associated Press.
"We are waiting in anticipation as well," Naidoo said. "People are attacking us left, right and center but we can't do anything."
A spokesman for the Department of International Relations and Cooperation said Friday there was no update on the immunity request.
Zimbabwe's government and state media have not publicly addressed the assault allegations.
The scandal has become a diplomatic mess for South Africa's government and Zimbabwe's 93-year-old president, Robert Mugabe, who arrived in South Africa's capital late Wednesday, apparently to deal with the crisis. He came early for a regional summit of southern African nations this weekend.
It is not clear whether Grace Mugabe entered South Africa on a personal or diplomatic passport. Zimbabwe's state-owned newspaper reported last weekend that she was in South Africa for medical care, but she told police after the alleged assault that she was scheduled to attend the summit with her husband.
Lawyers for the 20-year-old model, Gabriella Engels, have threatened to go to court if South Africa's government grants Grace Mugabe immunity, saying it cannot be used to "escape prosecution from grave crimes."
ALSO
1 American killed, 1 injured in Spain attacks
79-year-old Iranian opposition leader calls off hunger strike but will remain under house arrest
As Mexico debates giving the military more power, a judge asks why soldiers gunned down 22 people
---