Barry, now a tropical depression, soaks much of Louisiana while sparing New Orleans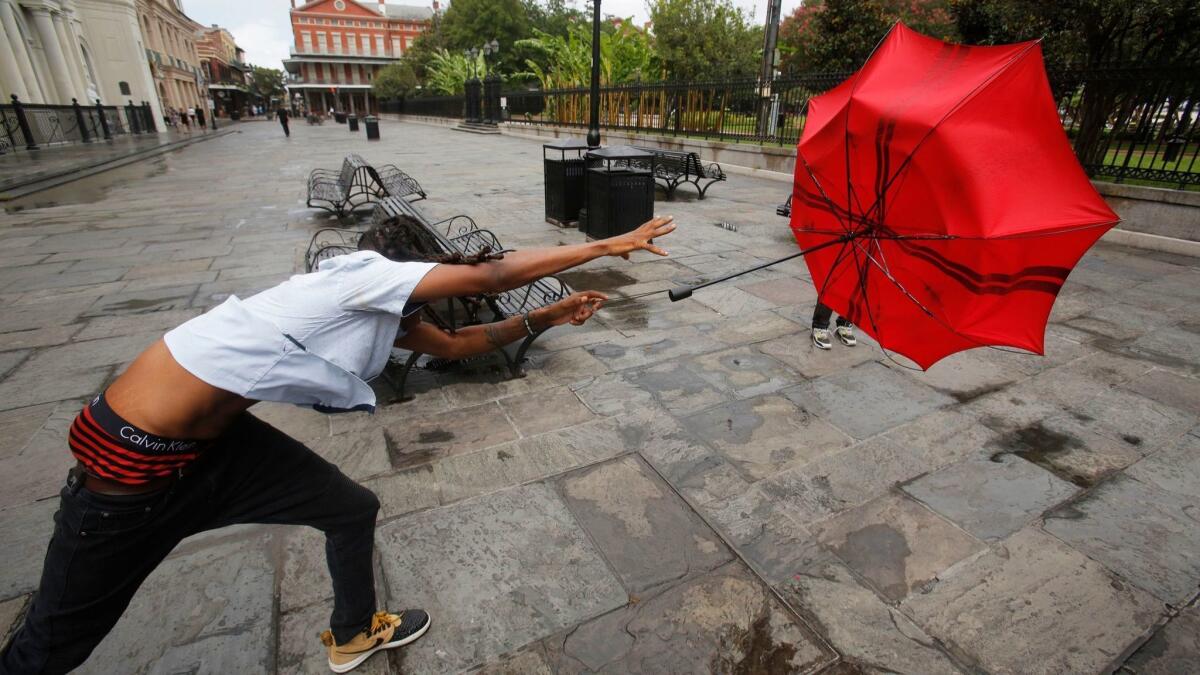 Reporting from New Orleans —
Barry continued to soak Louisiana and Mississippi as it weakened to a tropical depression Sunday over Northwestern Louisiana. While the low-lying city of New Orleans appeared to have dodged a catastrophic deluge, the National Hurricane Center warned of tornadoes, gale-force winds and "dangerous, life-threatening flooding."
"I, for one, am glad the forecasted rains and flooding did not materialize," Louisiana Gov. John Bel Edwards said during an evening media briefing in Baton Rouge.
"This was a storm, obviously, that could have played out very, very differently. We're thankful that the worst-case scenario did not happen, but we understand here in Louisiana, if nowhere else, that will not always be the case."
After fears that heavy rainfall would inundate the already swollen Mississippi River, submerging New Orleans, Mayor LaToya Cantrell said it was clear the historic city would be spared.
"We absolutely made it through the storm," she said at a Sunday afternoon press briefing. "Beyond lucky.… It seemed as those bands moved closer to New Orleans, they seemed to just go around us."
Although there was relief the storm had not wreaked more damage, the ordeal was a reminder of the vulnerability of New Orleans, half of which is below sea level and reliant on an elaborate system of levees, flood walls, pumps and catch basins.
"It's always good to dodge a bullet, but it doesn't feel good to know you've been shot at," said Andy Horowitz, an assistant professor of history at Tulane University who is working on a history of Hurricane Katrina.
Though nobody knows better than New Orleans residents the threat posed by climate change, Horowitz said, the predicament was not unique to New Orleans, but to the entire Louisiana coast — as well as any coastal region that faces the challenges of a rising sea level and larger and more frequent hurricanes.
"It's possible for us to be thankful that Barry turned out largely to be much ado about nothing," he said. "But that doesn't change the fact that there could be another hurricane next week. And so, we go to bed tonight both thankful that everything was fine and also keenly aware that everything is not fine."
Across the state, search and rescue teams saved more than 90 people across 11 parishes, Edwards said.
Between 2 and 6 a.m. Sunday, 48 people were evacuated from the Iberia Medical Center in Iberia Parish, a coastal community 100 miles west of New Orleans.
Early Saturday morning, 13 people (and two cats) were plucked out by Coast Guard helicopter after water engulfed their homes on Isle de Jean Charles, a slender strip of land about 50 miles southwest of New Orleans.
By Sunday afternoon, the center of Barry was about 20 miles north-northeast of Shreveport, moving slowly north with winds of 35 mph. It was expected to move across the northwestern portion of Louisiana and over Arkansas on Sunday night and Monday.
The National Hurricane Center forecast that Barry would dump about 3 to 6 additional inches of rain across parts of the lower Mississippi Valley, with isolated amounts of 10 inches across eastern Arkansas, southeast Missouri and northwest Mississippi.
About 3 to 5 inches of rain, with isolated storm totals of 10 to 15 inches, would fall across south-central Louisiana, leading to "dangerous, life threatening flooding."
Tornadoes, it warned, were possible across parts of southeastern Louisiana, Mississippi, western Alabama, eastern Arkansas, and western Tennessee.
More than 95,000 customers in Louisiana and Mississippi were without power late Sunday afternoon, according to PowerOutage.US.
Across Baton Rouge, the state capitol, river flood warnings were canceled, easing residents' anxiety that the area could see a repeat of the devastating floods seen in 2016, when rivers and bayous burst their banks, flooding tens of thousands of homes and killing 13 people.
Lt. Gov. Billy Nungesser said he was confident that Louisiana's fragile, low-lying coastal communities had seen the worst.
"We're out of the woods in south Louisiana," he said Sunday afternoon in a telephone interview. "I don't believe there's going [to be] any significant flooding. We just haven't seen the concentrated rainfall that was projected."
In Plaquemines Parish, a slender finger of the coast below New Orleans, the wind had died down and flood water stopped over-topping a levee in Myrtle Grove and flooding pastures, Nungesser said.
After fearing that the levee would ultimately breach and flood the main highway that runs down the parish, he said, the road remained open and workers were pumping out the water.
Still, Nungesser said, he was worried about Shreveport, a town with a population of around 200,000 in northwest Louisiana.
"Until this thing gets out the state lines and really loses strength, these rain bands could bring havoc on any community," Nungesser said.
In New Orleans, the rain picked up Sunday from a drizzle to bursts of heavier rain, but it fell short of the torrential onslaught many had feared.
The National Weather Service predicted a total of no more than 4 inches of rain in the city Sunday, far less than the 10 to 20 inches they had forecast before the storm hit.
Tropical storm warnings and storm surge warnings were canceled, but the city continued to send residents text message alerts reminding that a flash flood watch would remain in effect into the evening.
Still, while many cars were parked up on high ground and sandbags positioned outside some doorways, residents slowly began to resume their daily routines, less anxious that the city's elaborate flood protection system would be overwhelmed.
Airlines that had canceled flights in and out of Louis Armstrong New Orleans International Airport began to operate as normal. Cafes, bars and restaurants that had closed Saturday opened their front doors. City officials announced that City Hall would open Monday and trash and recycling collection would resume.
The Rolling Stones, forced to cancel a Sunday concert at the Superdome, are now scheduled to play Monday.
Other pockets of the state, though, would take a little longer to recover.
Shawn Boudreaux, the president of Cajun Navy Relief, a nonprofit group founded by Louisianans in 2016 to provide immediate rescue and relief after major flooding struck south-central Louisiana, said some residents in the coastal areas had up to a foot of water in their homes.
After traveling to Iberia Parish, a coastal area about 100 miles west of New Orleans, to embed with the sheriff's department and its emergency operation center, Boudreaux said he would be on standby for the next 24 hours — even though it was no longer raining.
"This wasn't one that scorched the earth and left nothing but rubble and scar on the earth," he said. "But it did still flood people's homes. People had to evacuate. And now they have to go home and clean out all the mud and the muck and the nastiness. It's going to be a long process to get back to normal."
Sign up for Essential California for news, features and recommendations from the L.A. Times and beyond in your inbox six days a week.
You may occasionally receive promotional content from the Los Angeles Times.