U.S. officials not persuaded Syria used chemical weapons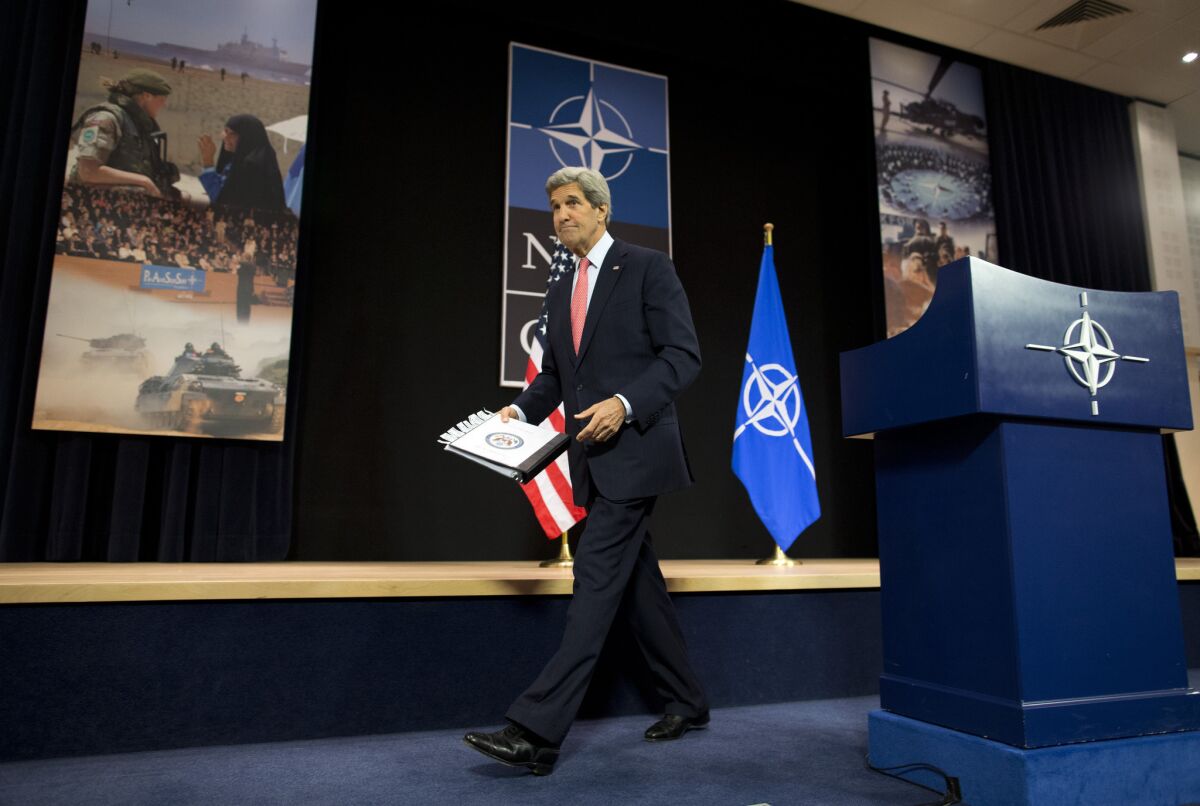 BRUSSELS — U.S. officials said Tuesday that they are not persuaded that Syrian President Bashar Assad's regime used chemical weapons against rebels, despite the strongest accusations to date from Israel.
Secretary of State John F. Kerry, who is in Brussels for a North Atlantic Treaty Organization ministerial meeting, said Israeli Prime Minister Benjamin Netanyahu was not prepared to assert that chemical weapons had been used when they discussed a new Israeli intelligence assessment Tuesday.
"I think it's fair for me to say that he was not in a position to confirm that in the conversation that I had," Kerry said. "I don't know what the facts are. I don't think anybody knows what they are."
Kerry's comments came after Israel's top military intelligence analyst accused Syria of using chemical weapons -- probably a sarin-based nerve agent -- in attacks March 19 near the cities of Aleppo and Damascus.
Speaking at a Tel Aviv security conference Tuesday morning, Brig. Gen. Itai Brun said the assessment was based upon reports of victims foaming at the mouth and having constricted pupils.
"To the best of our professional understanding, the regime used lethal chemical warfare on a number of occasions during recent months," Brun said.
The Israeli report, which followed similar assessments by Britain and France last week, comes at a difficult moment for the Obama administration.
President Obama has declared the use of chemical weapons in Syria a "red line," a statement he may now regret.
Syrian rebels remain divided, as do their foreign supporters, and worries about the extremists in their midst are causing some of their strongest advocates to think carefully about how much support they want to provide.
Israeli officials worry that Obama hasn't been sufficiently attentive to the threat from Syria, which they say would be even more serious were the country's large chemical weapons stockpiles to fall into the hands of Hezbollah fighters in Lebanon or Al Qaeda-inspired groups in Syria.
However, any suggestion of deepened Western entanglement in the Syrian conflict is highly sensitive in Europe, where many are already eager to have NATO draw down its forces in the Afghan war.
Alliance officials emphasized before and during Tuesday's meeting that NATO was not moving toward military action in Syria.
After declaring in prepared remarks for NATO leaders that the alliance needed to "carefully and collectively consider" how it would protect members from the Syrian threat, including chemical weapons, Kerry later told reporters that he was not calling for more planning on the issue.
"I didn't ask for additional planning," he said. "There's no specific request. What there was from me was a very clear statement about the threat of chemical weapons and the potential for chemical weapons generically to fall into bad hands."
ALSO:
Kerry says NATO needs plan for Syrian chemical weapons
Backers of Syrian president claim credit for AP Twitter hack
Israel accuses Syria of using chemical weapons against rebels
---
Must-read stories from the L.A. Times
Get the day's top news with our Today's Headlines newsletter, sent every weekday morning.
You may occasionally receive promotional content from the Los Angeles Times.