Guatemala is expelling entire anti-corruption team investigating its president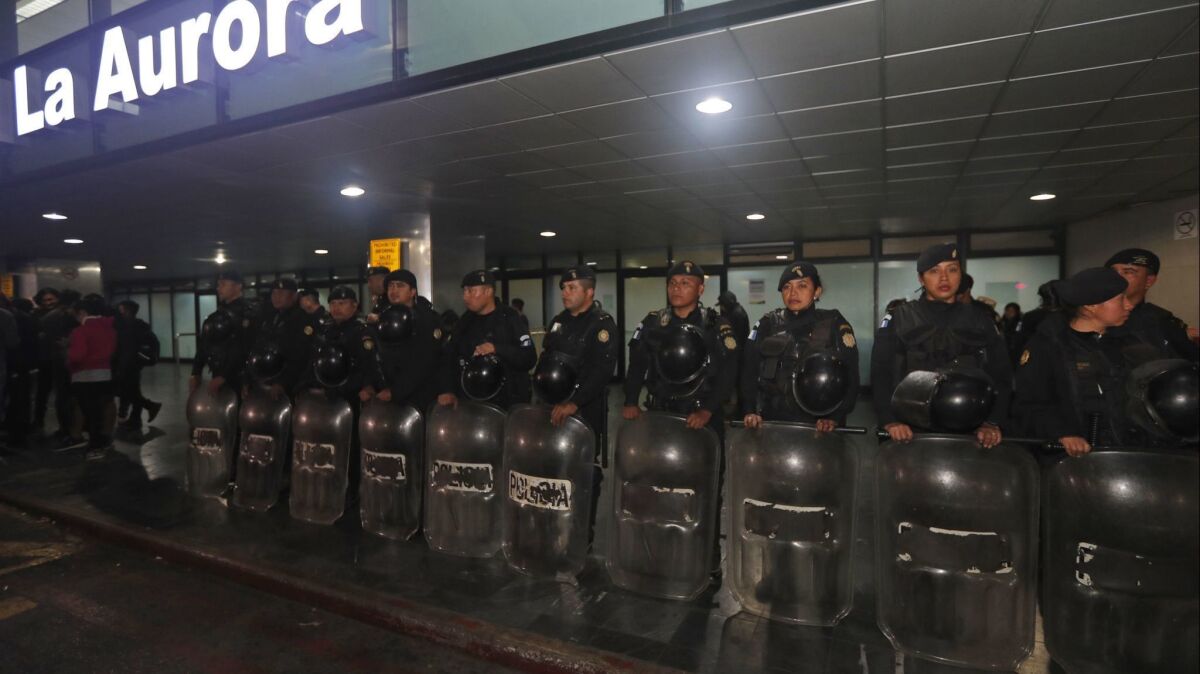 Reporting from Mexico City —
The Guatemalan government said Monday that it is expelling a United Nations-backed anti-corruption commission that has investigated the president and other lawmakers — a decision that edges the Central American nation toward a constitutional crisis.
The announcement comes after months of mounting tensions between government leaders and the commission, known as the CICIG, which has been celebrated by many as one of the most effective anti-crime efforts in Latin America.
Formed in 2006 to conduct independent investigations into corruption, drug trafficking and genocide, the International Commission Against Impunity in Guatemala has worked with local prosecutors to jail hit men, drug barons, dozens of legislators and three ex-presidents.
In that time, it has garnered many enemies, with critics accusing the group of having political motivations and violating Guatemala's sovereignty.
Foreign Minister Sandra Jovel, who announced the decision to rescind the commission's mandate after meeting Monday with U.N. Secretary-General Antonio Guterres, blamed the group for sowing "division in our society." She said its staffers have 24 hours to leave the country.
The order defies rulings from the country's highest court that guarantee commission members the right to enter Guatemala.
Defenders of the commission say the order also violates the terms of the Vienna Convention, which governs international agreements.
"This is a regime clearly willing to flout the rule of law," said Jo-Marie Burt, a Latin American Studies professor at George Mason University.
Particularly concerning, she said, were proposals being discussed by some members of Congress to remove judges on the highest court who have supported the commission, or to dissolve the court entirely.
If that happens, she said, "It's over. Guatemala becomes an autocracy."
President Jimmy Morales, a former television comedian who ran for office on an anti-corruption platform, has sought to impede the commission's work since 2017, when the body began investigating him on allegations of accepting about $1 million in illegal campaign donations.
He has grown increasingly defiant as the commission and Guatemalan prosecutors have sought to strip his immunity from prosecution. Over the weekend, his government detained a commission investigator who was trying to reenter the country after a vacation abroad.
On Monday, Morales appeared at a news conference flanked by families of people he said had been falsely accused by the commission. Among them were members of a Russian family sentenced to prison for using doctored Guatemalan passports, a case that has generated sympathy from Marco Rubio and other Republican lawmakers.
The commission, Morales said, "violated the human rights of Guatemalan citizens and foreigners residing in the country."
The U.S. government, which played an integral role in forming the commission, did not immediately comment on the development Monday. But several members of the U.S. Congress expressed alarm.
"Jimmy Morales' presidency has set the country back years, if not decades," Rep. Norma Torres (D-Pomona) said in a statement. "He has engaged in a pattern of behavior that has undermined Guatemala's justice system and brought the country to the brink of a constitutional crisis.
"He chose to destroy the rule of law in order to protect himself," she said.
Civil society groups and others in Guatemala say they are worried that the president may go much further.
Morales has said that he would like to remain in office when his term is up next year, even though presidents in Guatemala are limited to a single four-year term.
"This is a slow-motion coup d'etat," journalists Jody Garcia and Martin Rodriguez Pellecer wrote on the news website Nomada.
The turn of events represents a stark change over just a few years ago, when Guatemala was seen as a comeback story in a region known for weak institutions and a history of internal conflicts.
More than 200,000 people died during Guatemala's 35-year civil war, which pitted left-wing guerrilla groups against a series of right-wing governments backed by the United States.
After the war ended in 1996, a truth commission exposed atrocities committed during the conflict. But Guatemala's weak justice system meant perpetrators were rarely brought to trial. At the same time, criminal groups operated with abandon, engaging in extortion, kidnappings and drug smuggling.
The U.N. stepped in to form the commission after appeals from civil society groups.
Working with the attorney general's office to build criminal cases, the commission became a model for the creation of other anti-corruption groups in neighboring Honduras and elsewhere in Latin America.
Its investigation of former President Otto Perez Molina, whom it accused of running an elaborate corruption scheme after he became president in 2012, sparked massive street protests that forced Perez and his vice president to resign.
Morales was elected president after Perez stepped down in 2015. He was known for the slogan "Ni corrupto, ni ladron"— not corrupt, not a thief — papered on his campaign billboards.
But Morales turned against the commission after it brought fraud charges against his brother and his son and later began investigating him.
In 2017, Morales sought to expel Ivan Velasquez, the Colombian jurist who heads the commission. Morales also pressed for a law that would allow government officials to avoid prison time.
Anti-corruption advocates, with the help of the U.S. government, foiled those efforts. But Morales launched new attacks against the group again in September, when he announced plans to end the commission's mandate one year later and sent military tanks to the commission's headquarters.
He also ordered that Velasquez be denied entry into Guatemala. Velasquez has continued to lead commission from outside the country, even after the court ruling protecting the group.
Political analysts said Monday's decision to accelerate the dismantling of the commission was likely to draw legal challenges.
It follows a dramatic weekend standoff at the airport, where commission member Yilen Osorio was held overnight while trying to enter the country.
Osorio was released late Sunday after Guatemala's attorney general sent representatives and security personnel to the airport and demanded he be set free.
Outside, civil society groups who oppose Morales cheered when Osorio was finally released.
But opponents of the anti-corruption body were also present, chanting: "Out, CICIG!"
Twitter: @katelinthicum
---
Must-read stories from the L.A. Times
Get the day's top news with our Today's Headlines newsletter, sent every weekday morning.
You may occasionally receive promotional content from the Los Angeles Times.