Guatemalan election headed for runoff in August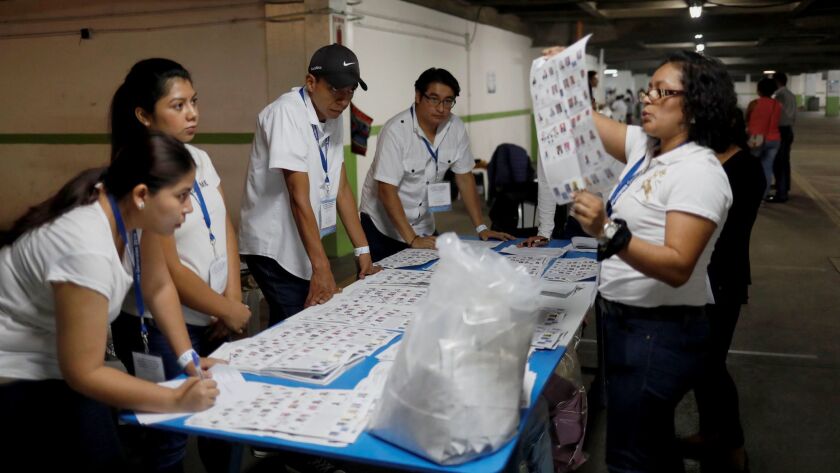 Reporting from Guatemala City —
Guatemala's presidential election appeared headed for a runoff between a former first lady and a former prisons chief after none of the 19 candidates won a majority of votes in Sunday's balloting.
With 98% of the ballots counted, the country's electoral tribunal reported Monday that former first lady and businesswoman Sandra Torres was leading with 25.7% of the vote. Alejandro Giammattei, a doctor who once ran the country's penitentiary system, was in second with 13.9%.
If those preliminary results withstand review by electoral authorities and any challenges by political parties — a process officials said they expected would take five days or more — the two will face each other in a runoff on Aug. 11.
Both had been favorites in preelectoral polls and held significant leads over the third-placed candidate, Edmond Mulet, a longtime diplomat who garnered 11.1% of the vote.
It is Torres' third run for the presidency, and Giammattei's fourth try.
Their success this time suggests a sharp turn by voters toward traditional politicians — unlike the current president, Jimmy Morales, a former television comedian who was elected four years ago with no previous political experience in what was widely seen as a rebuke to a corruption-riddled system.
Term-limits prevented Morales, whose presidency has itself been marred by graft allegations, from seeking reelection. His four-year mandate ends in January.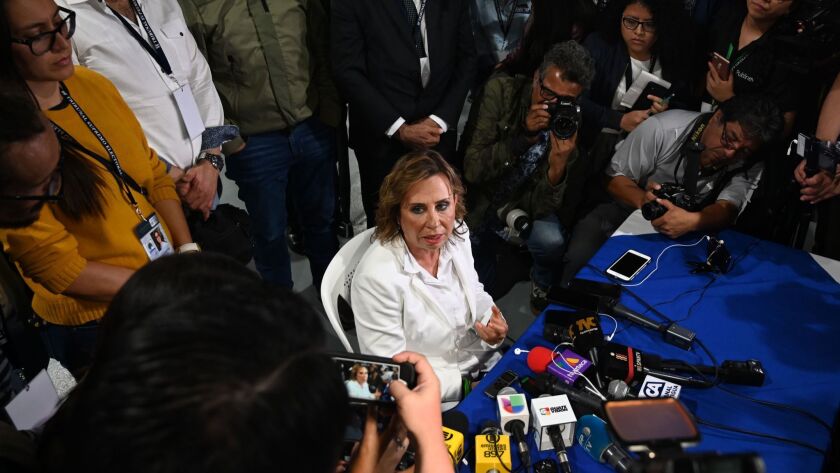 Sunday's election took place amid widespread voter discontent with persistent poverty and high crime. Many Guatemalans blame entrenched corruption for contributing to the mass exodus of Guatemalans to the United States — a phenomenon that has drawn the ire of President Trump, who has threatened to cut aid to Guatemala and other Central American homelands of northbound migrants.
"Every day more people leave the country because there is no way to make a living," said Luis Pirir, 32, a logistics consultant here. "It's unsafe, there's no work, and the education system is bad."
Guatemala, home to 17 million, is the most populous nation in Central America. Its border with Mexico is a major transit point for U.S.-bound Central American migrants.
Torres, the ex-wife of former President Alvaro Colom, ran under the banner of the center-left National Unity of Hope party and pledged enhanced social welfare programs. She has denied allegations of campaign-financing improprieties from a previous presidential run.
In comments to reporters early Monday, Torres spoke of the need for "national unity" in a deeply riven nation where much of the wealth is concentrated in a small minority. She pledged an "economic reactivation to generate employment" and discourage emigration.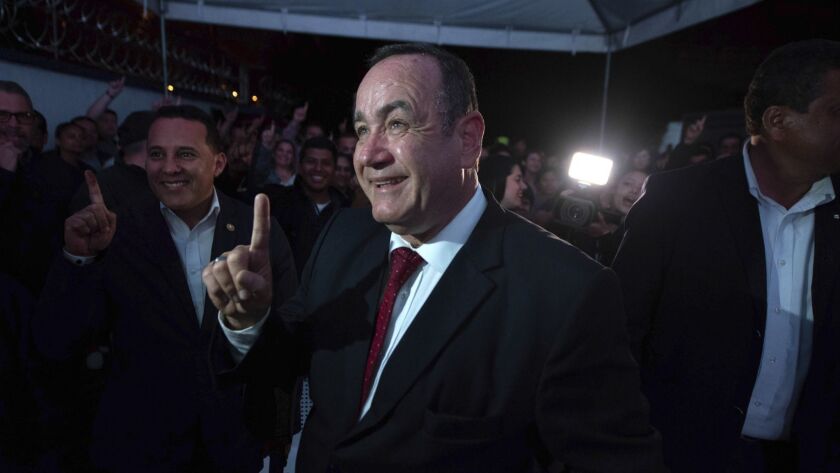 Giammattei, the candidate of the right-wing Vamos party, vowed to bring back the death penalty in a bid to curb rampant gang violence.
He was jailed in 2010 for his alleged role in the death of inmates while he headed the national prison system. But a court later cleared him of any wrongdoing.
Analysts predicted that Giammattei would try to bring together various right-wing parties — along with powerful business and military interests — in a showdown with Torres, who has high name recognition but also high negative ratings among many voters.
About 60% of eligible voters cast ballots on Sunday, a significant drop from the 70% turnout in previous national elections in 2015.
The high abstention rate reflects "people's rejection of and indignation with politicians in general," said Stephanie Rodriguez, an independent analyst here.
"We have had a corrupt Congress and an absent president," she said. "People are disenchanted."
Many voters were dismayed about electoral authorities' decision to eliminate several candidates, including Thelma Aldana, a crusading ex-prosecutor who clashed with the president and worked closely with a United Nations-backed anti-corruption panel, the International Commission Against Impunity in Guatemala.
Aldana, who was barred from the ballot for alleged financial improprieties while she was attorney general, called the charges bogus and fled the country, saying she had received death threats.
The U.N. anti-corruption panel has brought graft charges against three ex-presidents and scores of lawmakers. The panel has proved popular among citizens — and drawn global acclaim — but has irked many in the country's power structure.
Morales — who has been a target of a commission inquiry, along with family members and close associates — has said he would not renew the mandate of the anti-graft commission, which is scheduled to shut down in September.
Neither of the two top presidential finishers pledged to bring back the commission.
Special correspondents Claudia Palacios in Guatemala City and Cecilia Sanchez in Mexico City contributed to this report.
Twitter: @PmcdonnellLAT
---
The Latinx experience chronicled
Get the Latinx Files newsletter for stories that capture the multitudes within our communities.
You may occasionally receive promotional content from the Los Angeles Times.