Haiti elects Jovenel Moise, an agricultural entrepreneur, as president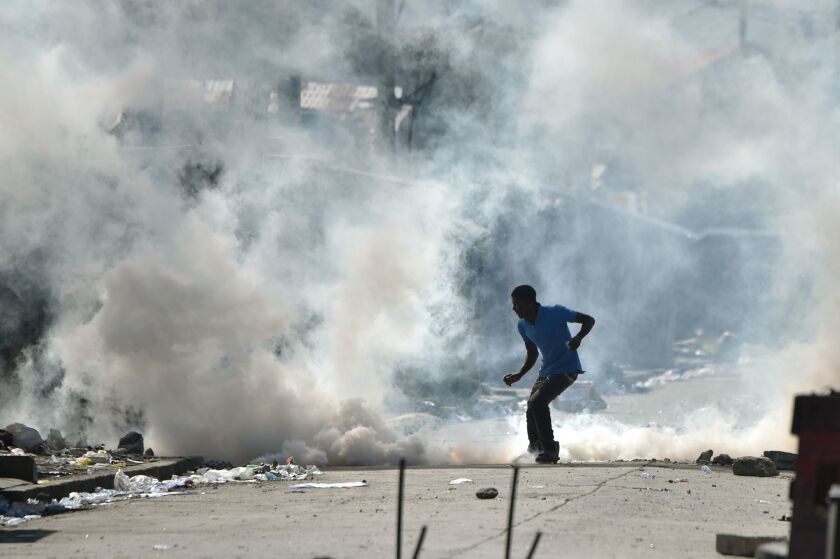 After more than a week of vote counting, it appears that a banana exporter with no experience in government has won Haiti's presidential election with the support of roughly 10% of eligible voters.
There were reports of tires set on fire and car windows smashed in parts of the capital, Port-au-Prince, after the provisional tally was announced late Monday following a laborious process of counting paper ballots by hand. At least three losing candidates rejected the results.
That did not seem to bode well for attempts to bring stability to a nation racked by political upheaval, extreme poverty, natural disasters and a deadly cholera outbreak.
But the violence was not reported to be serious, and analysts said there was reason to hope that the country will finally get its wobbly democracy onto a firmer footing after nearly a year without an elected leader.
"What Haitians need more than anything is a democratically elected, constitutional government that is stable in order to run the country and figure out how to spend reconstruction money that is coming in," said Nicole Phillips, a staff attorney with the Boston-based nonprofit Institute for Justice and Democracy in Haiti who served as a monitor for the Nov. 20 election.
Haiti's Provisional Electoral Council said Jovenel Moise, the successor chosen by the country's last elected leader, received nearly 56% of the vote, enough to avoid a runoff against any of his 26 rivals.
But turnout was just 21%, and a tenth of the sheets used to tally the vote were thrown out for reasons that were not immediately clear, giving ammunition to Moise's top three opponents who plan to contest the results.
"We say there has been cheating," Jude Celesti, a former state construction chief who placed second with just under a fifth of the vote, told Agence France-Presse news agency.
Political parties had 72 hours to file complaints with Haiti's electoral tribunal, which must investigate any allegations of irregularities before the results are certified Dec. 29.
Gunshots were heard in a number of districts of the capital when the preliminary results were announced — whether in celebration or protest was not clear. Supporters of the Lavalas Family party, founded by ousted President Jean-Bertrand Aristide, had already been demonstrating for days.
"The long and the short of it is that in Haiti you have an electoral system that very few people trust," said Eduardo Gamarra, a Haiti expert at Florida International University. That will make it difficult for Moise — or anyone else — to govern the highly polarized country, he said.
Moise reached out to opponents after the preliminary results were announced, saying "together we will change Haiti."
"We are going to use the people, the sun, the land and water to develop the country," he said.
Moise, who was not widely known until President Michel Martelly picked him to run as the Tet Kale party's presidential candidate, won the most votes during a first round of balloting in October 2015. But those results were annulled after a special commission found evidence of fraud.
The country has been led by a caretaker government since Martelly's term expired in February. After several delays, a redo vote was scheduled for early October. But those plans were scrapped after Hurricane Matthew devastated parts of the island, which was still recovering from a 2010 earthquake that killed at least 220,000 people and left more than a million homeless.
That the election took place at all was a major achievement, analysts said. More than 250 schools and other polling places had to be repaired so voting could take place.
This time, the balloting was more orderly and calm, analysts said. But there was considerable voter fatigue, especially in parts of the country that were ravaged by the storm. Turnout was among the lowest ever seen in a presidential election in Haiti.
"Four out of five decided it wasn't worth their time, or they weren't able logistically to be able to vote," Phillips said. "Now the question will be will there be the legitimacy with the Haitian people with this new government."
Twitter: @alexzavis
---
Must-read stories from the L.A. Times
Get all the day's most vital news with our Today's Headlines newsletter, sent every weekday morning.
You may occasionally receive promotional content from the Los Angeles Times.