Mexico's President-elect Lopez Obrador, who takes office Saturday, vows a national transformation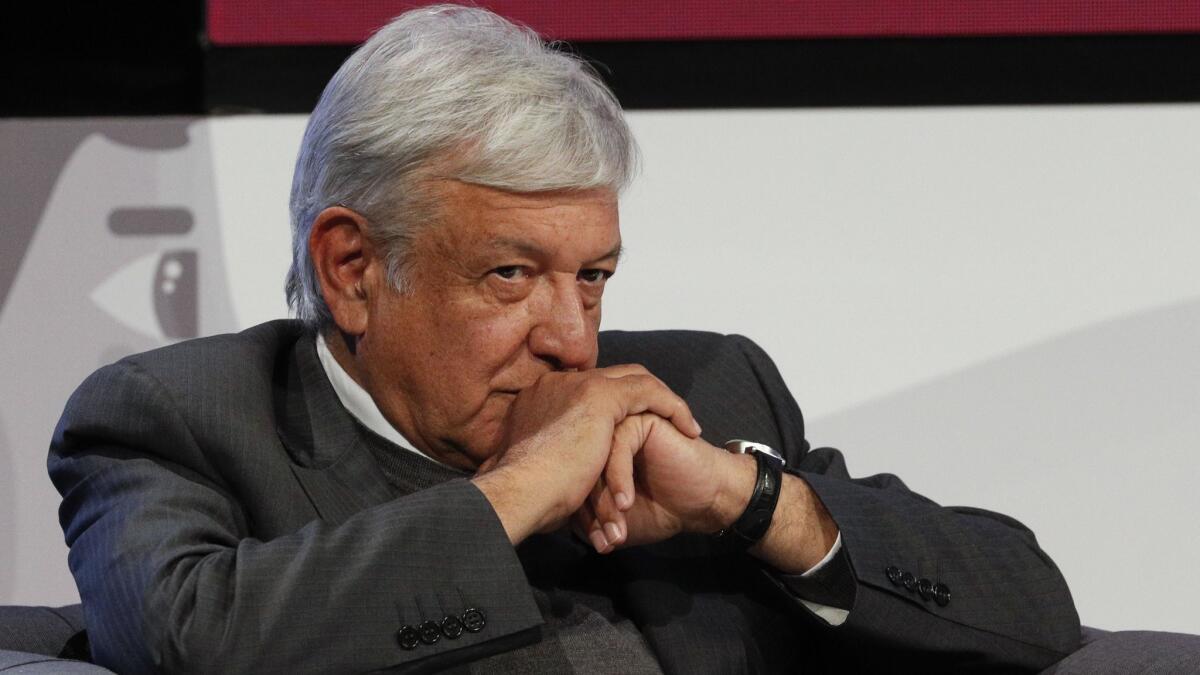 Reporting from Mexico City —
Mexico will embark on an era of high expectations and profound uncertainty Saturday under the leadership of one of the country's most enigmatic political figures — Andres Manuel Lopez Obrador.
Lopez Obrador, who rode populist rhetoric and a vow of a national transformation to a landslide election in July's balloting, is set to begin a six-year term as Mexico's 57th president.
The inauguration will mark the stunning revival of a twice-defeated presidential aspirant who ran under the leftist banner of his own party — and who represents a stark departure from Mexico's recent run of mostly drab, technocratic leaders.
"I am not going to be a flower pot, I'm not an adornment," the silver-haired president-elect, who turned 65 this month, warned in a recent YouTube message. "I have a mandate. … The Mexican people want an end to corruption and impunity."
Despite his overwhelming electoral victory, Lopez Obrador remains a divisive figure: His supporters laud him as a kind of savior for a Mexico gone terribly awry, while his critics fear the return of an old-style Latin American caudillo, or strongman, poised to turn back Mexico's slow march toward democracy.
The inaugural guest list includes an eclectic array of world leaders, among them U.S. Vice President Mike Pence and a pair of Washington's key adversaries — the socialist presidents of Venezuela and Cuba, recently dubbed, along with Nicaragua, Latin America's "troika of tyranny" by John Bolton, the U.S. national security advisor.
Lopez Obrador's ascendance has buoyed hopes of an improved economic and security panorama for many Mexicans, despite doubts among some about his ability to govern after years as a noisy dissident denouncing the "mafia of power" — his depiction of Mexico's long-entrenched ruling classes.
His campaign vows to fight corruption and shrink poverty resonated deeply in a period of desultory economic growth, rising crime and seemingly unchecked official graft.
More than 4 of 10 Mexicans, in excess of 53 million people, still live in poverty, while the country is on pace to exceed last year's record of more than 31,000 homicides, and a string of former governors is facing corruption charges. Public outrage with corruption during the administration of outgoing President Enrique Peña Nieto helped fuel Lopez Obrador's electoral victory.
Lopez Obrador, with scant experience in foreign affairs, faces an immediate potential clash with Mexico's northern neighbor. President Trump has vowed to shut the border in response to the looming presence in the border city of Tijuana of thousands of bedraggled Central Americans from migrant caravans, most seeking to enter the United States.
A sign of cooperation between the two countries occurred on the sidelines of the G-20 summit in Buenos Aires on Friday, when the United States, Mexico and Canada signed an accord revising the North American Free Trade Agreement — which Trump had long threatened to cancel, leading to months of acrimonious negotiations.
The agreement, which still requires approval by Congress as well as lawmakers in Mexico and Canada, spares Mexico's new leadership a battle with the Trump administration on trade.
As a presidential candidate, Lopez Obrador condemned Trump's "neo-fascist campaign of hate" after his incendiary characterizations of Mexican immigrants as criminals and rapists. But, as president-elect, Lopez Obrador has sought to avoid antagonizing Trump.
The two populist leaders from opposite ends of the political spectrum appear to have developed a cordial relationship, exchanging friendly telephone calls as their representatives have met in Mexico City.
Upon donning the tricolor presidential sash, Lopez Obrador said he plans to deliver an address Saturday afternoon from a balcony of the National Palace to people gathered in Mexico City's central square, or zocalo, where a cultural festival is planned.
"It's going to be a party," said the man known as Amlo, a nickname based on his initials. "It's not a change of government, it's a change of regime. It begins a new era."
Dismissed as a sore loser and gadfly after crushing defeats in Mexico's two previous presidential contests, the resolute shopkeepers' son from steamy southern Tabasco state retained faith in his ability to mount a comeback.
Lopez Obrador has already backtracked on some key issues — conceding, for instance, the need to keep the military in the streets to combat rising cartel violence, an acknowledgement that Mexican police are not prepared to handle the challenge from organized crime. Lopez Obrador unveiled a 50-point plan that would, among other measures, increase prosecutions of graft cases, criminalize influence-peddling and even expose the president to criminal prosecution for corruption.
Lopez Obrador's almost evangelical belief in his own transformative capabilities led Enrique Krauze, the Mexican historian, to label him in 2006 as "the Tropical Messiah," a moniker that has stuck.
"I will not fail you," Lopez Obrador told ecstatic crowds gathered in the zocalo on the night of his election. "I want to pass into history as a good president of Mexico."
Lopez Obrador, the first avowed leftist to assume Mexico's presidency in recent history, repeatedly pledged to use his position to eradicate Mexico's seemingly intractable inequities.
"For the good of all, the poor first," he declared in the zocalo.
Lopez Obrador regularly mocks his detractors as fifi, or snobs.
He will assume power amid considerable ambiguity about how he plans to accomplish — and fund — his sweeping agenda. His campaign promises include cash grants and free university educations for the young, enhanced pensions for the elderly and disabled, stable gasoline prices and reduced violence. The money, he says, will come from savings achieved in reducing corruption and running a more austere government, cutting official salaries and pensions and doing away with sundry perks, including the presidential aircraft and bodyguards.
Many are skeptical.
"Some people think that starting tomorrow, the prices of gas, electricity and gasoline will go down — but that can't be," Jose Guadalupe Rios, 55, owner of a small grocery store and a Lopez Obrador supporter, said Friday in southern Mexico City. "Amlo doesn't have a magic wand to change everything from one day to the next — besides, he can't end corruption in a day."
Following the election, Lopez Obrador toned down his often-combative rhetoric and called for reconciliation, reaching out in particular to critics in the business sector.
Those reassurances helped ease doubts among Mexico's business elite. Some on the right have long charged that Lopez Obrador, if elected president, would morph into a kind of Mexican Hugo Chavez — the late Venezuelan leftist firebrand chief of state.
But much of business' conditional support for Lopez Obrador withered with his decision in October to scrap a partially built, $13-billion airport project for Mexico City, an announcement that sent the markets and the peso plummeting. The move — after a special election that critics called rigged and involved only about 1% of registered voters — would discourage investors, business leaders said.
This week, Mexico's Central Bank warned in a quarterly report against public policies "that create worry in markets and a loss of confidence in Mexico as a destination for investment." The Banco de Mexico did not mention the incoming government in its report, but the statement was widely seen as a cautionary volley in advance of the presidential shift.
While many in the business community remain suspect, there is no doubt that Lopez Obrador enjoys broad public support.
He will assume office with a 66% approval rating, according to a poll this week by El Financiero newspaper. That compares to a 70% disapproval rating for Peña Nieto, whose six-year term is widely viewed as a failure.
Lopez Obrador won 53% of the ballots cast on July 1, defeating his nearest challenger by some 30 percentage points. It was the largest percentage garnered by a Mexican presidential candidate since 1982, in the heyday of the Institutional Revolutionary Party, or PRI, which dominated Mexican politics for much of the 20th century.
Despite his rebel oratory, Lopez Obrador was for years a PRI stalwart, before joining a leftist breakaway current in the late 1980s. He served as mayor of Mexico City from 2000-2005 under the banner of a leftist party from which he subsequently split.
He is the first president in modern Mexican history not associated with a traditional political party, having been elected as the standard-bearer of his own bloc, the National Regeneration Movement, or Morena. Since the elections of July 1, Morena has become the country's most potent political force, although it was formed only four years ago.
With the opposition deeply fragmented, Lopez Obrador and his allies will control both houses of congress and the mayoralty of Mexico City, the capital, a concentration of power not seen since the days of PRI hegemony. Many Mexicans find that a disquieting prospect.
"I think with Lopez Obrador we face a future of fear," said Afredo Lopez Vasquez, 37, an engineer in southern Mexico City. "I'm worried that he could try to remain eternally in power."
Starting Saturday, many will be watching closely to see how Lopez Obrador transitions from sideline agitator and perennial candidate to the central figure in a vast edifice of power that he has spent years denouncing.
"The campaign will be permanent," wrote columnist Jesus Silva-Herzog Marquez in Mexico's Reforma newspaper. "Lopez Obrador will not convert subtly to orthodoxy. He will keep viewing politics as an epic combat of symbols and not as an administration of the ordinary."
Cecilia Sanchez of The Times' Mexico City bureau contributed to this report.
Twitter: @PmcdonnellLAT
Sign up for Essential California for news, features and recommendations from the L.A. Times and beyond in your inbox six days a week.
You may occasionally receive promotional content from the Los Angeles Times.