Prosecutors in these seven U.S. courtrooms want 'El Chapo'
Reporting From Washington —
The expected extradition of Mexican drug lord and prison escape artist Joaquin "El Chapo" Guzman to the United States may take months, but it already has caused a tug of war among federal prosecutors in the key jurisdictions that want to put him on trial — San Diego, Chicago and New York City.
U.S. attorneys in seven jurisdictions have charged Guzman, who was recaptured Friday in Mexico, with organized crime, murder and drug trafficking in his role as head of the Sinaloa cartel.
Under Guzman, prosecutors say, the cartel dramatically increased the flow of illegal narcotics into the U.S. by partnering with Colombian producers. The network ultimately became the largest bulk smuggler of marijuana, cocaine and heroin to the U.S. and Europe.
Indictments against Guzman are pending in the Southern District of California, the Northern District of Illinois, the Eastern District of New York, the Western District of Texas based in El Paso, the Southern District of New York in Manhattan, the U.S. District of New Hampshire and the Southern District of Florida in Miami.
SAN DIEGO
Prosecutors in San Diego brought the first federal charges against Guzman in 1996 in a push to dismantle a cocaine ring that ran from Southern California to the East Coast. The Justice Department filed an extradition request for him last summer based on the San Diego charges shortly before he made global headlines by escaping from a high-security prison near Mexico City.
CHICAGO
In Chicago, Guzman and 10 others were indicted by a federal grand jury in 2008 on charges of shipping tons of drugs to the Midwest and threatening to behead the agent in charge of the local Drug Enforcement Administration office. Authorities labeled Guzman "Public Enemy No. 1," a moniker previously reserved for Prohibition-era gangster Al Capone.
The Chicago case has the best chance to persuade Mexican authorities to extradite Guzman to the U.S., because prosecutors in Chicago have more "live witnesses" who can take the stand and testify against him, according to Carl Pike, a former high-level official in the DEA.
The son of one of Guzman's top lieutenants is in custody in Chicago and is cooperating with authorities. Vicente Zambada-Niebla pleaded guilty to intent to distribute multiple tons of cocaine and heroin in 2013, and his reported knowledge of Guzman's role could make a prosecution there more likely.
The Office of International Affairs in the Criminal Division of the Justice Department manages extradition requests from federal prosecutors. When there are competing requests, as with Guzman, officials there recommend the jurisdiction with the strongest case.
"They will pick the ... case with the highest chance of success," said Pike, who recently retired after 27 years as a DEA agent.
But where Guzman stands trial may ultimately be decided by Atty. Gen. Loretta Lynch.
BROOKLYN
Lynch previously served as U.S. attorney in Brooklyn and may want her former office, which has significant experience in winning convictions in complex, high-profile criminal cases, to take the case.
Federal prosecutors in Brooklyn filed charges against Guzman in 2009 and recently combined them with another case in Florida.
Officials in Mexico say they are finally willing to extradite Guzman, after refusing to do so following his previous arrests. But his lawyers will strenuously fight his transfer, and the legal process could take up to a year, officials said.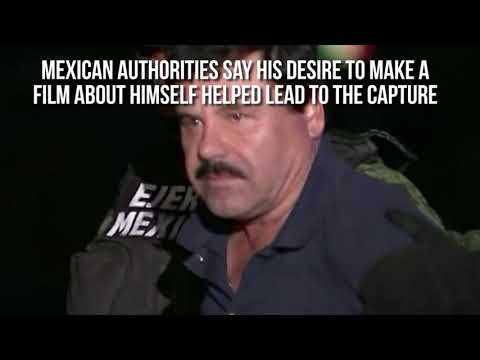 Joaquin "El Chapo" Guzman, one of the world's most powerful drug kingpins, gained folklore status during his decade-plus on the lam, evading authorities thanks to his skill at building secret tunnels from his assorted mountain hideouts, urban safe h
THE EXTRADITION PROCESS
Jose Manuel Marino, the director of international processes at Mexico's attorney general's office, said Monday that the "extradition process has begun" although he added that Mexican law doesn't allow for immediate transfer of a prisoner to another country.
"Right now, our legislation doesn't allow for that," Marino said in an interview on Televisa's "Primero Noticias." "We have to abide by our international commitments and the extradition law. The treaty, the law and the penal code carry specific terms for the extradition process."
Juan Pablo Badillo, who represents Guzman, said his legal team already has filed six legal appeals in an effort to delay or obstruct the extradition process. Legal experts said the tactic is unlikely to prevent extradition, however.
Badillo argued that Guzman should be tried in a Mexican court, and serve any sentence in a Mexican prison, before he can be extradited.
The lawyer said he had not been given an opportunity to speak to Guzman since his capture in the coastal city of Los Mochis after a months-long manhunt that culminated in a gun battle near the house where he had been hiding.
Mexican authorities had received a tip from a neighbor about loud noise, more people than usual and what looked like a large armory moving in and out of the property, Pike said in a telephone interview.
Guzman returning to his hometown was like "the rabbit going back to the briar patch," he said.
Mexican authorities and DEA agents tracking Guzman knew about his ties to the property, but it had been quiet for several years, Pike said.
"Then the phone call comes in," he said. "There was no activity and now there is a ton of activity. The true catalyst was a neighbor's call."
Federal prosecutors had repeatedly sought to extradite Guzman, and the Justice Department filed another request based on the San Diego charges 16 days before he escaped last July. Exiting his cell at the Altiplano prison through a hole in the shower stall floor, Guzman descended into a tunnel his organization had built and rode a motorcycle to freedom.
Guzman has been returned to the prison since his recapture, and Mexican authorities insist he will not escape again.
If he is transferred to the U.S., Guzman probably would be incarcerated with other notorious criminals in the federal "Supermax" jail in Florence, Colo., while he awaits trial.
Keeping Guzman behind bars is unlikely to slow drug trafficking by the Sinaloa cartel, said Jonathan Duecker, a DEA agent from 1998 to 2003, who recently studied transnational criminal organizations as a staff member for the House Homeland Security Committee.
"There was no discernible impact when he was in prison" on the flow of drugs or the amount of cash moving from the U.S. to Mexico, Duecker said Monday.
"Just because he is locked up, doesn't mean we will see a degradation in their operations," he added. "We may see an increase in violence across the border as other cartels try to assert their market foothold within the U.S."
Times staff writer Bennett reported from Washington and special correspondent Bonello from Mexico City.
ALSO
Food and other supplies reach besieged Syrian towns, aid officials say
David Bowie, transformative musician and multi-dimensional artist, dies at 69
California's laws test whether sexual predators can ever be rehabilitated
Sign up for Essential California for the L.A. Times biggest news, features and recommendations in your inbox six days a week.
You may occasionally receive promotional content from the Los Angeles Times.