David Bowie, transformative musician and multi-dimensional artist, dies at 69
David Bowie
(Robert Lachman / Los Angeles Times)
A portrait taken on May 13, 1983 shows British singer David Bowie during a press conference at the 36th Cannes Film Festival. He is the main actor in Nagisa Oshima's film "Merry Christmas Mr. Lawrence."
(RALPH GATTI / AFP/Getty Images)
English model Twiggy poses with David Bowie in Paris for the cover of his 'Pin Ups' album, 1973.
(Justin de Villeneuve / Getty Images)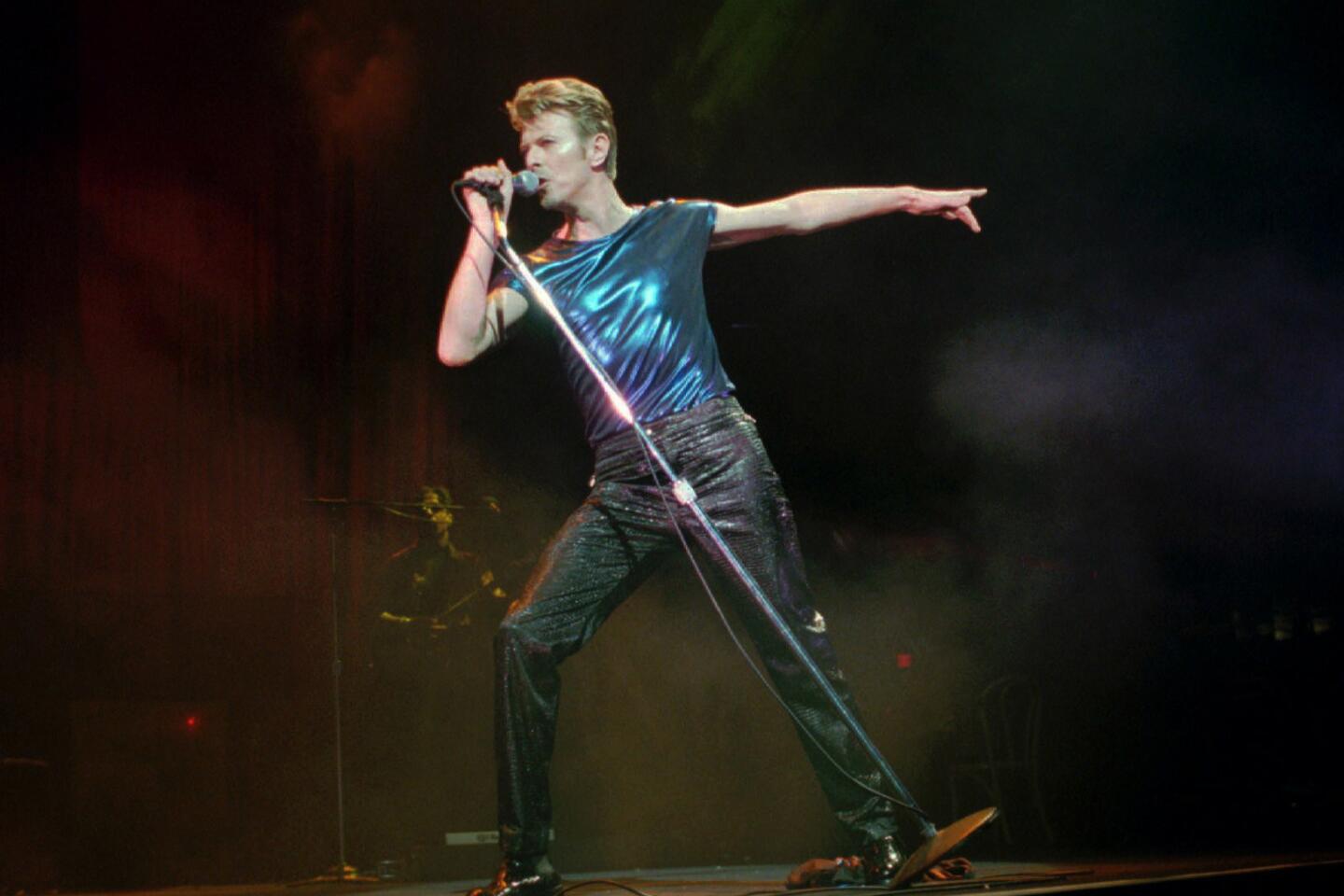 David Bowie performs in Hartford, Conn.
(BOB CHILD / Associated Press)
David Bowie performs on the first night of his UK tour at the MEN Arena on November 17, 2003 in Manchester, England.
(Alex Livesey / Getty Images)
David Bowie performs on stage on the third and final day of "The Nokia Isle of Wight Festival 2004" at Seaclose Park, on June 13, 2004 in Newport, UK.
(Jo Hale / Getty Images)
From left, Kate Moss, David Bowie and his wife, Iman, pose for a photo at the 2005 CFDA Awards dinner party at the New York Public Library.
(Evan Agostini / Getty Images)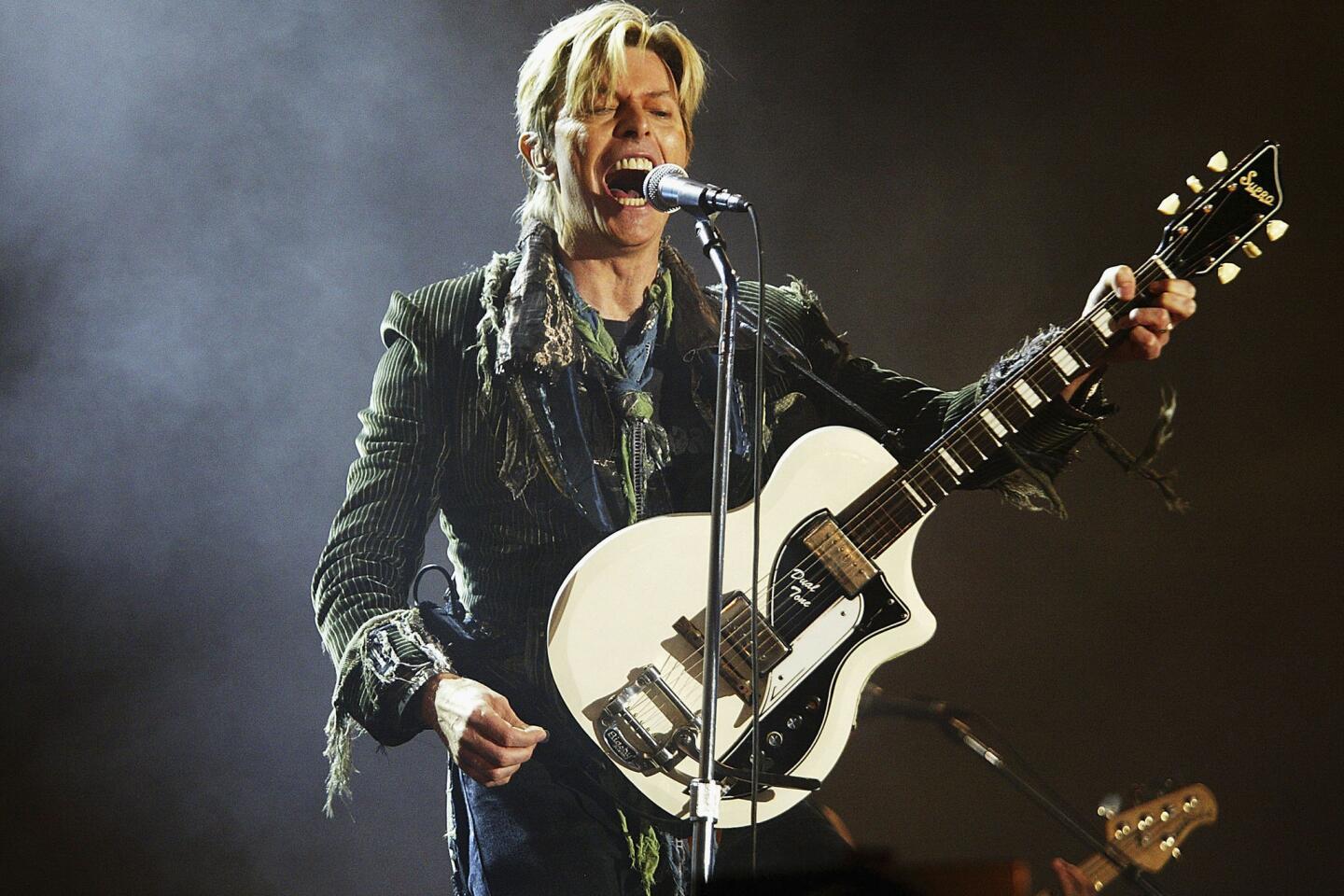 David Bowie performs during the Nokia Isle of Wight Festival in Newport, Britain, on June 13, 2004.
(Jo Hale / Getty Images)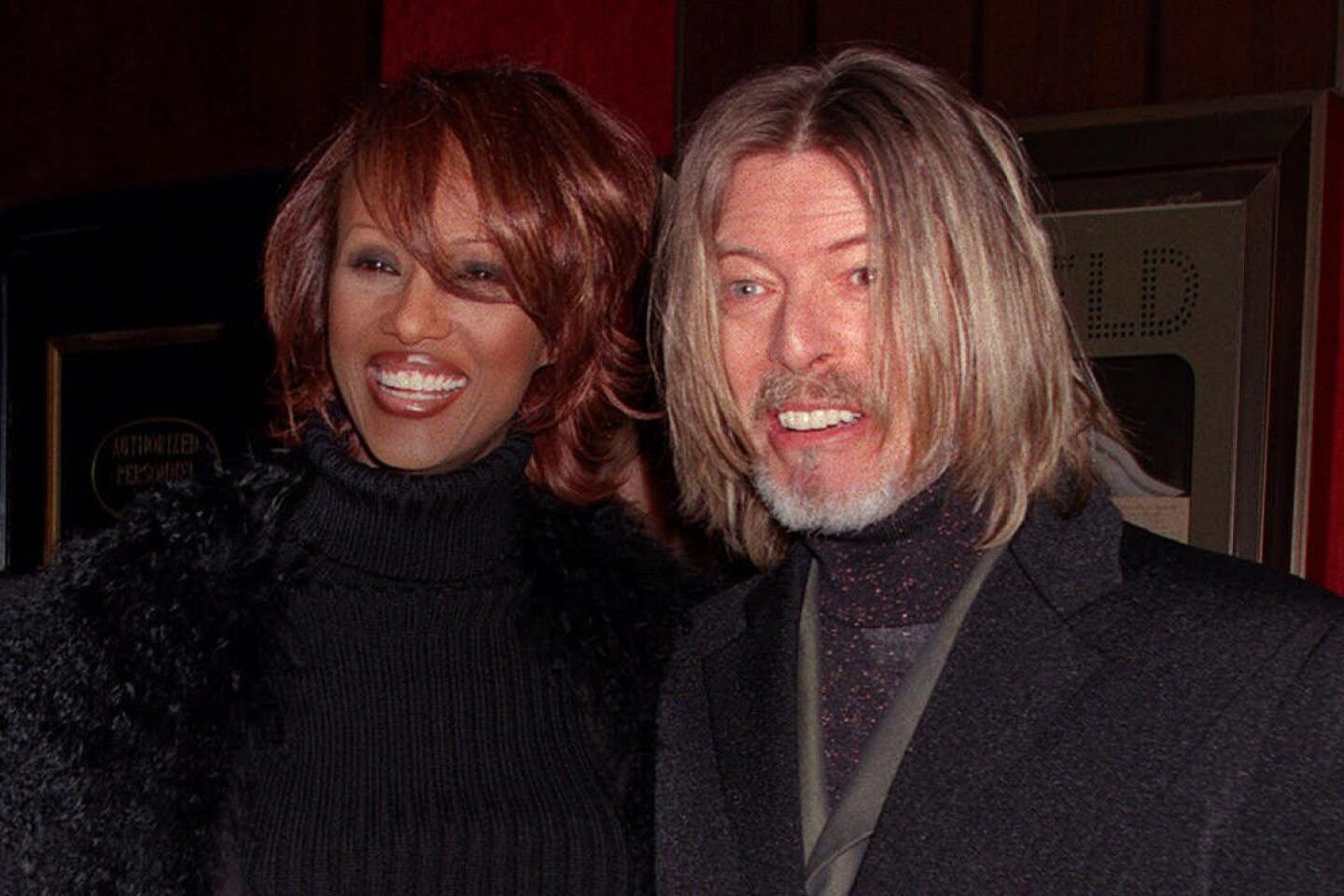 David Bowie with his wife, Iman, at the New York premiere of "Hannibal" at the Ziegfeld Theatre on Feb. 5, 2001.
(Darla Khazei / Associated Press)
David Bowie at the 2010 CFDA Fashion Awards at the New York Theatre Workshop on April 2, 2015.
(Peter Kramer / Associated Press)
Bowie performs at the Glastonbury Festival in Pilton, Britian, on June 25, 2000.
(Toby Melville / Associated Press)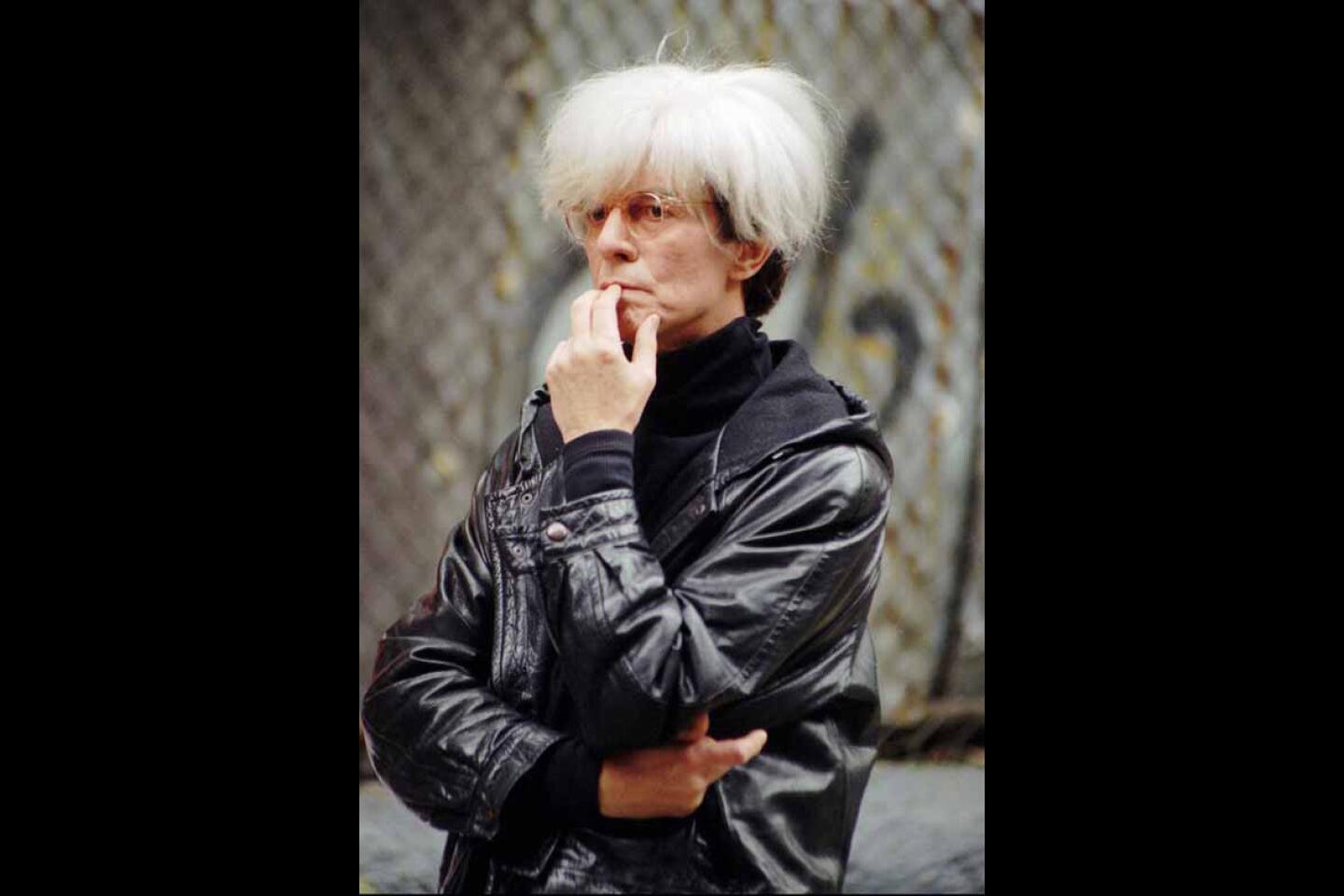 David Bowie as Andy Warhol during filming of the movie "Basquiat" in New York on June 13, 1995.
(Steve Sands / Associated Press)
David Bowie, the barrier-breaking British rock musician and actor, has died at the age of 69, just days after releasing a critically acclaimed album on his birthday.
Bill Zysblat, his business manager of 34 years, confirmed to The Times that Bowie died Sunday after an 18-month battle with cancer.
Bowie never stopped innovating. Times reviewer Mikael Wood said of the new "★" album ("Blackstar" when said out loud) that it was "as fierce and unsettling — and sometimes as beautiful — as anything in Bowie's one-of-a-kind catalog."
During his initial rise in the 1970s, he produced an astonishing range of work, from cosmic folk ("Space Oddity") and glam rock ("Ziggy Stardust") to blue-eyed soul ("Young Americans") and electronic experiments with Brian Eno ("Heroes").
His stardom hit new heights in 1983 when he appeared on the cover of Time magazine with the worldwide success of "Let's Dance."
A statement posted to his official Facebook page said Bowie "died peacefully today surrounded by his family" and asked for privacy for his family during their time of grief.
Born David Jones, Bowie's first musical instrument was the saxophone, and he became a fan of early rock by Little Richard, Fats Domino and Frankie Lymon. While in high school, a fistfight over a girl damaged his left pupil, leaving him with one blue eye and the other permanently dilated and appearing darker in color.
In the mid-1960s, he began recording folk and pop music with various units and for a variety of labels. He changed his name to David Bowie in 1966 (largely to avoid confusion with Davy Jones of the Monkees), and started dabbling in theater.
In 1969, he released the album "Space Oddity" with a title song that became his first U.K. top 10 hit. Under the influence of Marc Bolan, Bowie formed a short-lived glittery band called Hype with guitarist Mick Ronson and, on bass, Tony Visconti, who became a Grammy-winning producer and collaborator with Bowie through his final album. A version of that group would evolve into the musicians behind some of Bowie's groundbreaking work at the beginning of the '70s, starting with "The Man Who Sold the World."
He followed that with the flamboyant "Hunky Dory" in 1972, which included "Changes," a single that defined the coming decade for Bowie, reaching No. 66 on the U.S. pop chart. The same year saw the debut of "The Rise and Fall of Ziggy Stardust and the Spiders From Mars," a concept album that fully ignited a cult following responding to its provocative rock and the glittery alien garb the band wore onstage.
He continued to record in that mode (the album "Aladdin Sane") and produced Lou Reed's breakthrough solo album "Transformer," including the single "Walk on the Wild Side." Bowie disbanded his Spiders From Mars in 1973. He soon began work on a musical translation of George Orwell's "1984" but could not secure rights to the novel from the author's heirs. He renamed the project "Diamond Dogs" (though some of the "1984" elements remained) and launched an elaborate tour.
Within a year, he transformed again to record the sultry blue-eyed soul of "Young Americans," an album heavily influenced by Philadelphia R&B, though it also included "Fame," an edgy funk collaboration with John Lennon. The song was Bowie's first chart-topping single in the U.S.
In 1976, he performed his first major role as an actor, as the alien visitor in Nicolas Roeg's "The Man Who Fell to Earth." The same year he released "Station to Station," which included the top 10 single "Golden Years." He relocated to Berlin and began working with Eno on a trilogy of albums ("Low," "Heroes" and "Lodger") that often featured brooding electronics. In 1977, he appeared in another film, "Just a Gigolo," alongside Marlene Dietrich and Kim Novak.
After a decade as a major cult figure and occasional hit-maker, Bowie reached a broad mainstream audience with 1983's "Let's Dance," a modern dance-music collection produced by Nile Rodgers, with lead guitar from Stevie Ray Vaughan. In 1985, he recorded and filmed a duet with Mick Jagger on a new version of Martha and the Vandellas' "Dancing in the Street," in support of Live Aid.
After spending the '70s as a groundbreaking rocker, and then with the success of "Let's Dance," the remainder of the '80s were surprisingly fallow for Bowie. He formed a band called Tin Machine in 1989 and released two albums. In the '90s, Bowie appeared ready to experiment outside the mainstream again and released a series of albums as diverse as those from the 1970s, including "Earthling," which dabbled in new-generation electronic dance music.
In 1992, he appeared in the David Lynch prequel "Twin Peaks — Fire Walk With Me." He married supermodel Iman the same year. In 2002, he reunited with Visconti to record "Heathen." And his songs (as performed by Seu Jorge) were part of the soundtrack to the 2004 Wes Anderson film "The Life Aquatic With Steve Zissou."
After surgery in 2004 for a blocked artery, Bowie seemed to disappear. His last live appearance was a performance of "Changes" at a charity benefit in 2006.
Then in 2013 Bowie came out with a new album, "The Next Day," which he had begun working on in 2011.
"Because of the secrecy around 'The Next Day,' it sounded like I was out of work for two years. I couldn't mention it," Visconti, his longtime producer, said just before the new album was released.
By contrast, "★" was recorded at light speed, in three sessions that took place in January, February and March 2015.
"When he was making records in the '70s and '80s, he was always on tour and living in hotel rooms, being a father — just too much pressure," Visconti said. "He'd come into the studio with maybe two or three great songs. I know Nile Rodgers would tell you the same thing. Everyone who worked with him had the same experience. This used to frustrate me, as a producer. He comes in with no songs and says, 'Let's jam.' I'd say, 'Oh, no, how's this gonna turn out?'"
Things were different on his most recent albums.
"'Blackstar' and 'Next Day' were stress-free, no problems," Visconti said. "He comes prepared now. This is an old dog with new tricks. Now, by not announcing he's making a record, he gives himself the time to be creative. Playing saxophone on these demos, bringing in radical guitar parts. He really is making music for himself these days. There's no fluff about David Bowie anymore. There never was, really."
The Times will have more on Bowie's life and career.
Sasha Frere-Jones contributed to this report.
MORE:
Full coverage: David Bowie's life and career
Sasha Frere-Jones: An insider's look at the making of David Bowie's secretive 'Blackstar' album
From the Robert Hilburn archives: David Bowie spends the '80s convincing us he's just a normal guy
Mikael Wood review: David Bowie looks far beyond pop on jazz-inspired 'Blackstar'
A Bowie-lover's deep dive in uno, dos, tres easy steps
Exhibition and book of Mick Rock's photography looks back on David Bowie
David Bowie's wham-bam 'Where Are We Now' release shows the artist remains a mystery in Twitter age
Get our L.A. Goes Out newsletter, with the week's best events, to help you explore and experience our city.
You may occasionally receive promotional content from the Los Angeles Times.