Mexico's Lopez Obrador says homicide rates are down, despite data to the contrary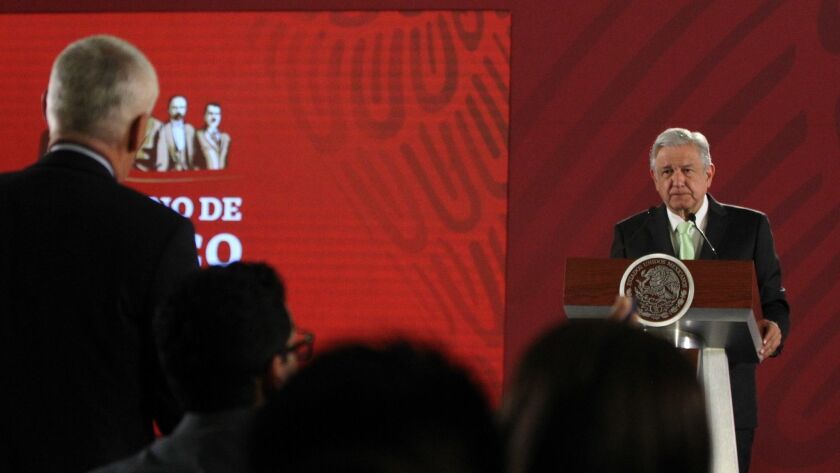 Reporting from Mexico City —
Mexico is on track to record its most violent year in modern history, according to government statistics.
Mexico's president, however, says otherwise.
At a news conference Friday, President Andres Manuel Lopez Obrador contended that homicides had remained steady or fallen since he was sworn into office in December.
"We have maintained the levels that existed previously or reversed the trend," he told Univision reporter Jorge Ramos, who had asked what Lopez Obrador plans to do about the country's spiraling body count.
Ramos challenged the president's assertion, citing publicly available statistics from Mexico's Ministry of Public Security, long seen as the nation's official source of homicide data.
According to the ministry, homicides were up 18% during the first three months of Lopez Obrador's term compared with the same period a year earlier. They were also higher than in the final three months of former President Enrique Peña Nieto's term.
Ramos said correctly that if current rates of violence continue, "2019 will be the bloodiest and most violent year in the modern history of Mexico," surpassing last-year's record tally of 33,369 killings.
Lopez Obrador bristled at that claim, saying he had statistics that painted a different picture.
"We have controlled the situation, according to our data," Lopez Obrador said.
The president did not cite his source, but proceeded to state what he described as the daily average of homicides for each month since he was sworn in. The numbers he shared — 79 killings on average per day in December, 75 in January, and 83 in February — were about 18% lower than the totals reported by the Ministry of Public Security.
The president and the journalist eventually agreed to disagree, and moved on to spar over Lopez Obrador's recent efforts to pressure a Mexican newspaper to reveal a source in a leaking scandal.
But the feud over homicide data quickly gained steam on news programs and on social media, with some questioning whether Lopez Obrador has a sufficient read on the considerable security challenges faced by Mexico.
"If the president believes in the numbers he presented … he is deceiving himself," security analyst Alejandro Hope wrote on Twitter. "If he does not believe in them, he is trying to deceive us."
Economist Valeria Moy called Lopez Obrador's assertions "delirious."
More than a dozen years after former President Felipe Calderon declared war on Mexico's drug traffickers, sending soldiers into the streets to fight them, violence is worse now than at any point since officials began releasing homicide data in 1997.
A recent report by the Citizens' Council for Public Security and Criminal Justice found that 5 out of 6 of the world's most violent municipalities were in Mexico.
The violence is particularly bad in Tijuana, where gangs are battling over control of a growing domestic drug market, and in states including Chihuahua, Colima and Guanajuato, where the rise of fuel theft has led to a sharp increase in killings.
On Thursday, the U.S. State Department updated its travel advisory for Mexico, underscoring the risk of kidnapping.
Lopez Obrador has repeatedly said that his strategy to combat crime is different than that of his predecessors, who relied heavily on the armed forces. On the campaign trail, he vowed to focus on economic development and scholarships to offer young people "abrazos, no balazos" — hugs, not gunshots.
But Lopez Obrador has sent thousands of troops to Tijuana and other parts of the country to reduce violence, and is also seeking to establish a crime-fighting national guard, which would be made up of former soldiers. Some critics have expressed concern that it is a continuation of the military-led strategy.
Friday was not the first time Ramos has ruffled the feathers of well-known interviewees.
In February, he and his news crew were briefly detained during a testy interview with Venezuela's embattled president, Nicolas Maduro. During the 2016 U.S. presidential campaign, then-candidate Donald Trump had Ramos forcibly ejected from a news conference, telling him to "go back to Univision."
Twitter: @katelinthicum
---
Must-read stories from the L.A. Times
Get the day's top news with our Today's Headlines newsletter, sent every weekday morning.
You may occasionally receive promotional content from the Los Angeles Times.