Another journalist is gunned down in Mexico — the fourth in just six weeks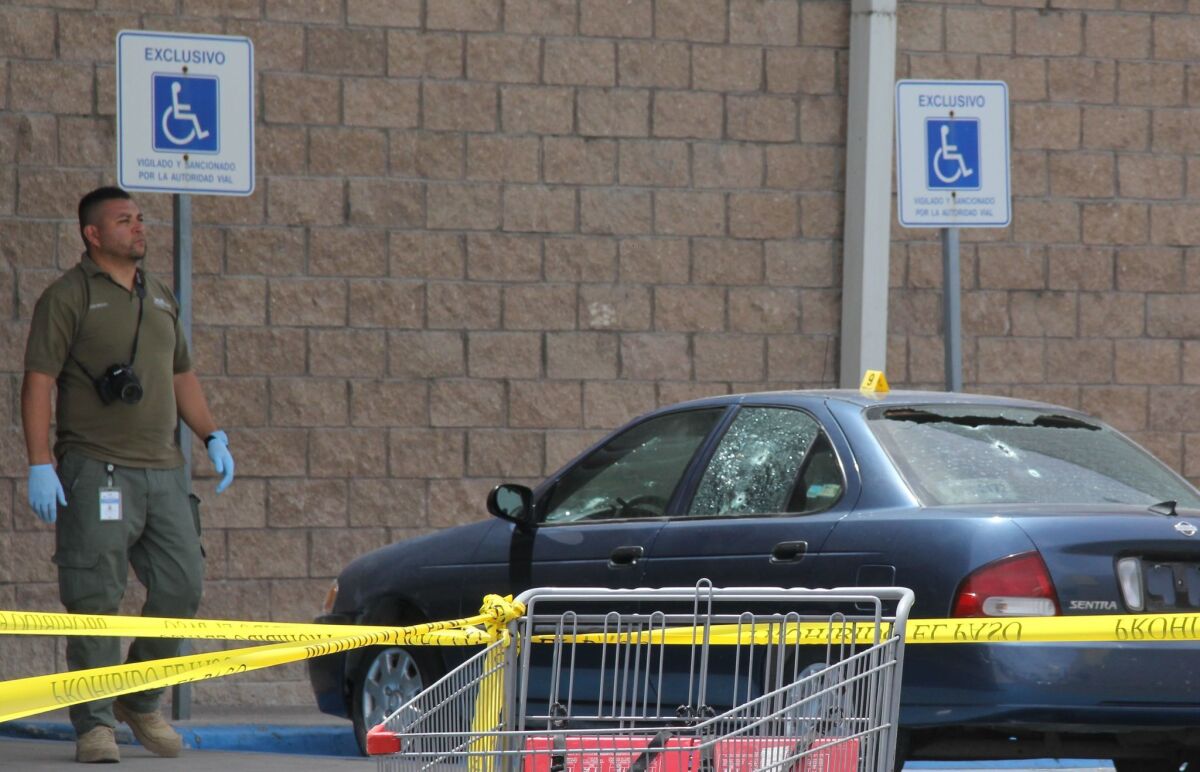 Reporting from Mexico City —
Another journalist has been killed in Mexico — the fourth in just six weeks.
Authorities said reporter Maximino Rodriguez Palacios was shot dead outside of a shopping center Friday in La Paz, a coastal city in the state of Baja California Sur.
Rodriguez, 72, wrote about politics and crime for a news organization called the Pericu Collective. He had previously worked as a spokesman for the state attorney general's office.
Friday's shooting is the latest in a string of violent attacks on journalists in Mexico that has claimed four lives since March 2 and has left several others wounded. The attacks have drawn condemnation from human rights advocates, with the Committee to Protect Journalists calling the situation in Mexico a "crisis" of freedom of expression.
Mexico's human rights commission, which on Saturday said it was sending investigators to La Paz to monitor the police investigation into the killing, has convened emergency talks with law enforcement officials from around the country to discuss how to better protect journalists.
Mexico is the world's third-most dangerous country for journalists, after Syria and Afghanistan, according to Reporters Without Borders. Since 2000, 124 journalists have been killed, according to Mexico's human rights commission.
But recent weeks have been especially bad.
On March 23, a well-known investigative reporter for the national La Jornada was gunned down in the northern state of Chihuahua while driving with one of her children. On March 19, columnist Ricardo Monlui was shot twice as he left a restaurant with his wife and son in the Gulf Coast state of Veracruz. And on March 2, Cecilio Pineda Birto, a freelancer and the founder of La Voz de Tierra Caliente, was shot and killed at a car wash in Guerrero state.
The situation has gotten so bad that one newspaper, in the border city of Juarez, decided this month to shut down because violence against journalists was "preventing us from continuing freely with our work," its editor said.
The recent uptick in deaths corresponds with a broader increase in violence across Mexico, where more people were killed in January of this year than in any previous January on record.
Baja California Sur, an international tourist destination that was long untouched by drug war violence in other parts of the country, has become increasingly dangerous as cartels vie for its strategic drug smuggling routes.
The state had a murder rate of 71 per 100,000 people in January. By comparison, the homicide rate in the United States last year was just 5 per 100,000 people.
Rodriguez had covered the increase in crime in his home state for the Pericu Collective. He documented killings on a regular basis, and also wrote a column that touched on controversial topics. He recently wrote about a local union whose boss Rodriguez alleged was corrupt.
According to a statement about the shooting on the Pericu Collective's website, Rodriguez was helping his wife out of their car in a parking lot when assailants in a white truck opened fire. Rodriguez' wife, also a journalist, survived the attack.
Cuauhtemoc Morgan, the director of the Pericu Collective, said that authorities must solve "this and many other crimes that remain unpunished and have left families shattered by pain."
Twitter: @katelinthicum
---
Must-read stories from the L.A. Times
Get the day's top news with our Today's Headlines newsletter, sent every weekday morning.
You may occasionally receive promotional content from the Los Angeles Times.