Leaders of Mexico and Germany to meet in 'solidarity' against Trump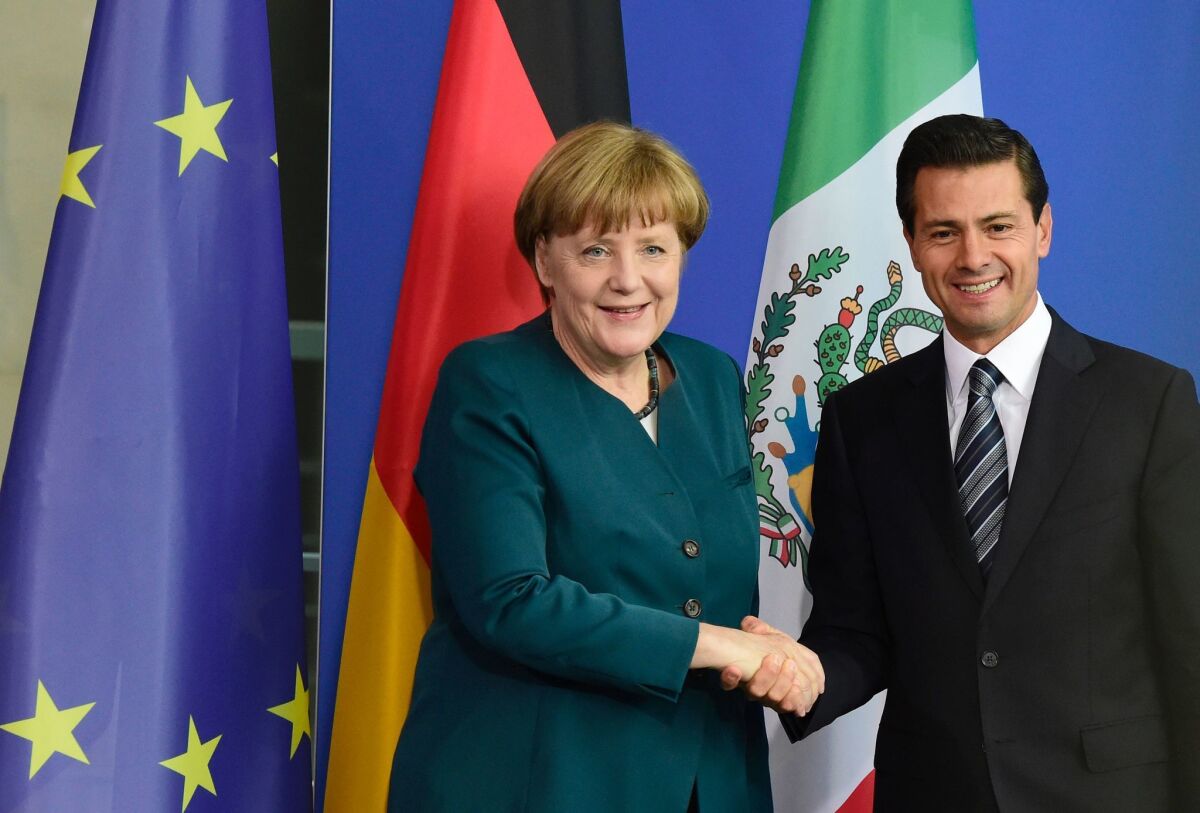 Reporting from MEXICO CITY —
In what her government has called "a sign of solidarity," German Chancellor Angela Merkel will meet with Mexican President Enrique Peña Nieto on Friday.
High on the agenda during her two-day state visit to Mexico will be their mutual political dilemma: President Trump.
From the launch of his presidential campaign two years ago through his early days in the White House, Trump made Mexico his punching bag. He called Mexican immigrants criminals, pledged to tax imports from Mexico and insisted that Mexico would pay for construction of a border wall.
But in recent months, he has extended his ire to a much wider circle of nations, many of which, like Mexico, are longtime U.S. allies.
That includes Germany, which the president has criticized for its trade surplus with the U.S., for resettling large numbers of Syrian migrants and for not spending enough on defense to meet its commitment to the North Atlantic Treaty Organization.
Merkel has suggested that Trump's pugnacious foreign policy, which includes recent criticism of U.S. allies South Korea, Australia and Qatar, as well as the mayor of London for his handling of recent terrorist attacks in Britain, may be fundamentally altering the geopolitical map. Europe "can no longer rely" on its longtime friend the United States, she said at an election rally in Munich, Germany, saying people on the continent must "take our fate into our own hands."
Merkel appears poised to do that on her visit to Mexico, where she and Peña Nieto will discuss trade and how to move forward on combating climate change after Trump's decision to withdraw from the Paris agreement.
Germany's ambassador to Mexico, Viktor Elbling, suggested the visit is in part meant to demonstrate his nation's leadership on the world stage and define new alliances that aren't centered on the United States. "The fact that she is coming to Mexico in this difficult international political climate is a very clear sign of solidarity," he said in a statement.
In Mexico, where many feel not only afraid of the economic ramifications of Trump's policies, but also deeply offended by his rhetoric, that support is welcome.
"We need Angela on our side, to tell us that she is with us," wrote Ivonne Melgar, a columnist at Excelsior newspaper, after a Mexican opposition leader met with Merkel in Germany this year.
Beyond seeking new political partnerships, Mexico is also looking to diversify its markets. Trump's tenure has demonstrated to many leaders here that Mexico's economy relies too much on the United States, the destination of more than 80% of Mexico's exports.
Mexican leaders have traveled around the globe in in recent months in search of new trading partners, and are hoping to significantly broaden an existing trade agreement with the European Union by the end of the year. Germany is already Mexico's biggest European trading partner, with $18 billion in trade between them.
In the days after Trump's election, economists warned of a recession in Mexico, and the peso's value plummeted over his promises to "rip up" the North American Free Trade Agreement. Some manufacturers planning new factories here held off over fears that exports to the U.S. might become prohibitively costly.
Shortly after Trump took office, U.S.-Mexico friction worsened over disagreements about who would pay for a border wall he had promised. Peña Nieto canceled a planned visit to Washington after Trump signed an executive order calling for construction of the wall and floated the idea of a 20% border tax.
But since then, neither proposal has materialized.
The Trump administration dramatically scaled back its funding request to Congress for wall construction and has not announced a plan to force Mexico to pay for the project. Trump appears to have abandoned his January call for an import tax on Mexico and other countries with which the U.S. has a trade deficit. Last month his administration sent official notice to Congress that it plans to renegotiate NAFTA, but the two-page letter promised none of the major modifications Trump had previously vowed.
In Mexico, there is a palpable sense of relief.
"He's not only focused on Mexico now," said political analyst Jose Antonio Crespo. "It's made people here more relaxed."
"Yes, he's crazy," Crespo said of Trump. "But it's not just directed at us."
Trump's focus on other regions of the world, as well as the FBI investigation into his campaign's possible collusion with Russia, has shifted the spotlight away from Mexico. The economy appears to have responded, with the peso regaining so much value on the dollar that it is one of the world's best-performing currencies this year.
"It's a positive thing for Mexico to not be the top bull's-eye for the president," said Christopher Wilson, deputy director of the Mexico Institute at the Wilson Center in Washington.
Still, many Mexicans are still wary of what may come. They know that Trump could again turn his focus to their country.
"Mexico can become the object of Trump's attention at any minute," said Tony Payan, director of the Mexico Center at Rice University's Baker Institute. "It only takes him seeing a new article or a tweet."
Twitter: @katelinthicum
ALSO
Trump's 'America first' policy changes U.S. role on global stage
Jerry Brown in China with a climate message to the world: Don't follow America's lead
Theresa May to stay on as British prime minister after failed election gamble
Must-read stories from the L.A. Times
Get the day's top news with our Today's Headlines newsletter, sent every weekday morning.
You may occasionally receive promotional content from the Los Angeles Times.