Trump's border wall, long an incendiary issue, hasn't come up in talks with U.S., new Mexican leader says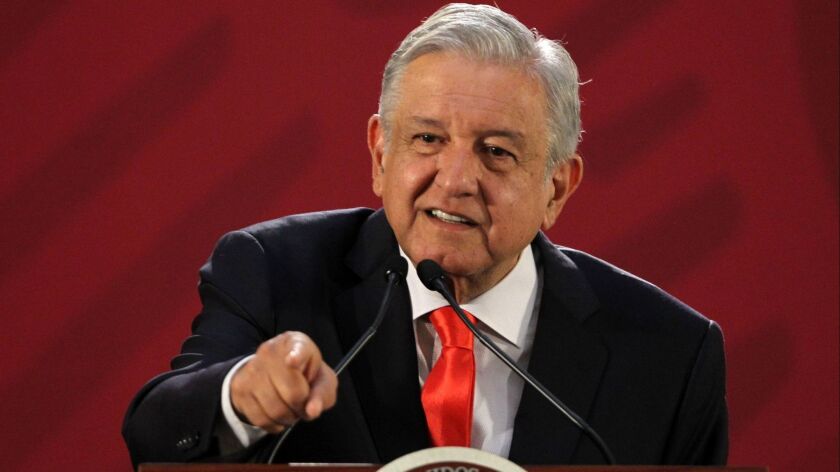 Reporting from Mexico City —
Even though President Trump continues to insist Mexico will pay, or is paying, for a border wall, he apparently hasn't discussed it with the nation's new leadership.
"We haven't touched on the matter [of the wall] in any conversation," Mexican President Andres Manuel Lopez Obrador told reporters here Thursday, a day after his first telephone call with Trump since his Dec. 1 inauguration. "It was a respectful conversation, in terms of friendship."
Mexican Foreign Secretary Marcelo Ebrard said on Twitter that the discussions between the two nations have centered instead on creating economic opportunities in Central America, the source of the so-called caravans of migrants that Trump has portrayed as an attempted "invasion" of U.S. territory
The Trump administration has been pressuring the government here to take steps to stem the flow of Central American migrants through Mexico, which for decades has been a transit corridor for those seeking to enter the United States. Central Americans now outnumber Mexican nationals arrested for illegal entry along the U.S. border.
Mexico, in turn, has been pushing the White House to sign onto a multibillion-dollar development initiative for Central America, designed to provide alternatives to immigration.
"The idea is that people would not have the need to migrate," said Lopez Obrador, who added that Trump invited him to visit Washington — and that he hoped to go once an accord on Central American migration was completed.
Trump has threatened to cut aid to Central American nations should the northbound flow persist.
The U.S. and Mexican leaders "spoke yesterday about the positive relations between our two countries," White House Press Secretary Sarah Huckabee Sanders said Thursday. "They discussed the need to address illegal migration from Central America to the United States by addressing the drivers of migration, such as insecurity and economic stagnation."
But the border wall, which Trump used as a rallying cry over and over as a candidate, is clearly still on the president's mind. Thursday morning, Trump declared on Twitter that Mexico was indeed paying for the wall — as part of what he termed savings from the now-revised North American Free Trade Agreement, the almost quarter-century-old trade pact between the United States, Mexico and Canada.
"I often stated, 'One way or the other, Mexico is going to pay for the Wall,'" Trump tweeted, calling the new trade deal "so much better" than the current agreement. "Just by the money we save, MEXICO IS PAYING FOR THE WALL!"
There was no immediate official comment here on Trump's assertion that Mexico was indirectly financing the wall through U.S. savings in the trade accord.
Just two days before, in an Oval Office session with Democratic congressional leaders, Trump threatened to shut down the federal government if Congress didn't fund the border wall.
Mexico's new president has framed the migration debate as an issue of "human rights" and the need for job-creating investment in Central America. But he has pointedly refrained from criticizing Trump's emphasis on law enforcement, sending troops to the border and erecting new barriers.
At the same time, the Trump administration has been pushing Mexico to accept a controversial plan whereby asylum seekers arriving at the southwest border would be required to remain in Mexico while U.S. authorities assess their claims, a process that can take years. Mexico City has resisted the idea, at least absent a significant infusion of economic aid for Central America.
The wall — and Trump's insistence that Mexico pick up the tab for its construction — were toxic issues for former Mexican President Enrique Peña Nieto, whose term ended Nov. 30. His administration said paying for the wall was out of the question, a "humiliating" proposal for Mexico. On two occasions, planned trips by Peña Nieto to Washington to meet Trump were canceled because of the wall dispute.
But Mexico's new leader — a life-long leftist whose political outlook is far removed from that of Trump — has assiduously pursued a cordial relationship with Trump, frequently complimenting him on his "respectful" attitude. Ivanka Trump, the president's daughter and advisor, sat in a position of honor next to Lopez Obrador's wife during his inauguration ceremony at the National Palace here.
Lopez Obrador has long made it clear he was not seeking a confrontation with the Trump administration.
"I hope to maintain a good relationship with the government of the United States and to convince them that the problem of migration will not be resolved building walls, nor with the use of force," Lopez Obrador, then president-elect, said in September in the northern border state of Sonora. "We are not going to fight with the government of the United States, and we are not going to fight with President Donald Trump."
Times staff writer Tracy Wilkinson in Washington and Cecilia Sanchez of The Times' Mexico City bureau contributed to this report.
Twitter: @PmcdonnellLAT
---
Must-read stories from the L.A. Times
Get the day's top news with our Today's Headlines newsletter, sent every weekday morning.
You may occasionally receive promotional content from the Los Angeles Times.