World Cup victory over Germany gives weary Mexico 'moment of happiness'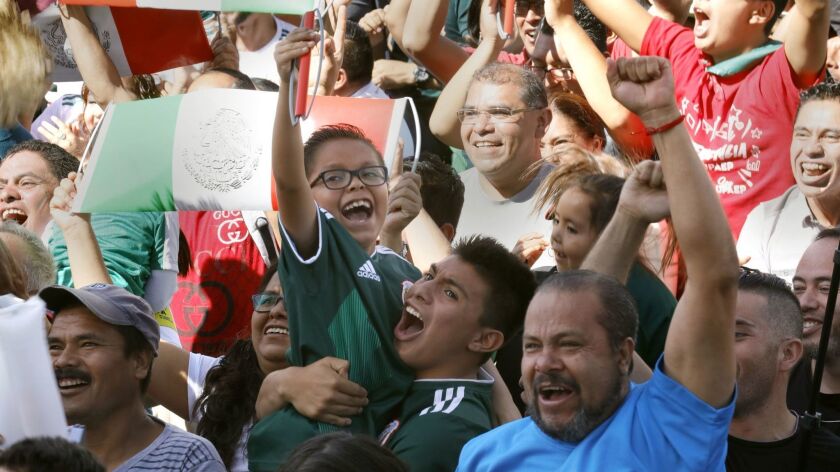 Reporting from Mexico City —
An extraordinary sense of elation swept over Mexico on Sunday with the national soccer team's stunning 1-0 victory in the World Cup tournament against powerhouse Germany, the reigning champion.
The triumph unleashed a profound outpouring of national pride in a nation approaching national elections amid widespread disquiet about the future and dissatisfaction with rising crime, a sagging economy and other problems.
Tens of thousands of people descended on iconic Mexico City locales—the central plaza, or zocalo, and the Angel of Independence monument along tree-lined Reforma Boulevard—to celebrate the upset victory.
Many waved the tricolor Mexican flag and sang signature national ballads as they cheered on El Tri, the nickname for the national team.
"Mexico! Mexico!" was the chant emanating from the streets and from homes. It seemed at least a temporary cathartic moment for a nation that has taken a lot of blows of late, including rocky relations with its giant northern neighbor.
"Thanks to the team for giving us this moment of happiness which we lack so much in this country full of disappointments," said Juana Sanchez, 41, a housewife who was among the throngs taking to the streets to celebrate. "Today everyone in Mexico is happy."
The game was only a first-round triumph, and the upset win doesn't clinch anything in the ongoing competition in Russia, though it puts the Mexican side in a solid position to advance.
Television stations and websites nevertheless praised "the historic victory," and politicians and others took to social media to rejoice in the result.
Social media reports of an "artificial" earthquake due to "mass jumping" when Mexico scored its first-half goal went viral on the internet — though experts dismissed the account, saying there was no such thing as an artificial earthquake.
It was only Mexico's second victory against the German squad, the BBC reported, and the first since a friendly match in 1985.
"This is a day we will never forget, it will pass into the history of Mexico," said another reveler, Guillermo Rodríguez, 39, a computer technician. "I don't' know what's going to happen in the next games, but today's game is an inexplicable joy, it's a historic triumph, it is a moment that we will never forget. Mexico! Mexico!"
Fans gathered in homes, bars and restaurants lived through the joy of Mexico's goal by the electric young forward Hirving Lozano, then hung on as the Mexican team went into a defensive posture in the second half of the game, allowing Germany many chances, but never yielding a goal. Mexican fans observed each methodical German advance with seeming dread.
"The second half was very intense," said Rodrigo Garcia, 35, an athletic trainer in a green Mexican national team shirt who was among the patrons at a restaurant in the southern city of Oaxaca watching the match live. "But the strategy paid off: Mexico won!"
The victory raised hopes that Mexico—which has never won the World Cup—could finally break through, though that remains a long shot.
"We beat the champion, we can advance far in this tournament," declared Rodrigo Falcon, 21, an engineering student who was celebrating on the streets along with his younger brother and his parents. "We never surrender. Mexico had a great match. I'm very happy."
Even Mexico's presidential campaign, in its frenetic final weeks ahead of the July 1 vote, paused on Sunday so fútbol-crazed fans could watch the game.
Candidates Ricardo Anaya and José Antonio Meade both tweeted photos of themselves at separate watch-parties, dressed in Mexico's signature green jerseys and celebrating with family.
Front-runner Andres Manuel López Obrador, who is famously a baseball fan, delayed an event in Ecatepec, a working-class community outside Mexico City, so the game could be broadcast on big screens.
After the goal, many fans seemed incredulous that Mexico could maintain its lead. They watched anxiously, and didn't allow themselves real celebrations until the game ended, and they erupted in song and shouts of "Mexico!"
When Lopez Obrador took to the stage, he drew wild cheers when he praised Mexico's "triumph" against Germany. Then he led the crowd in chants of "Viva Mexico!"
Sanchez of the Times' Mexico City bureau and Staff writer Linthicum reported from Mexico City and McDonnell from Oaxaca.
Twitter: @katelinthicum
Twitter: @PmcdonnellLAT
---
Must-read stories from the L.A. Times
Get all the day's most vital news with our Today's Headlines newsletter, sent every weekday morning.
You may occasionally receive promotional content from the Los Angeles Times.