Nine reported dead, including one candidate, as violence erupts over Venezuela's constitutional vote
Several police officers were wounded Sunday in an explosion near Altamira Square in Caracas, Venezuela. Clashes are breaking out as the voting on a new assembly takes place under strict security measures.
(Miguel Gutierrez / EPA)
An explosion Sunday in Caracas, Venezuela, injured several police officers during protests over the vote for a new assembly that would have the power to rewrite the constitution.
(Miguel Gutierrez / EPA)
Police officers react after a device exploded as they rode past during a protest in Caracas against the election for a new assembly.
(Juan Barreto / AFP/Getty Images)
A police officer stands guard where a Bolivarian National Police agent was wounded in an explosion that targeted motorized police in the vicinity of the Altamira Square in Caracas, Venezuela.
(Miguel Gutierrez / EPA)
Venezuela's Bolivarian National police move away from the flames after an explosion at Altamira square during clashes against election protesters in Caracas.
(Ariana Cubillos / AP)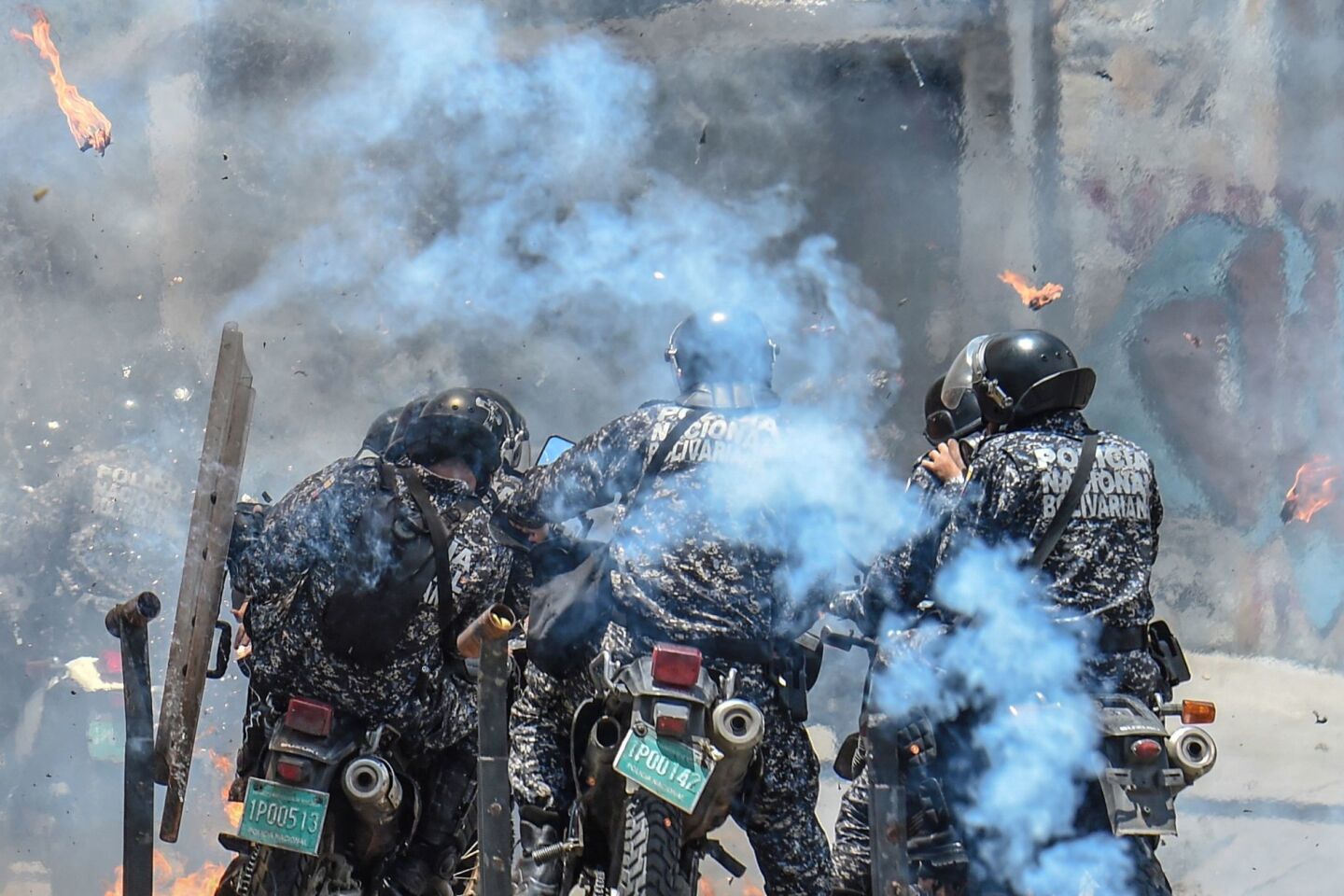 Police officers react after protesters detonated an improvised explosive device in Caracas during a demonstration against the elections for a new assembly.
(Juan Barreto / AFP/Getty Images)
A policeman receives aid from fellow officers after an explosion at the Altamira Square in Caracas, Venezuela.
(Miguel Gutierrez / EPA)
Protesters drag a burned police motorcycle in the aftermath of an explosion Sunday in Caracas during a demonstration against assembly elections.
(Ronaldo Schemidt / AFP/Getty Images)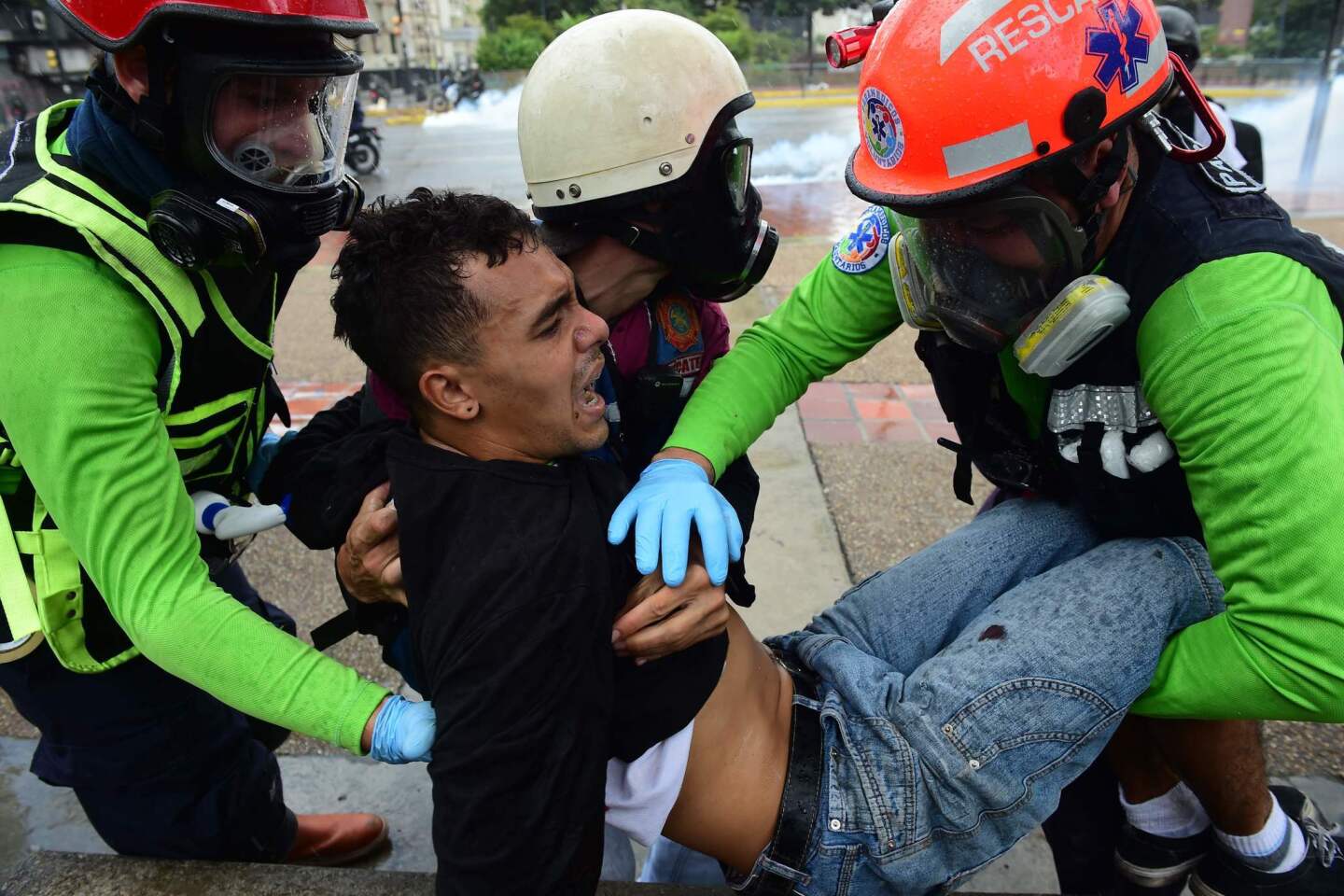 Medics assist a protester wounded in a clash with police that erupted during a demonstration in Caracas against assembly elections.
(Ronaldo Schemidt / AFP/Getty Images)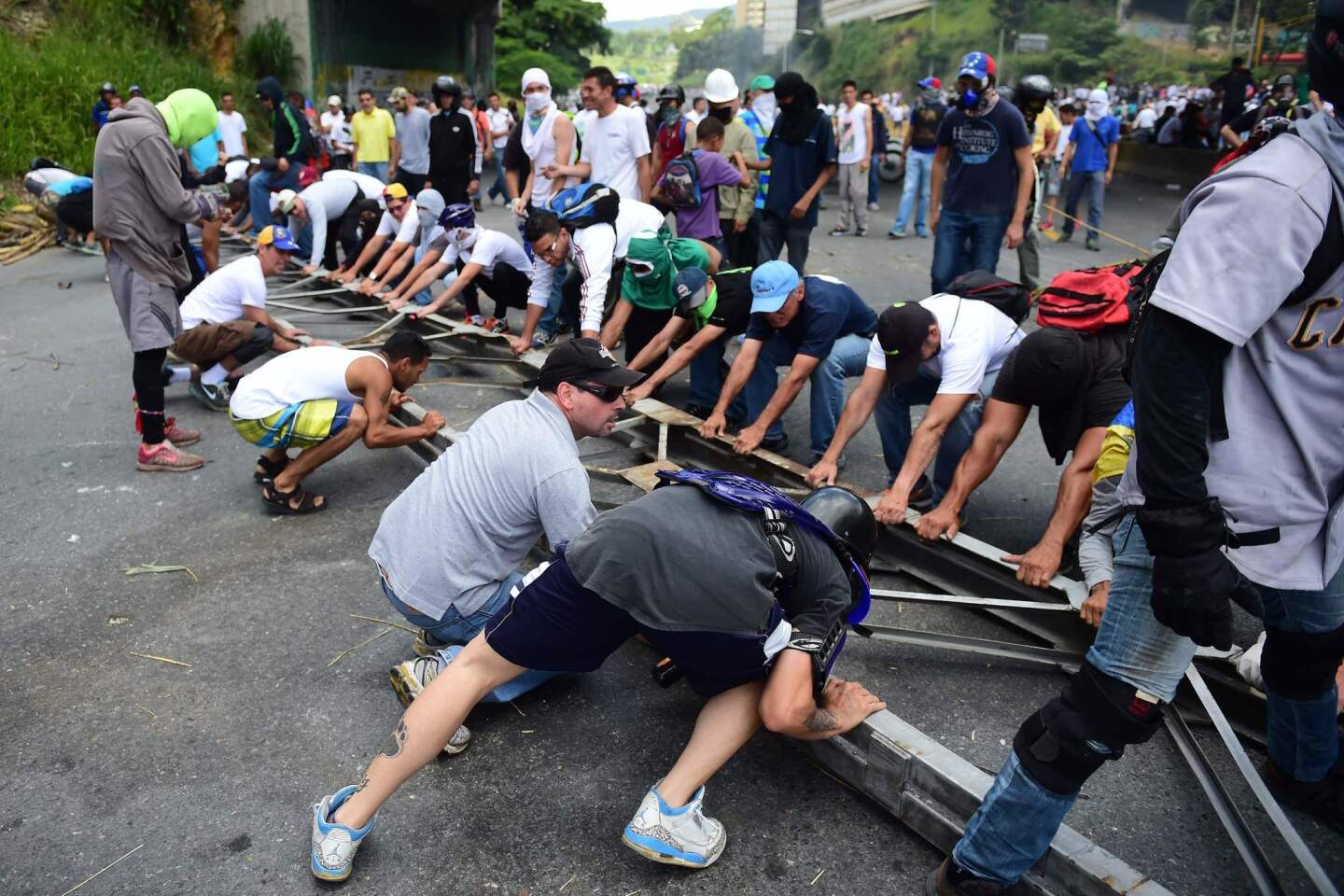 Activists set up barricades during a protest in Caracas against the election for a new assembly.
(Ronaldo Schemidt / AFP/Getty Images)
People line up in Caracas to cast their vote in the assembly elections.
(Ronaldo Schemidt / AFP/Getty Images)
Reporting from Caracas, Venezuela —
A candidate for Venezuela's constitutional assembly was one of nine people reported killed amid widespread violence as voters went to the polls Sunday in a hotly contested election aimed at giving greater power to President Nicolas Maduro.
Jose Felix Pineda, a pro-Maduro candidate in the election to select members of a constitutional assembly, was reportedly shot to death Saturday night in his home in the Heres township in Bolivar state by two unknown assailants. The shooting took place during a family gathering at which others present were robbed of their belongings, according to a government statement.
Although the motive for his death was not known, Pineda was the second candidate to be killed in the run-up to the election, which has further divided the country. Protests, sometimes violent, raged through the country as opposition leaders urged Venezuelans to stay away from the polls.
An explosion in the affluent Altamira neighborhood in the eastern barrio of the capital, Caracas, on Sunday morning injured as many as seven national police officers and destroyed four of the motorcycles they were riding, the government said. Video showed the police riding in formation down a broad street when the explosion occurred, creating a large fireball that engulfed some of the officers.
Defense Minister Vladimir Padrino Lopez said in an interview broadcast over state-run TV that 100 voting machines had been burned in western Tachira state by opposition protesters.
A survey of polling stations in rich and poor neighborhoods in Caracas indicated strong turnout in barrios controlled by Maduro supporters and virtually no voting in the eastern portion of the city aligned with opposition forces.
Opposition leaders had urged Maduro opponents to boycott the voting, calling it an illegal power grab and an attempt by Maduro to sideline the opposition-controlled National Assembly. Unlike the last redraft in 1999, no authorizing referendum was held by Maduro prior to the vote to legitimize a new constitution.
No election results were available early Sunday evening, and the National Electoral Council did not release turnout figures, which are commonly released the day of elections. But it was a foregone conclusion that the results would favor the government, because the ballot was packed with pro-government candidates.
In addition to the 117 deaths now attributed to four months of nationwide disturbances, more than 3,500 people have been injured and 4,500 arrested as protesters clash with police and the national guard.
"I didn't vote, because I'm against this government," said Marta Gomez, 36, an unemployed mother of three interviewed in the working-class Catia barrio of Caracas. Maduro "didn't bother to consult us to see if we wanted a change, and he hasn't said what articles [of the existing charter] would be modified."
One person who did vote, 35-year old secretary Isabel Garcia, said she did so only because she was afraid she would lose her public sector job if she didn't. "I don't feel excitement or sadness. I'm not in favor of changing the constitution. But where I work, we were all obligated to vote."
David Smilde, a sociology professor at Tulane University who has written about Venezuelan politics, said the constitutional assembly could convene in coming days. Its first orders of business are expected to include dissolving the National Assembly and removing current attorney general and Maduro critic Luisa Ortega Diaz.
"On the opposition side, I assume there will be protests and efforts to block off roads," Smilde said. "They really don't have much left in their tool kit."
Disturbances began in late March after the Supreme Court transferred legislative powers from the National Assembly to Maduro, provoking widespread outrage. Although partially rescinded, the move launched almost-daily protests over food scarcities, violent crime and an increasingly autocratic government.
Even harder times could be in store. The United States is said to be considering harsher sanctions against the government, including a possible ban on Venezuelan oil imports and the prohibition of the use of the U.S. dollar in transactions conducted by state-owned oil company PDVSA.
"Some form of oil sanctions are likely by the U.S., which would lead to default [on payment of foreign debt] and dramatically worsen the economic situation, which is already dire," said Francisco Monaldi, a Rice University economics and oil policy professor.
Henry Ramos Allup, an opposition legislator and former president of the National Assembly, said on a social media account that among the overnight deaths was that of Ricardo Campos, a youth organizer of the opposition Democratic Action party. Allup said Campos was shot to death early Sunday but gave no further details.
In addition, El Universal newspaper reported four deaths in central Merida state, a hotbed of anti-Maduro protests. Among the dead were two men, Eduardo Olave and Angelo Mendez, who were reportedly shot as they tried to remove pro-Maduro campaign posters, the newspaper said.
Venezuelans are being asked by Maduro to elect 537 members of a new constitutional assembly that will convene Aug. 30 to draft a new constitution, replacing the one passed by Maduro's predecessor, Hugo Chavez, in 1999.
The opposition's main political entity, the Democratic Unity Coalition, or MUD, urged voters to stay away because the new assembly would contain only Maduro loyalists and because the new body will likely replace the democratically elected National Assembly.
Analysts said Sunday that despite domestic opposition and repudiation by several international leaders, the new constitutional assembly will likely go ahead.
"Maduro and his political allies will control the new constituent assembly and be in a position to rewrite the constitution to give Maduro complete dictatorial powers," said Bruce Bagley, international relations professor at the University of Miami.
"But he will not be able to govern an increasingly resentful and mobilized population without resorting to heavy military repression and massive incarceration of the Venezuelan people and opposition leaders," Bagley said.
Special correspondents Mogollon and Kraul reported from Caracas and Bogota, Colombia, respectively.
ALSO
What you need to know about the Venezuela election
Mexico's bloody drug war is killing more people than ever
Another former Peruvian president is sent to jail, this time as part of growing corruption scandal
---
UPDATES:
6:10 p.m.: This article was updated with details on the explosion and quotes from analysts.
12:05 p.m.: This article was updated throughout with staff reporting, nine deaths reported, including candidate.
This article was originally posted at 9:40 a.m.
Must-read stories from the L.A. Times
Get the day's top news with our Today's Headlines newsletter, sent every weekday morning.
You may occasionally receive promotional content from the Los Angeles Times.