Mexico's bloody drug war is killing more people than ever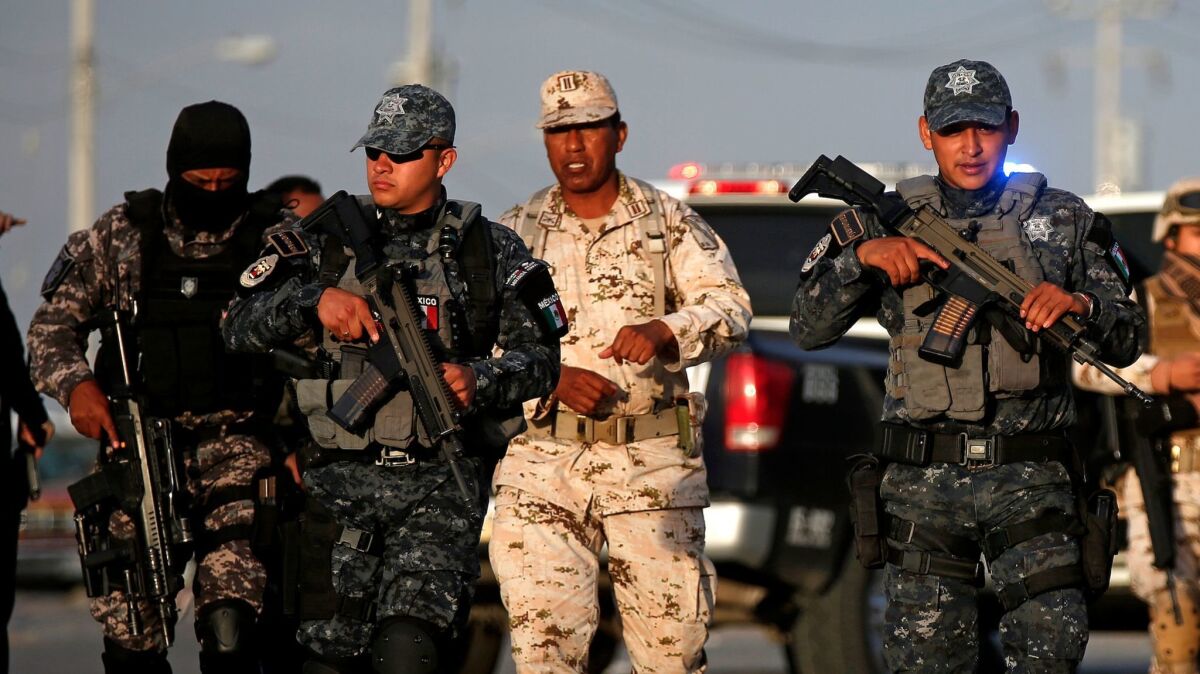 Reporting from Mexico City —
Drug war bloodshed in Mexico has spiked to record levels, with more homicides recorded in June than in any month in at least two decades.
Prosecutors opened 2,234 homicide investigations last month, according to government statistics released Friday. That's an increase of 40% over June of last year and 80% over June of 2015.

For the record:
11:33 a.m. June 21, 2019An earlier version of this article incorrectly said that the 2,234 homicide investigations opened last month were an 80% increase over June 2014. The number is an 80% increase over June 2015.
Rising demand for heroin in the United States and a bloody power struggle inside one of Mexico's most powerful drug cartels have put the country on track to record more killings in 2017 than in any year since the government began releasing crime data in 1997.
The 12,155 homicide cases opened from January to June make 2017 the deadliest first half of a year.
Though violence used to be concentrated in a handful of states, it is now rising nationwide, with 27 of Mexico's 32 states recording an uptick in homicides compared with last year.
That includes states that are home to formerly tranquil tourist destinations including Cancun and Cabo San Lucas, which have each been the site of deadly shootouts.
Guerrero, home to the Pacific resort city of Acapulco, had the highest number of homicides this year, with 1,161 cases opened since January.
The explosion of violence appears linked to the arrest and extradition of former drug boss Joaquin "El Chapo" Guzman, who is preparing to face trial in the U.S. next year on drug and murder charges.
Guzman's sons have been fighting another clique for control of the powerful Sinaloa cartel since his arrest last year. The cartel's instability has allowed other criminal groups, including the Jalisco New Generation cartel, to move in, driving violence in Mexico's northwest.
This month, 26 people were killed in a pre-dawn firefight between a faction of the Sinaloa cartel and members of another rival gang, according to authorities in Sinaloa state.
While many government critics say it's time for Mexican President Enrique Peña Nieto to revisit his drug war tactics, which include targeting top cartel leaders and having soldiers act as police in many communities, his government appears more interested in deflecting blame to Mexico's neighbor to the north.
In recent months, top government officials have implored their American counterparts to work on reducing domestic demand for drugs if they want to make Mexico safer.
"Drug trafficking is a shared problem that will end only by addressing its root causes," Mexico's foreign ministry said in a statement last month after President Trump tweeted about Mexico's rising levels of violence.
In recent years, Mexico has surpassed Colombia to become the largest supplier of heroin to the U.S. Security analysts say the opioid epidemic in the U.S. has left cartels flush with cash, which has allowed them to step up the warfare.
What else is driving the bloodshed is a matter of opinion.
Some law enforcement officials have blamed the country's ongoing transition to a new criminal justice system, which seeks to give more rights to accused criminals. Under the new system, people caught with illegal weapons are no longer automatically sent to jail before their trials. That means some criminals are being released, they say.
Mexican security analyst Alejandro Hope says he believes another structural problem is more likely to blame for the increase in killings: Impunity.
Only one in five homicide cases leads to arrests, and few result in successful prosecutions. That means that in Mexico, it's simple to kill somebody and get away with it, he said.
"It's easy," he said. "And it's cheap."
Twitter: @katelinthicum
ALSO
Months after deportation, they do what the Mexican government will not
Mexican soccer fans are reluctant to give up a favorite chant — an anti-gay slur
The world's smallest porpoise has caused a big battle in Baja California
Must-read stories from the L.A. Times
Get the day's top news with our Today's Headlines newsletter, sent every weekday morning.
You may occasionally receive promotional content from the Los Angeles Times.