Putin orders daily cease-fire in Syrian rebel enclave that U.N. calls 'hell on Earth'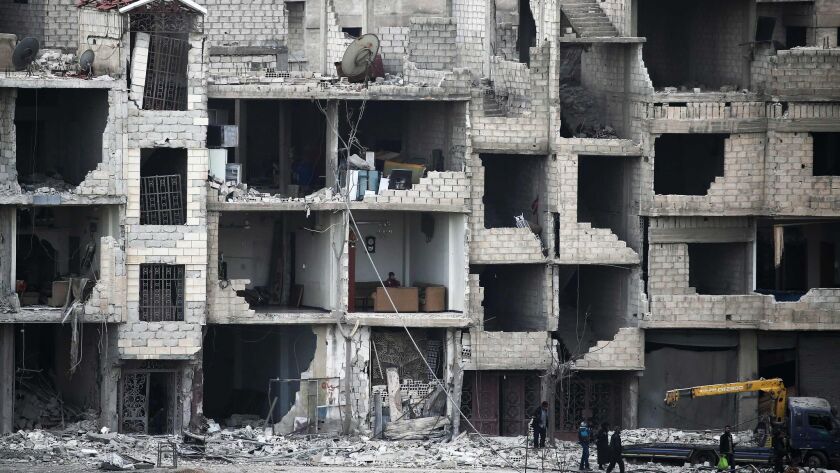 Reporting from Amman, Jordan —
Russian President Vladimir Putin on Monday ordered a daily cease-fire in eastern Ghouta, the Syrian rebel-held enclave near the capital Damascus and the target of a ferocious government assault that has turned life in the region, according to the U.N., into "hell on Earth."
"As ordered by the Russian president, a daily humanitarian pause from [9 a.m. to 2 p.m.] is being introduced starting Feb. 27 to avoid civilian casualties in East Ghouta," the Russian defense ministry said in a statement released Monday, according to a translation by the English-language news broadcaster Russia Today.
Russia is the top international supporter of Syrian President Bashar Assad. Its warplanes and special forces troops, which first deployed in the country in 2015, are credited with turning the tide of the war in Assad's favor.
The pause in the fighting, the statement continued, would allow civilians to leave the area through special humanitarian corridors, whose coordinates have been prepared and will soon be announced. It would also facilitate the delivery of humanitarian assistance in the enclave, which has suffered severe shortages of food and medications under a years-long siege by government forces.
The U.N. estimates there are some 393,000 residents in eastern Ghouta, a grouping of 23 Damascus suburbs under the control of a mix of opposition factions, including both Al Qaeda-affiliated Islamists and mainstream rebel groups supported by the West.
Moscow proposed a similar arrangement near Tanf, a desert region near the country's southeastern tip where tens of thousands have fled violence and gathered near the border of Jordan. U.S.-led coalition forces are also stationed in the area.
Putin's announcement comes two days after the U.N. Security Council, despite last-minute wrangling by Russia and Iran (another staunch Assad backer), unanimously adopted a 30-day truce in Syria in a bid to end the latest round of violence in eastern Ghouta, where a Russian-backed offensive has killed some 561 people since last week, activists said, when the offensive first began.
Yet on Sunday, fighting continued unabated as pro-government troops began a ground assault on five fronts to breach rebel lines. And on Monday, the Syrian Observatory for Human Rights, a pro-rebel monitor based in the U.K with a network of activists in Syria, said 22 people were killed.
Pro-opposition activists also accused government forces of deploying chlorine gas in Shayfoniyeh, a town roughly eight miles northeast of central Damascus, after an airstrike in which victims exhibited symptoms including eye irritation and breathing difficulties.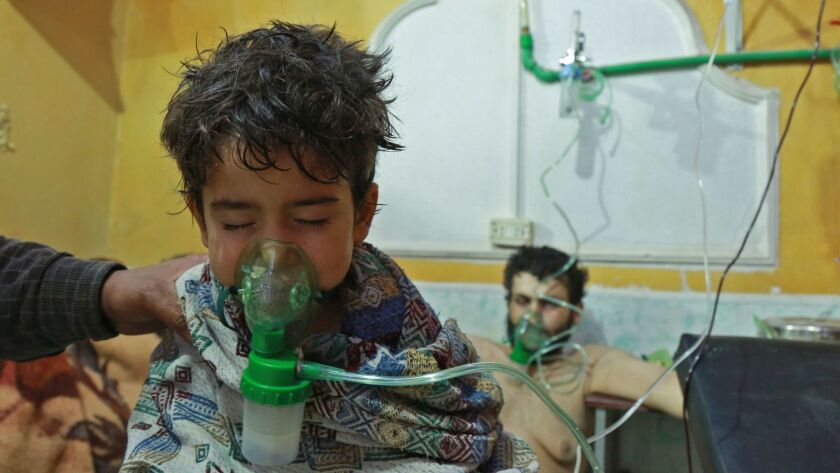 Damascus has long denied using any chemical weapons, though it stands accused of using Sarin gas on the Ghouta in 2013. That attack brought the U.S. to the brink of attacking Damascus until an 11th hour deal struck with Russia saw Assad give up his chemical weapons arsenal.
"Security council resolutions are only meaningful if implemented…. As I had the opportunity to say in the Security Council itself a few days ago, in particular eastern Ghouta cannot wait.," said Antonio Guterres, the U.N.'s secretary general in remarks to the body's human rights council in Geneva on Monday. He added that the U.N. was ready to deliver assistance.
"It is high time to stop this hell on earth," he said.
ALSO
Guilty by association: Families of suspected Islamic State members pay a steep price
Date of U.S. Embassy move to Jerusalem shows how even the calendar is complicated in the Middle East
'It's a catastrophe': Almost 200 killed in multi-day bombardment of Syrian suburb
Bulos is a special correspondent.
Twitter: @nabihbulos
---
Must-read stories from the L.A. Times
Get the day's top news with our Today's Headlines newsletter, sent every weekday morning.
You may occasionally receive promotional content from the Los Angeles Times.