Palestinian groups, acting alone, announce cease-fire with Israel after latest Gaza violence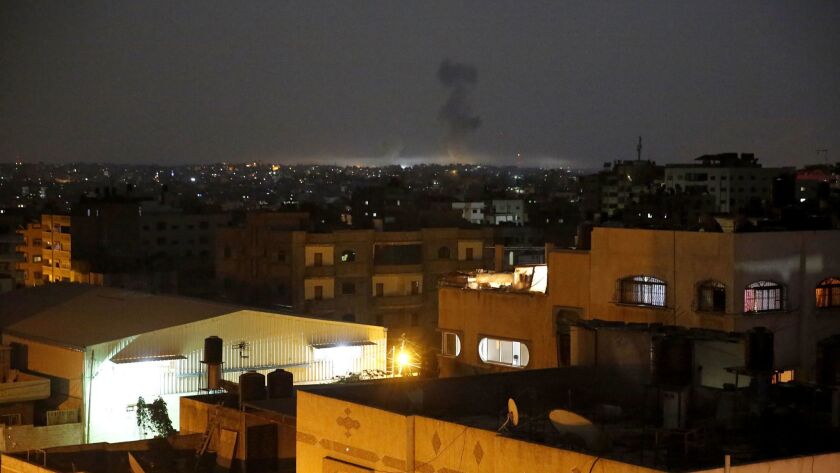 Reporting from Jerusalem —
Fighting between Israel and Islamist movements in the Gaza Strip, which started with a sudden barrage of rockets launched into southern Israel, came to a swift end Wednesday with the announcement of a unilateral cease-fire.
Over a dozen Gaza-based militias, including the military wings of the ruling Hamas movement and the Palestinian Islamic Jihad group, signed the agreement among themselves. Israel had blamed them for an almost 24-hour salvo of rockets and mortars that prompted a fierce Israeli response.
For the record:
10:30 AM, May. 31, 2018
An earlier version of this article carried a Gaza City dateline. Tarnopolsky reported from Jerusalem.
Israel was not a party to the pact but indicated it will tacitly accept a cease-fire "as long as they stop their terror attacks," said the Israeli army spokesman, Brig. Gen. Ronen Manelis.
According to the Israeli military, the Gaza-based Islamic Jihad fired about 180 Iranian-made rockets and mortar shells into Israel. The barrage included the use of a precise 107-millimeter rocket that can reach over six miles into Israeli territory.
In retaliation, the Israeli army said it struck 65 Hamas and Islamic Jihad targets throughout the Gaza Strip, including a tunnel that traversed Egypt's Sinai Peninsula and penetrated half a mile into Israel.
No casualties were reported in Gaza. Seven Israelis were reported wounded by shrapnel in Tuesday's rocket and mortar attack.
In a joint statement announcing the agreement, Islamic Jihad took responsibility for the fusillade and indirectly elevated its profile among the factions struggling to rival Hamas' hold on Gaza. The statement added, without further explanation: "The time has passed when the enemy sets the rules of confrontation and alone changes the conflict's equations."
The militias dedicated the day of fighting to what they described as 118 "martyrs" who have been killed by Israeli gunfire in weekly border clashes that started two months ago, and claimed "readiness to confront with all our strength any aggression or folly perpetrated by the enemy." Israel has said that about 115 people, most of them affiliated with Hamas or other armed groups, were killed.
The abrupt halt to rocket fire Wednesday supported speculation that Egypt, which borders Gaza to the south, brokered the cease-fire in the hope of avoiding the sort of conflagration that led to the 2014 war between Israel and Hamas, in which over 2,000 Palestinians and about 70 Israelis, most of them soldiers, lost their lives.
Egypt did not publicly acknowledge a role, but its semi-official Middle East News Agency reported that the Egyptian government will host a meeting Thursday about Gaza with the Palestinian Authority and Jordan. The Palestinian Authority has little control over Gaza and was not a party to the latest conflict or the cease-fire agreement.
Implicitly acknowledging an end to the latest spurt of violence, Israel's minister for regional cooperation, Tzachi Hanegbi, said he expected Hamas, which Israel holds responsible for any violence emanating from Gaza, to strike again.
"Any agreement with a terror organization is by definition slippery and temporary," he said during an interview on a radio news show. "A terror organization is a terror organization and if it doesn't do terror, it loses its reason for being."
Speaking at a public event in Tel Aviv, Prime Minister Benjamin Netanyahu warned Hamas of a punitive military response should it return to violence at Israel's border.
The Israeli army "has reacted strongly, since yesterday, to the rocket fire from the Gaza Strip by attacking dozens of terrorist targets. It's the harshest blow we have dealt them in years," he said.
"Hamas, the Islamic Jihad and other terrorist organizations are responsible for the escalation. I don't intend to provide details of our plans, because I do not want the enemy to know what is in store for it, but one thing is clear: When they test us, they pay an immediate price. It they continue to test us, they will pay an even harsher price."
News of the "indirect cease-fire" was transmitted to Jerusalem via Egyptian officials, according to a Foreign Ministry official who spoke on condition of anonymity because he was not authorized to speak publicly on the matter. Israel has said it will meet "quiet with quiet" but is "prepared for any scenario," according to Manelis.
Elior Levy, the military affairs analyst for the Israeli daily Yediot Ahronot, summed up the escalation and drop in hostilities in an online post. "Islamic Jihad wanted to avenge the death of its operatives and satisfy its bosses in Tehran; Hamas wanted to restore its dignity after Israel attacked its assets and wanted to claim part of the fame, but neither the Palestinian organizations nor Israel are interested in a wide-scale operation in Gaza," he wrote.
On Wednesday afternoon, Israeli authorities lifted emergency conditions that had been imposed on residents of its southern communities, shuttered air raid shelters and once again permitted large public gatherings.
Also Wednesday afternoon, the latest victim of the border violence was laid to rest. Naji Ghonaim, 23, died five days after he was wounded in clashes with Israeli soldiers near the southern Gazan city of Rafah.
Tarnopolsky is a special correspondent. Special correspondent Hana Salah in Gaza City contributed to this report.
ALSO
Palestinians look to Arab governments for support, but the response is tepid
In Gaza Strip protests, the anger has many targets
The return of U.S. sanctions is expected to sow misery in Iran. But for those with money, there's a haven: dollars
---
UPDATES:
12:50 p.m.: This article has been updated throughout with staff reporting, background and quotes.
This article was originally published at 12:40 a.m.
---
Must-read stories from the L.A. Times
Get all the day's most vital news with our Today's Headlines newsletter, sent every weekday morning.
You may occasionally receive promotional content from the Los Angeles Times.